Announcing Sewrella's very first annual Spring Crochet-a-Long!
This year we'll be crocheting the Magic Stripe Sweater – a fun garment that's super customizable to fit you and your style.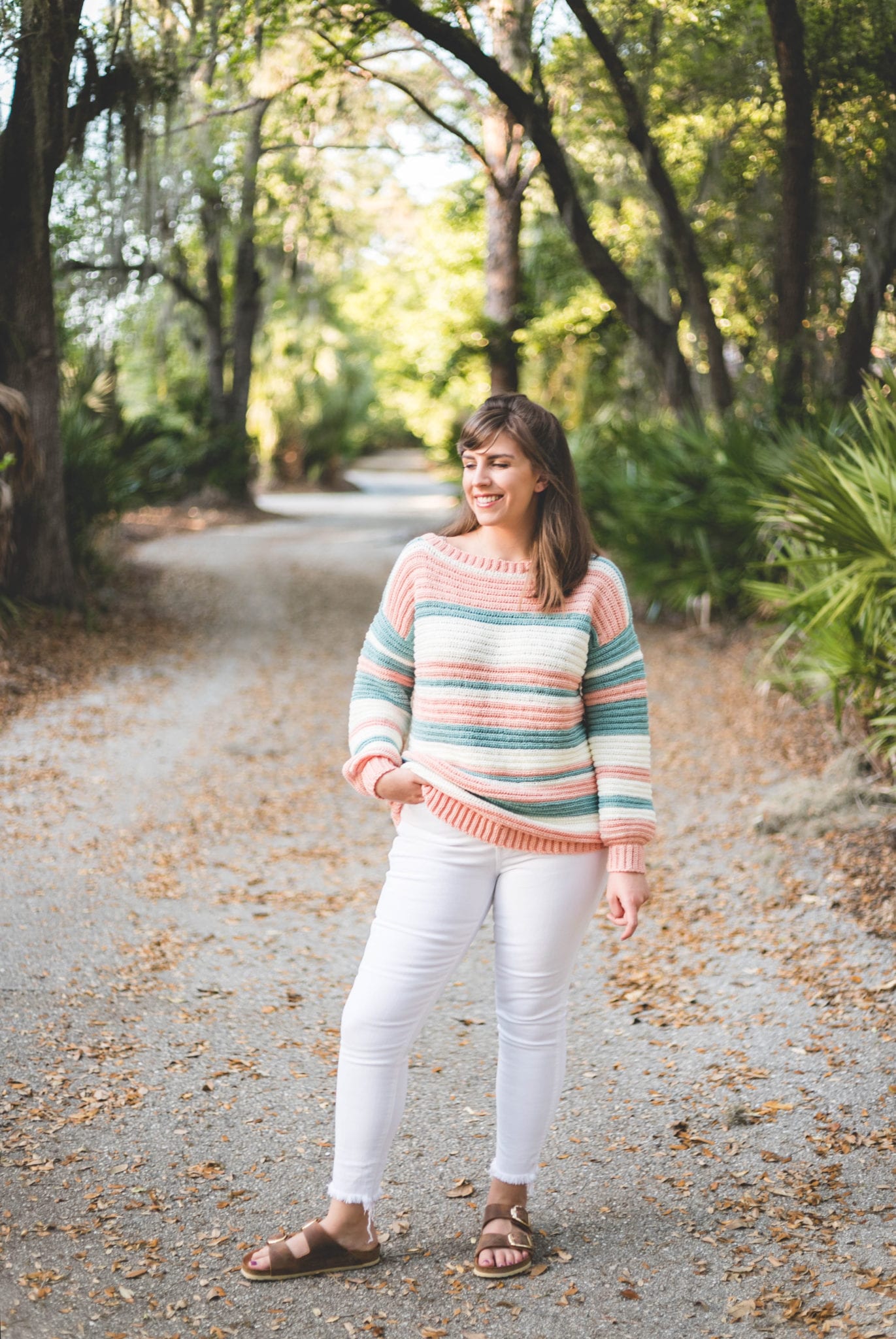 This beginner level design has simple striping, easy half double crochets and lots of step-by-step photos to help you make a sweater successfully.
I'll be crocheting along through the month of April and I hope you'll join me for this fun project!
The Crochet-a-Long will begin Friday, April 12 and we will end with our finished sweaters by May 10.

Materials + Choosing your Size
When you order the Kit from Lion Brand (more on that below) you'll receive all the yarn you need plus a printed copy of the full pattern. You will also need the following (click the links for my supply recommendations for beginners!):
I've listed below the finished measurements of the sweater. Hopefully this will help you choose your size! Sizing listed in the pattern will be in XS, Small, Medium, Large, XL, 2XL, and 3XL listed in parenthesis. I am wearing the Medium size in the photos, and my true bust measurement is 38″. I designed this pattern with positive ease for a slouchy, comfy sweater fit! I'll be sizing down to a small (notice that size matches my true bust) for a snug fit when I make my second sample along with you all.
Sweater Finished Measurements:
Bust: 34 (38, 42, 46, 50, 54, 58)"
Length: 25 (25.5, 26, 26.5, 27, 27.5, 28)"
Sleeve (to underarm): 16 (16.5, 16.5, 17, 17, 17.5, 17.5)"
Armhole: 6.5 (7, 7.5, 8, 8.5, 9, 9.5)"
*note: the sleeve length and sweater length are adjustable, the bust and armhole measurements are not.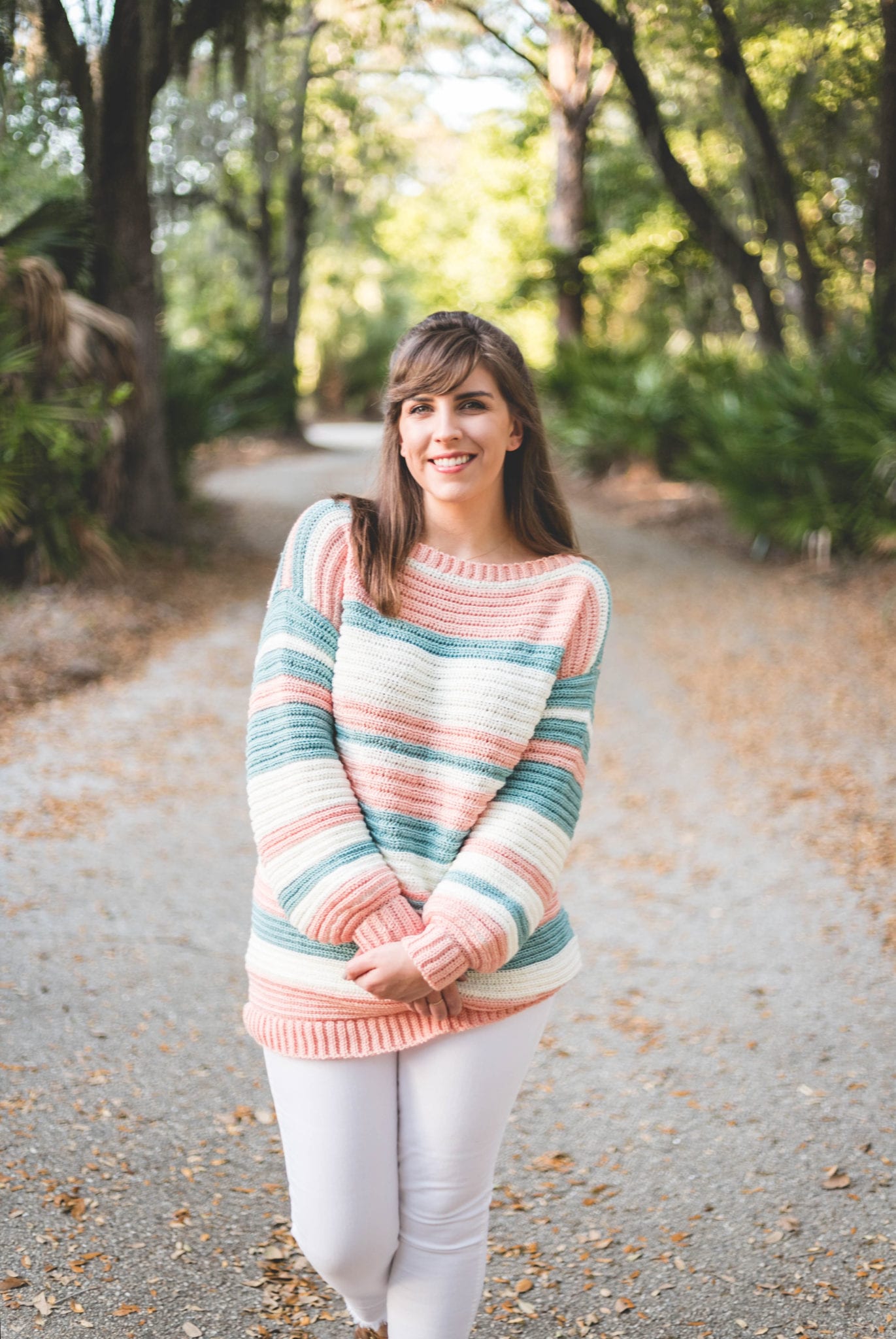 The Yarn
I chose to use Lion Brand Yarn's brand new Beautiful You yarn for this project for a couple of reasons – I'd never made anything in a Category 2 weight yarn before and I knew that drape would be fabulous!
Important note: for this pattern, I strongly recommend you use the Beautiful You yarn (available only on the Lion Brand website) – substituting is possible with other CYC 2/Fine weight yarns is possible but weight can vary a lot in this category.
Lion Brand has put together a kit just for this Crochet-a-Long in my color combination pictured here and a neutral grey/black color scheme! If neither of these color combos appeal to you, create your own by mixing and matching as many Beautiful You colors as you like – or stick to one solid color.

If you're making your sweater in a solid you'll need 6 (7, 8, 9, 10, 10, 11) skeins.
You can grab your kit by clicking here – it comes with a printed copy of the pattern so you'll be ready to go when we begin on April 12!
I do recommend grabbing your kit this week while it is 20% off, it will go back up to regular full price next week and you may not receive your kit in time to begin the CAL with the group.

The Community
I've put together a Facebook group just for Magic Stripe CAL participants! CLICK HERE to access the group, just click the blue "join" button and you'll be added.
(Or search "Magic Stripe Sweater Crochet-a-Long" on Facebook and the group will come right up)
In the group, we'll be sharing the colorway we chose for our kit, work-in-progress (also known as WIP) photos as we crochet together, asking questions, and even hosting some giveaways! There will be lots of fun in the group, so join up as soon as you grab your kit!

Let's have a great Crochet-a-Long!
(Free version of the pattern will be posted here on the blog on our CAL start date)