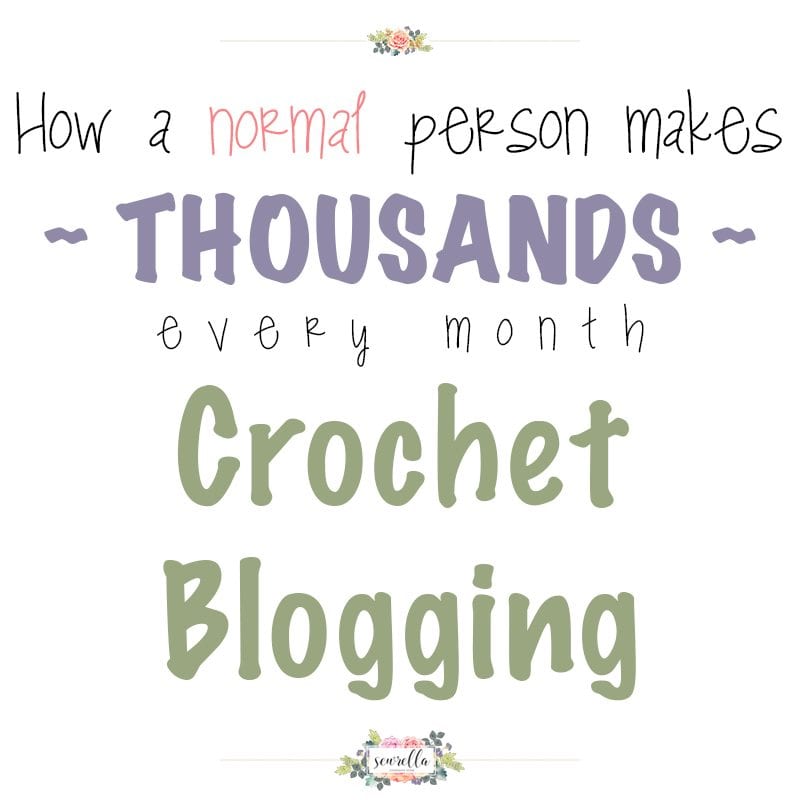 So you've started your blog via my Start a DIY Blog Tutorial HERE
And you've learned about Creating Money-Making Content for your blog HERE
Now you need to know how to go about putting systems in place to make real dollars on your blog.
I'll walk you through everything I've done (right and wrong) to get this blog making you money!
Put Ads in place
When I say Ads, I mean those advertisements you see all over the internet, and the one's you see on this blog up at the top and in my sidebar.
To put Ads on your blog, you'll need to work with an Ad network. These networks have contracts with advertisers (big companies) to place ads on the influencers' websites (people like you and me that have accounts with them).
The advertisers pay the network for these advertisements to run, the network takes a percentage, and the rest of the money is divided up among all the influencers via an algorithm based on pageviews.
Your revenue is broken down into an RPM or Revenue per Mille. Basically this number tells you how much money you will make per 1,000 pageviews.
For example, If my RPM was $5 and I had 5,000 pageviews for the day then I would earn $25 that day.
Everyday the RPM changes and everyday your pageviews will fluxuate – so you will never make the same predictable amount of money each day. A bit of unpredictability here, but that's just the name of the game in blogging! And after a while, you'll see patterns that make this a bit less nauseating.
Now let's get into particular networks and where to begin:
I started out with Google Adsense. Adsense is a great place to start when you are first monetizing your blog. They have far fewer restrictions than any other ad network I've found, and were a great place to get my feet wet.

You do have to have an active blog for 6 months before you can apply to Adsense (I had an old Adsense account from years ago before there were these restrictions, that's how I monetized one month after I started my blog).
I didn't start making decent money (a few hundred dollars per month) until 6 months after I started my blog. It was around this time that things started to snowball, and I really saw significant increases in traffic every month.
With Adsense one of the drawbacks is that you place Ads yourself. So you'll grab the code from your Adsense account and input that into your blog post. There are tons of tutorials on this on Youtube!
So go ahead and start your blog now – that way after you have gotten the hang of things and built up your content, you will be ready to monetize with Adsense!

When I started out I also had Infolinks ads on my blog. This one was not something I would do again.

Even with tens of thousands of pageviews per month, the intrusive ads only earned me at best $50-70 per month (this was a month when I earned $800 on Adsense!)
The ads were obnoxious and interrupting the user experience. I dropped them when I dropped Adsense and haven't looked back.

Recently I left Adsense and moved to Mediavine. Mediavine is a much more exclusive network and is much newer. And I've loved the switch:

Personally, I rarely saw an RPM on Adsense over $4, whereas my Mediavine RPM has been over $7 consistently – that means my earnings have seen a HUGE increase! Which makes me a happy blogger.
When I applied to Mediavine, I had about 150,000 pageviews per month under my belt (these were my September numbers when I applied in October). I don't know what their cutoff number is, but i do know you'll need a pretty significant number of pageviews per month to get accepted. The approval process took 2 weeks.
Once you're accepted, you have to sign a contract stating you will stay exclusively with them for a minimum of 3 months. Over this period of time, they will learn your website and your RPM will get better and better. I've been with them for almost a month and I've already seen increases – yay!
Bonus: the Mediavine system places ads on your site automatically. No more messing with confusing html code and wasting time formatting these things. Also, it has ad limits. So there are far fewer ads on my site now than there used to be, all making the reader experience better!
Whew! Now that we've covered advertising, let's move on.

Utilize Affiliate Marketing
Affiliate marketing is when bloggers earn a commission from selling other company's products online. You find a product you like, recommend it to readers with an affiliate link, and earn a piece of the profit for each sale you make.
Many companies have affiliate programs, and you've probably seen lots of affiliate links without realizing it.
Anytime I want to recommend a certain product, the first thing I do is Google search for that company and "affiliate program" – so "Amazon Affiliate Program" will lead me to the sign up page for becoming an Amazon Affiliate! (yup, like Amazon.com)
Now this one is great because you can advertise for anything listed on Amazon.com – which is almost anything you can think of
The commissions are smaller with Amazon, but still worth pursuing because you can place affiliate links for any product!
Some affiliates will give you a commission percentage for each sale made through your link, and some will pay you a set rate for each sale, no matter what the consumer bought. Different programs work for different types of blogs and meet different needs, so be sure to always read the fine print thoroughly!
Although this process isn't something that you set up and forget about, it is so well worth the effort.
A blogger I know makes consistently over $50,000 PER MONTH just from affiliate marketing!
She actually put together a course on her strategies to make this kind of money with affiliates and it taught me so much – I've already gone from averaging under $100 in affiliate earnings to over $500 in UNDER A MONTH!
That means that I made back my investment in the course and profited $300 on top of that in the first month alone – WOW!
So needless to say, I HIGHLY recommend her course, Making Sense of Affiliate Marketing for anyone who wants to increase earnings!
Work with brands
A good deal of my income comes from sponsored posts or working with brands.
These brands have large advertising budgets that allow for paying bloggers to talk about their products.
Now this one may not be an income stream that begins when you start blogging, in fact I can just about guarantee you will be blogging for a little while before you start working with brands.
For me, I got my first sponsorship with Lion Brand Yarn in March 2016 (after I started my blog in January) – so much faster than I ever expected!

 They saw on social media that I was using their Vanna's Choice yarn for my Bake Shop Blanket series. They liked my work, and asked me to design with their yarn in exchange for recommending it. They supplied my materials and provided additional compensation.
This works on a per project basis, but I work with Lion Brand on a lot of my projects and have an ongoing partnership with them!

I am also a participant on a website called Social Fabric. This site connects bloggers with advertisers (often major companies like Coca Cola!)

Social Fabric works like this: The advertiser posts a job listing spelling out what they want advertised and how (blog post, tutorial, recipe, etc.) along with what they will pay for the job (usually $150 + materials). Bloggers apply to jobs that they think will be a good fit, and the advertiser chooses among applicants and offers the job to them.
The brands represented here are all over the map – brands want you to sell food, craft supplies, household products, and even toilet paper! So there is something for just about any type of blog here, you just might have to get creative.
It's free to sign up and a lot of fun to apply for jobs who pay you to shop for things I would buy anyway (like candles and Command hooks).
Some brands will approach you, like Lion Brand did with me, and some you have to seek out. Once you've been blogging steadily for a while, try contacting some brands you think would want to advertise on your blog and see what they say!
Sell items on other platforms
I made several hundred dollars a month of passive income (meaning I set up and left alone an income stream) from crochet pattern sales on Etsy.
For me, my time is better spent designing my own patterns to post on my blog rather than make handmade items to sell.
Think about it like this:
It takes me 1 day to design a new hat and write up the pattern. Then that pattern is posted to the internet where it continues to make money forever without any work on my part. The next day I design another pattern. Now there is twice as much opportunity to make money, and with every pattern my opportunity for income increases.
~OR~
It takes me 1 day to make 5 hats to sell. I sell those hats for a profit of $100. Then, the next day I start over. I will always have to work all day to earn $100 per day. I can only crochet so fast, so there is a cap on that income. If all I can make in a day is 5 hats, that's the most money I could hope to make in that day.
Each time I create a new pattern it lives here on my blog for free, where I make money through the avenues listed above.
I also make a PDF version of the pattern (with a photo and all the same instruction as is written on my blog) to sell as a download on Etsy.
I sell these printable, large print, ad-free versions for $1.99 each and they do pretty well for me!
(I also bundle sets together for a small discount, this encourages someone interested in one of the included patterns to spend a few dollars more for the whole set)
It's an extra step I take when writing up my crochet pattern (formatting it to sell on Etsy) but it earns enough to make the effort totally worth it.
There are other places to sell downloadable crochet patterns like Ravelry, Craftsy, Patternfish, and others but I simply don't have time to keep up with this many sites. Etsy works well for me, so I just stick with that.
You could, of course, sell finished items as well if that works for you – remember, this is your business!
Don't forget to PIN this info to your Pinterest boards!
I hope all of these lessons I've learned the hard way over many months help you with starting your own blogs.
Comment below and tell me all about the blog you're starting!