If you want to quit that dead-end job and make amazing money blogging at home, check out my
FREE START A BLOG GUIDE!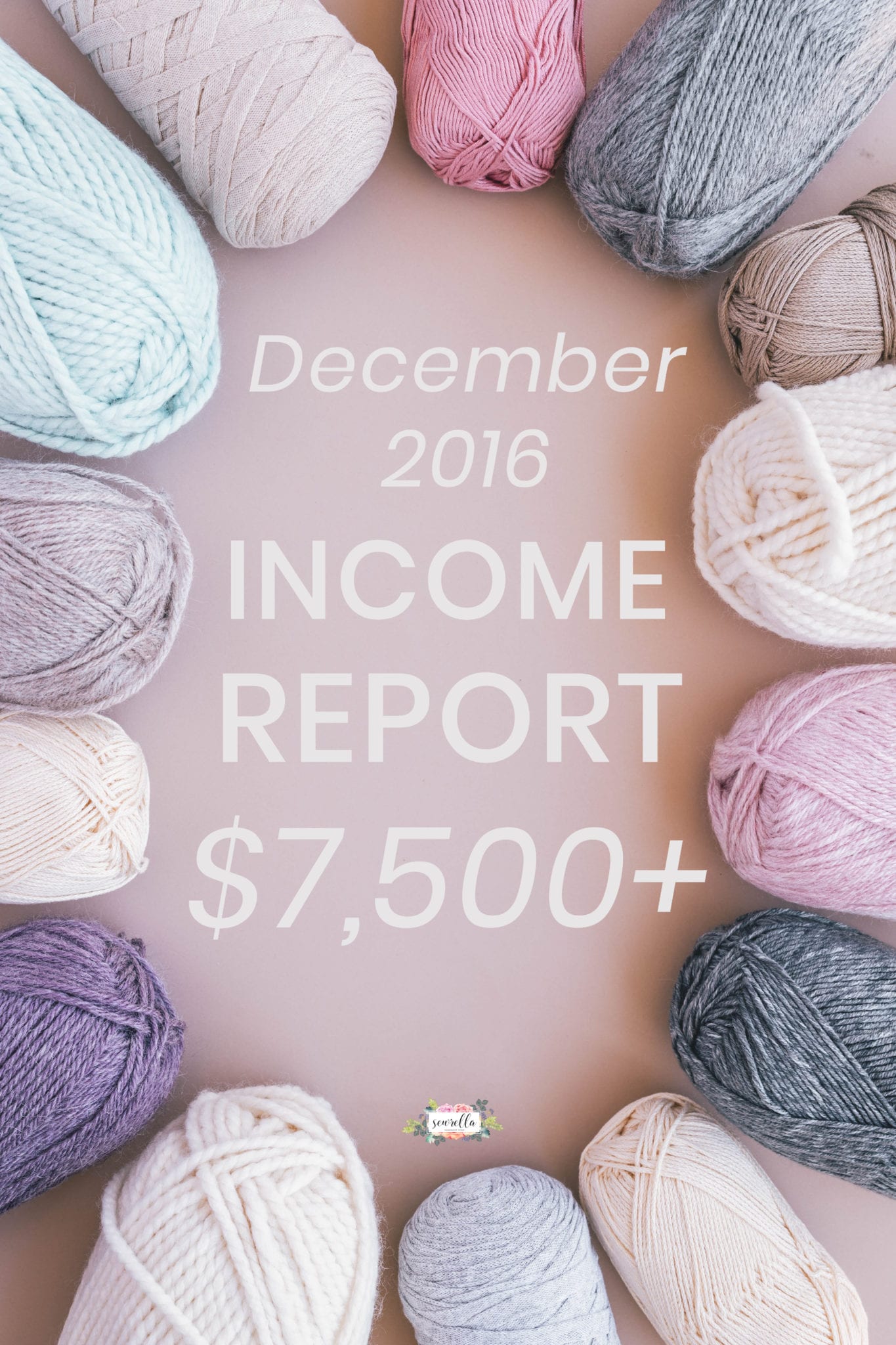 Hey there everyone!
As some of you may know I started this little bloggy right at the beginning of last year (2016) with yarn in hand, creativity abounding, and no expectations.
It's been exactly 1 year since then and BOY have things changed.
Below is a breakdown of my current traffic and income here on the blog, and some factors that led me here.
Now, you may be asking yourself "Why on EARTH would she put her income and numbers out there for all the world to see? Isn't that part of the secret sauce?"
Nope! I started this blog a short while ago and have found great success (considering how long I've been working on it).
I want to encourage others to blog too!
Actually I put together my 3 Easy Steps to starting your own DIY blog HERE!
In the crochet niche of the internet, I've found one thing to be true – lots of people crochet, but not very many are publishing new patterns and putting out content.
There is a very small group of crochet bloggers out there (spend any time on Pinterest and you'll quickly name several) dominating the market.
And this job is not hard to do!
Let me repeat that. THIS JOB IS NOT HARD TO DO.
It took me about half an hour to set up my blog initially and although I've made many adjustments along the way, my blog has been earning me good money with a really basic setup.
Now what do I mean by "good money"?
December 2016 Income
Mediavine: $2,918.52
Sponsored Content: $2,750

Sponsored video: $1,750
Sponsored blog posts: $1,000

Youtube: $247.36
Amazon Associates: $28.53
Bluehost Affiliate: $1,170
Beautiful Dawn Designs Affiliate: $70.50
Etsy Pattern Sales: $536.78
October 2016 Expenses
MadMimi: $42
Adobe Creative Cloud: $9.99
Etsy Seller Fees: $61.89
Supplies for blog posts: $80
*Keep in mind that not all of this money is mine forever. I am the sole proprietor of my business and will pay taxes, am responsible for my own health insurance, and other expenses that a traditional job would supply. That's still a lot of dough for playing with yarn though!
December 2016 Traffic
Some screenshots from google analytics:
Pageviews for the month of December:

Top ten traffic sources: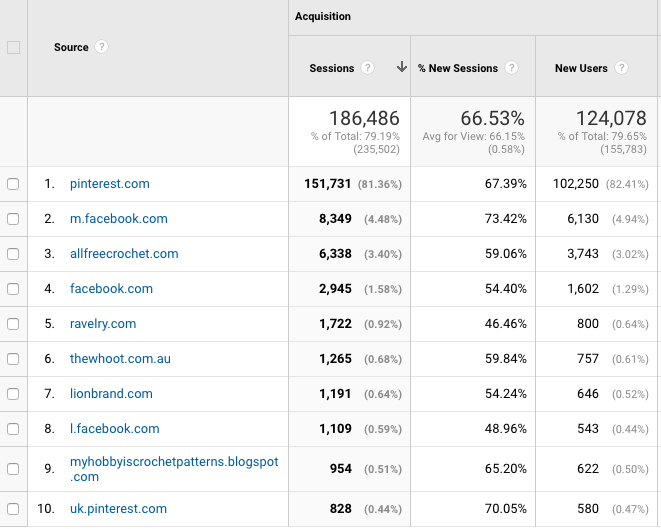 Let's talk about what happened this month:
Quite a few things changed as far as income, expenses, and traffic. Let's look at it a little more closely!
My second full month with Mediavine and my earnings there continue to get better and better – yay! My RPM (rate per mille, what you get paid for ever 1000 pageviews, roughly) has continued to rise and that makes me happy happy happy – because it means I put in the same amount of work gaining similar traffic to November, but make more moolah. Yes!
Woah! My Youtube income almost doubled this month! I've never seen earnings that great from Youtube – more videos are DEFINITELY on my to do list for the new year.

This is really an area I want to expand on and get better at. Videos are, however, more labor intensive for me than a design and a blog post. It's more difficult logistically finding quiet time to record with a 7 month old in the house – but I'll find a way!

Sponsored content was really great this month (Super grateful to them, thanks guys!). But not as bananas as November. Let's look at this more closely:

A good portion of the sponsored blog post income in November came from one big project that ended in that month. Really I was working for this money for over 3 months. It's just that the actual payment was issued in November, so a BIG check came during that month when really I was earning that money over the course of several months. So I expected December earnings to be lower than November, because of this misleading spike.
Sponsored video was still kicked into high gear for the better part of December. Being the busy holiday season, there has been more of this work available to me lately – but it won't stick around forever. I expect to move forward making a fraction of this money on sponsored video, but that's fine with me – more time to spend on my own youtube channel which will actually make me more long term money. Here's how: If I make sponsored content for another website that is not my own property (as I have been) I get paid a few hundred dollars, then that video is gone and cannot earn any more money for me, case closed. Amen. BUT if I spend the same amount of time making a video for MY youtube channel, it will live on youtube until the end of time and continue to gain more and more page views – making me more and more money as time goes on. So really, my time is better spend creating content for my own use. But that content takes time to start earning me money. So a mix of the two content creation styles works for me.
The holidays are HUGE for bloggers (or so I've read, remember – this is still my first year blogging!). Quarter 4 is the quarter when big companies spend the most money on advertising. So I've had some more opportunities for sponsorships and collaborations this month. I expect for my Mediavine money and my other sponsorship streams to dry up on some level over the next few months.

The holiday season has brought me more traffic. At least, I'm pinning the increase in traffic on the business of the season. I hear that bloggers see a big spike in traffic during the last couple of months during the calendar year (particularly craft and DIY blogs) and then it tapers off after the turn of the calendar. We'll see if that's true! This is my first December as a blogger so I have nothing to compare to. Hopefully the traffic is here to stay and is just a reflection of my organic growth, but I also understand that this behavior could be due to Christmas.

My page view counts were very close to last month, but I have taken more days off and published far fewer projects as I spent time with family and prepared for my own holiday. Know what that means? It means that I can host a holiday cookie party with my friends and family and not sweat about taking a night off from my blog! Or two nights! Because the traffic will be there in the morning. Oh, what a good feeling. (Don't take this to mean I'm going to suddenly kick off my shoes and eat bon bons watching the money roll in, certainly not. But I can enjoy a little time away from my blog here and there without worrying about paying my bills.)

Expenses were low this month, without spending any money on reinvestment in my blog, and a lot of my supplies being donated or sent for free via sponsorship collabs. I bought some craft store supplies like props for my Heirloom Stockings post and the CHEAPEST lighting solution you ever did see for photos and video (I spent around $15 for new studio lights and they are amazing!)
What do you want to see from my blog in 2017? I have so many ideas up my sleeve, it's hard not to start them all at once! Leave me a suggestion in the comments below.
If you want to quit that dead-end job and make amazing money blogging at home, check out my
FREE START A BLOG GUIDE!