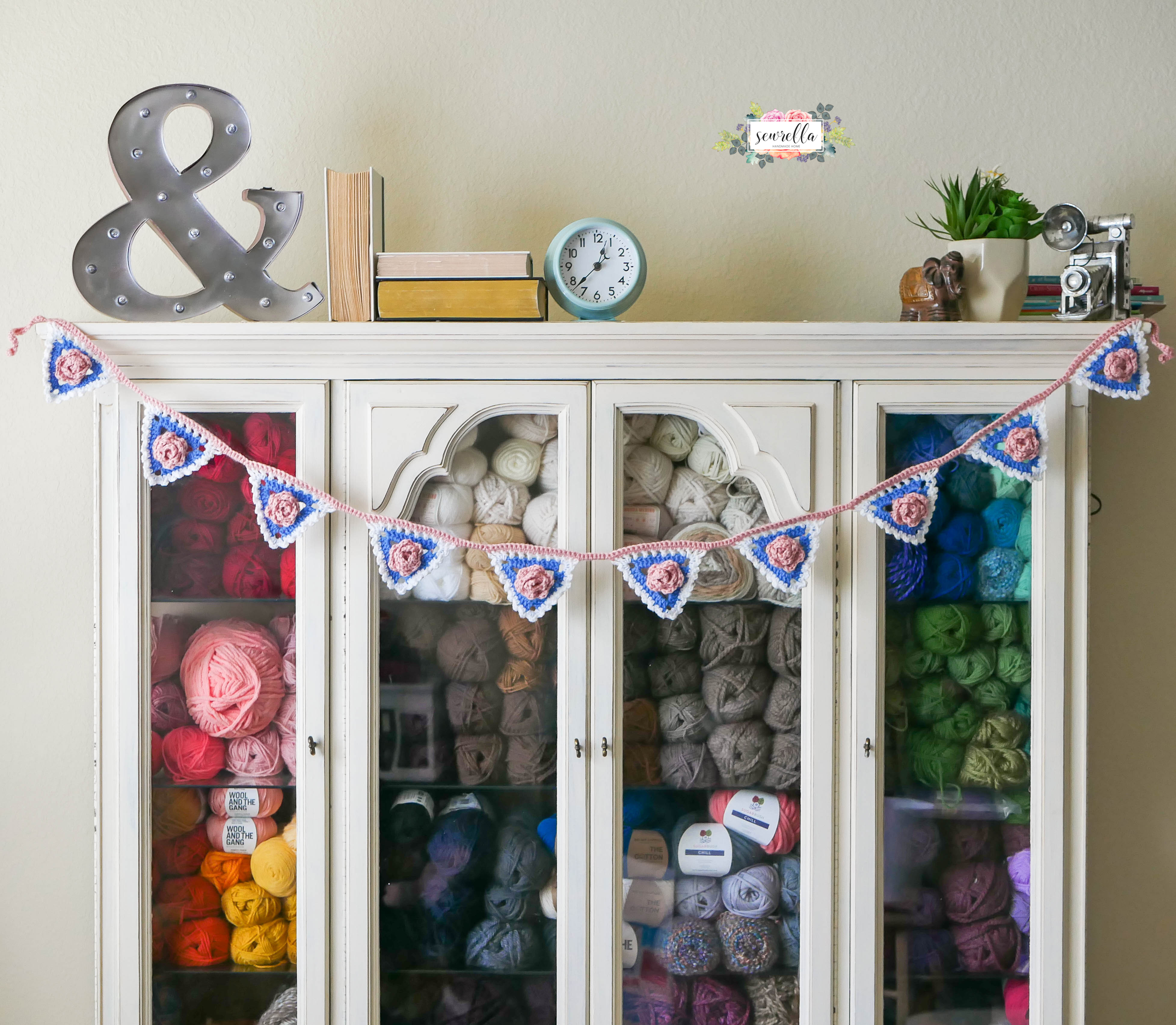 It's here! It's here!
The final day of our little impromptu Mystery Crochet-a-Long here on the blog is here y'all and I can't believe how quickly it went!
I've had so much fun organizing and playing along with you during this project and I hope you all love it as much as I do.
And if you don't love the project, well, wan't the point of this whole thing to have a little fun, try something new, and participate in this wonderful yarn community we have in the interwebs? If it wasn't, I'm afraid you've missed the point.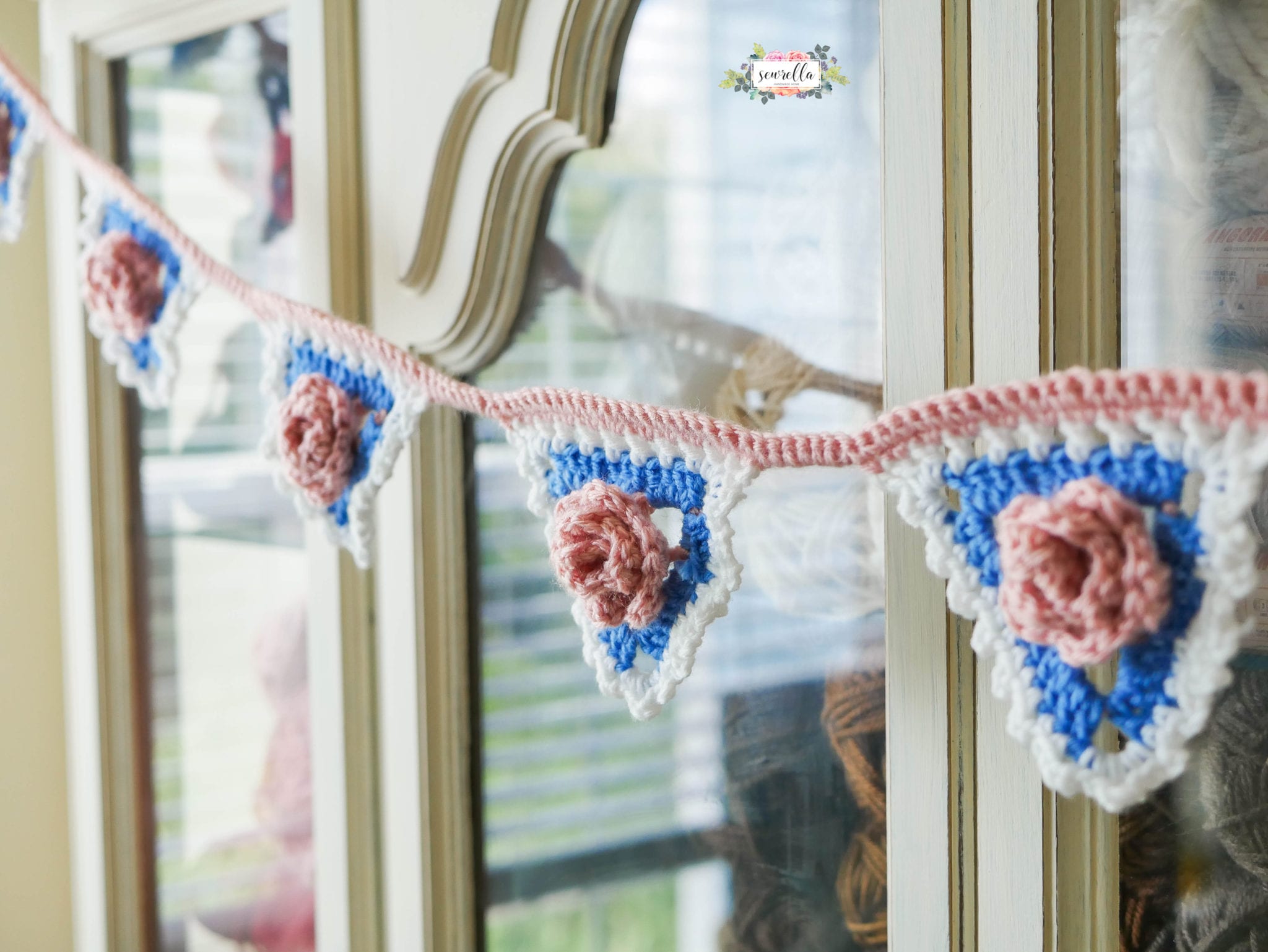 I guess at this point, the secret's out – you're making a bunting! I'm stringing mine up along my yarn cabinet (see how I made over this craigslist find here) but you can use it to decorate a mantle, window, entry or exit way, give it as a gift to a friend, or even donate it! I bet there are some teachers who would LOVE  handmade bunting like this one for their bulletin boards. (I'm totally thinking of my elementary school librarian who was the ultimate sweet grandma and would have gushed over this thing!)
I can't wait to see how you all use your buntings – be sure to post to Instagram using our hashtag #sewrellamysteryCAL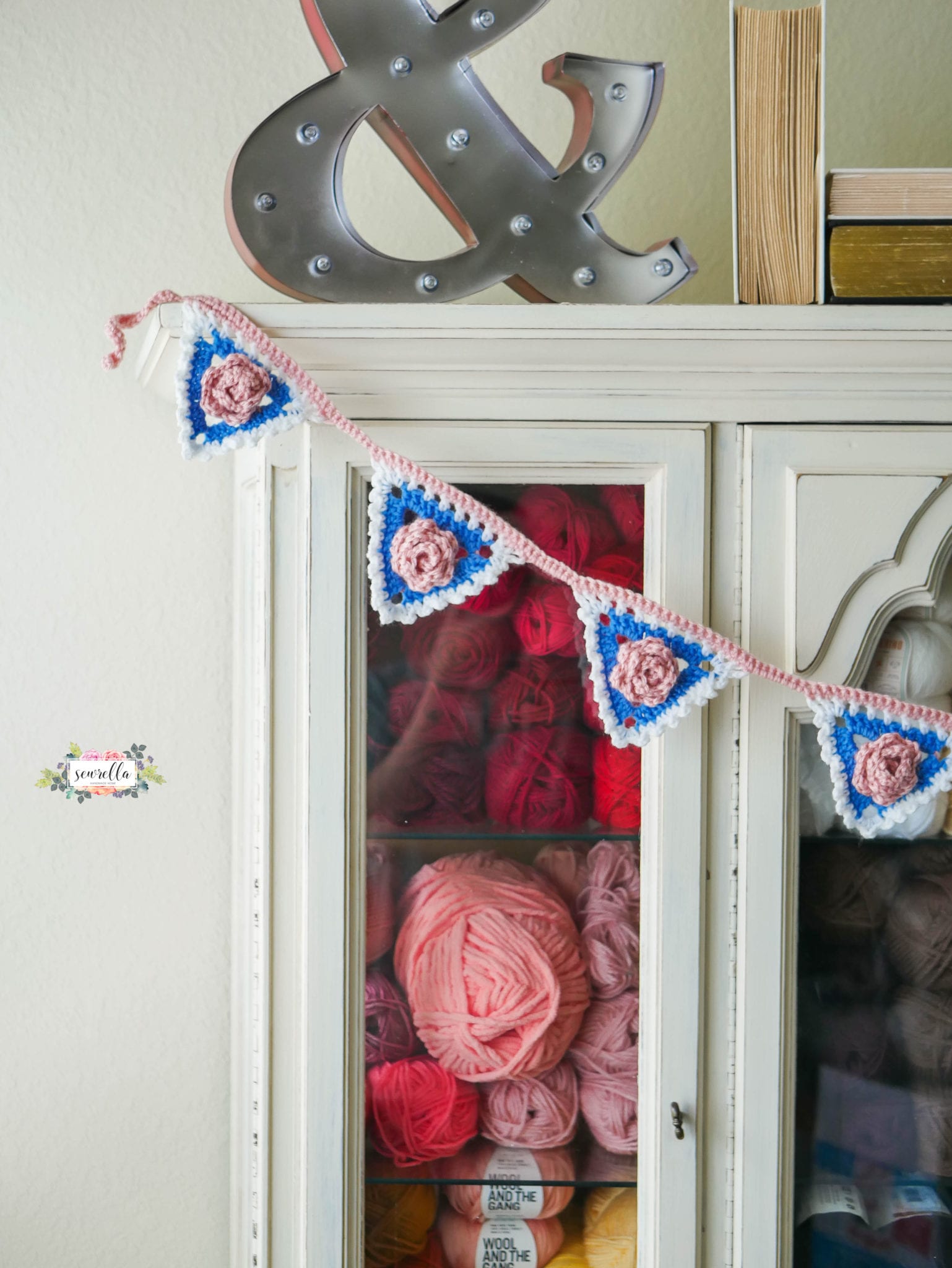 Now, for those of you who played along – I want to know what you've thought of the experience! I was blown away that so many of you jumped on this mystery bandwagon with me, and I would love a little feedback on what you loved and what you didn't. I'd like to do more events like this one in the future!
So fill out my little survey below, if you would! I'll definitely incorporate your feedback into the next CAL.
And keep scrolling down for the pattern to complete Day 5!
PATTERN
Materials:
-Any Color worsted weight yarn (I'm using Lion Brand Vanna's Choice in Pink)
-H 5mm crochet hook
-Tapestry needle
((see all photos below for visual aid to the pattern))
Ch 24
Hold one triangle piece of bunting with the first side of Day 3's pattern (the side with all the Dc, Ch 1's) at the top, with the rose facing you. Sc into the Ch 4 corner space, Sc in each st across that whole side (into the Dc's and the Ch 1's), Sc into the Ch 4 space, Ch 6
Repeat this process with each of your bunting pieces, Chaining 6 between each piece. Once you've attached them all, Ch 25 after the last Sc into the last Ch 4 space, turn
Sc in 2nd st from hook and across (work in each st across all pieces of bunting, and into each Ch 6 between bunting pieces – you may work these Sc's into the Ch sts themselves or work around the Ch 6 stands), Sc in each of the last 24 Ch sts, finish off and weave ends.
Tie up your bunting and enjoy!