Hi friends!
I have something extra special for you today – the first ever guest post here on the Sewrella blog! Today's pattern comes to you from Meg, a sweetie I found through her super cute Instagram and I know you are gonna love her!
Hi all! I'm Megan, owner of Megmade with Love, a crochet blog that features free weekly crochet patterns, downloads and really anything crochet-related! It's super fun to be here over on Ashleigh's blog. She's got the cutest and coolest stuff here on Sewrella, not to mention her incredibly inspiring "How to Start a Crochet Blog" series that actually gave me the extra little inspiration to begin my crochet blogging adventure! So I can attest, that she knows what she's talking about, and has provided lots of good information on the ins and outs of starting a blog.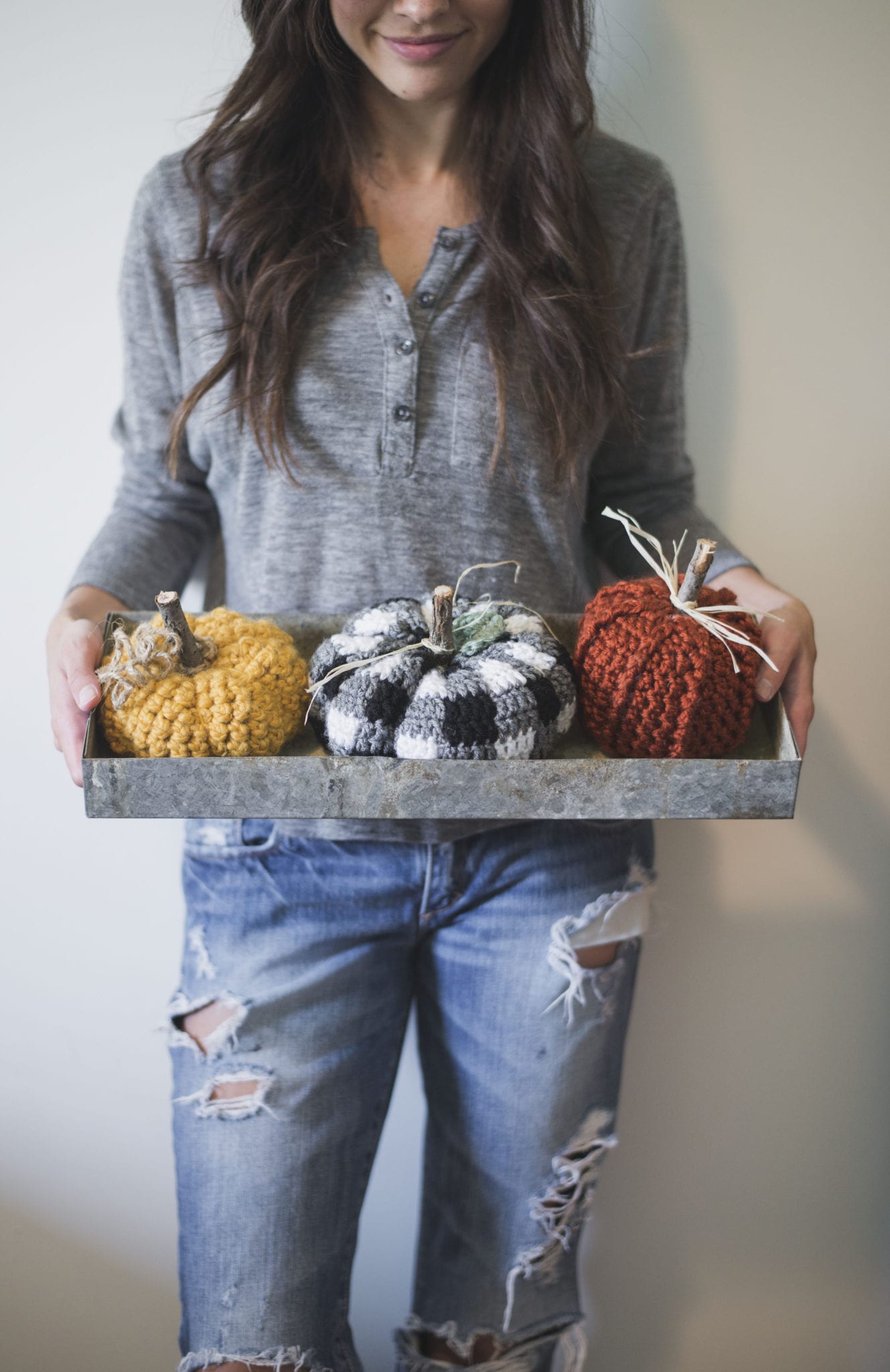 Today, I'm bringing you a pattern for the orange-ridged pumpkin in the photo above. The reason I love this pumpkin pattern so much, is that it works up super quick (using two strands of worsted weight yarn)  and is so, so simple. Not to mention that it's pretty darn adorable… You can find the patterns for the other two pumpkins over at the Megmade with Love blog.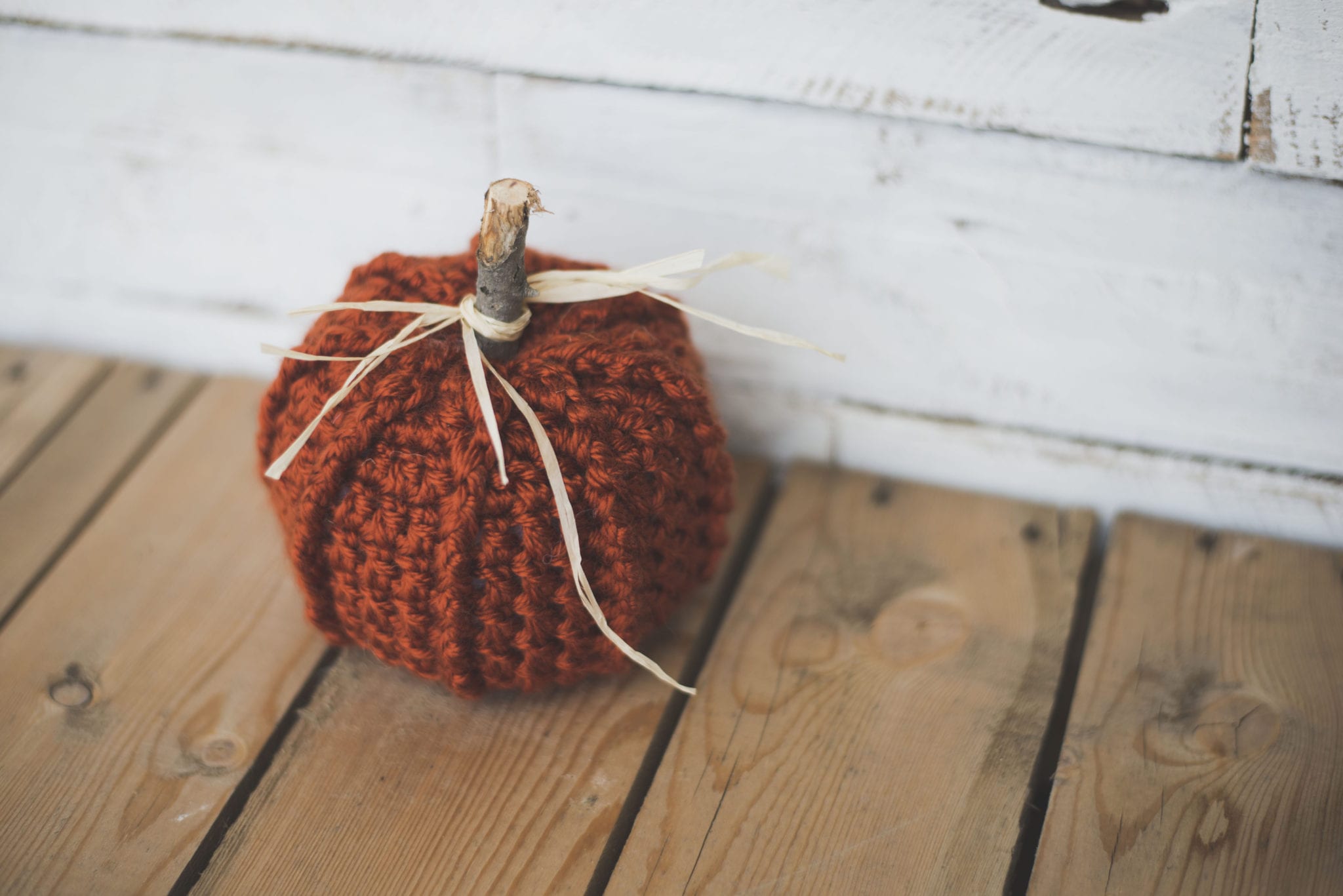 I think this pumpkin would be a great, quick make, perfect for craft shows. Or even just for yourself, to use in your own home for cute fall decor!
PATTERN
Materials:
Worsted weight (category 4) yarn of choice, I used Yarn Bee Soft Secret in Bittersweet
Size H Hook (5mm)
Polyfill stuffing (big handful)
Yarn needle
Hot glue gun
2 inch (or so) stick
Other adornments you'd like to tie around stem (I used raffia, ribbon, jute that was curled..)
Dimensions:
Approximately 5 inches wide by 4 inches tall (not including stem)
Abbreviations:
ch=chain, st(s)=stitches, sl=slip, dc= double crochet, fptr= front post treble crochet
Notes:
ch's at beginning of rounds do not count as a stitch
**Using two strands of yarn**
ch 32, join to first ch with sl st (make sure not to twist chain before connecting)
1) ch 2, dc into the same ch that you sl st'd into, and dc around in remaining ch's, join to first dc with sl st (32 total sts)
2-11) ch 2, [fptr, dc into next 3 sts], repeat [ ] around, join to first fptr with sl st (32)
Finish off, and leave a long tail for sewing up the ends.
Once your piece is complete, you'll sew up the open ends. Take your needle and thread with the tail of your project. Then make a running stitch through one of the open ends on the very outer row of stitches. Sew in long strides to make it easier to gather.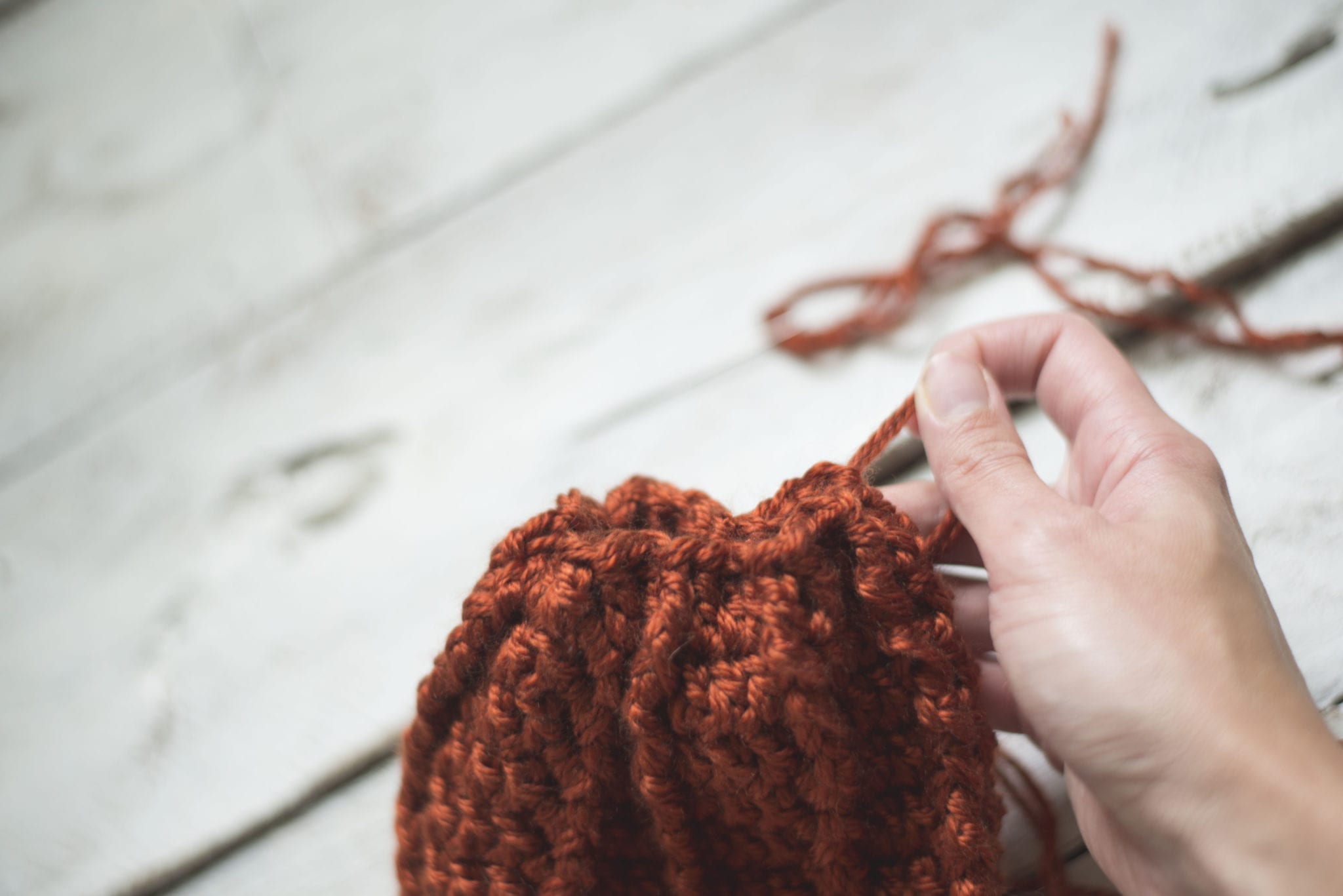 After you've gone all the way around, you'll pull your yarn tight to gather. Then secure with a knot. I didn't cut the yarn or unthread the needle. I just let it hang out so I could use it to sew up the other side, just pull it through the inside.

Then stuff your punkin' plum full of poly fill..

You'll do the same thing with your yarn and needle to the other open end. Sewing in and out to gather the top, and knot again to secure.

Then I chose to sew back and forth a couple times through the middle to make the pumpkin a little more "squat" looking. I tied another knot after I was done, then weaved in my ends.

Last you will put a glob of hot glue onto the middle of your pumpkin, and hold your stick onto it firmly until the glue cools.
Tie on your adornment of choice, and then you've got yourself the cutest little fall decor piece!

I hope you enjoy this pattern! If you end up making one of them, be sure to tag me over on Instagram, I would love to see. 🙂

Happy making!
-Meg