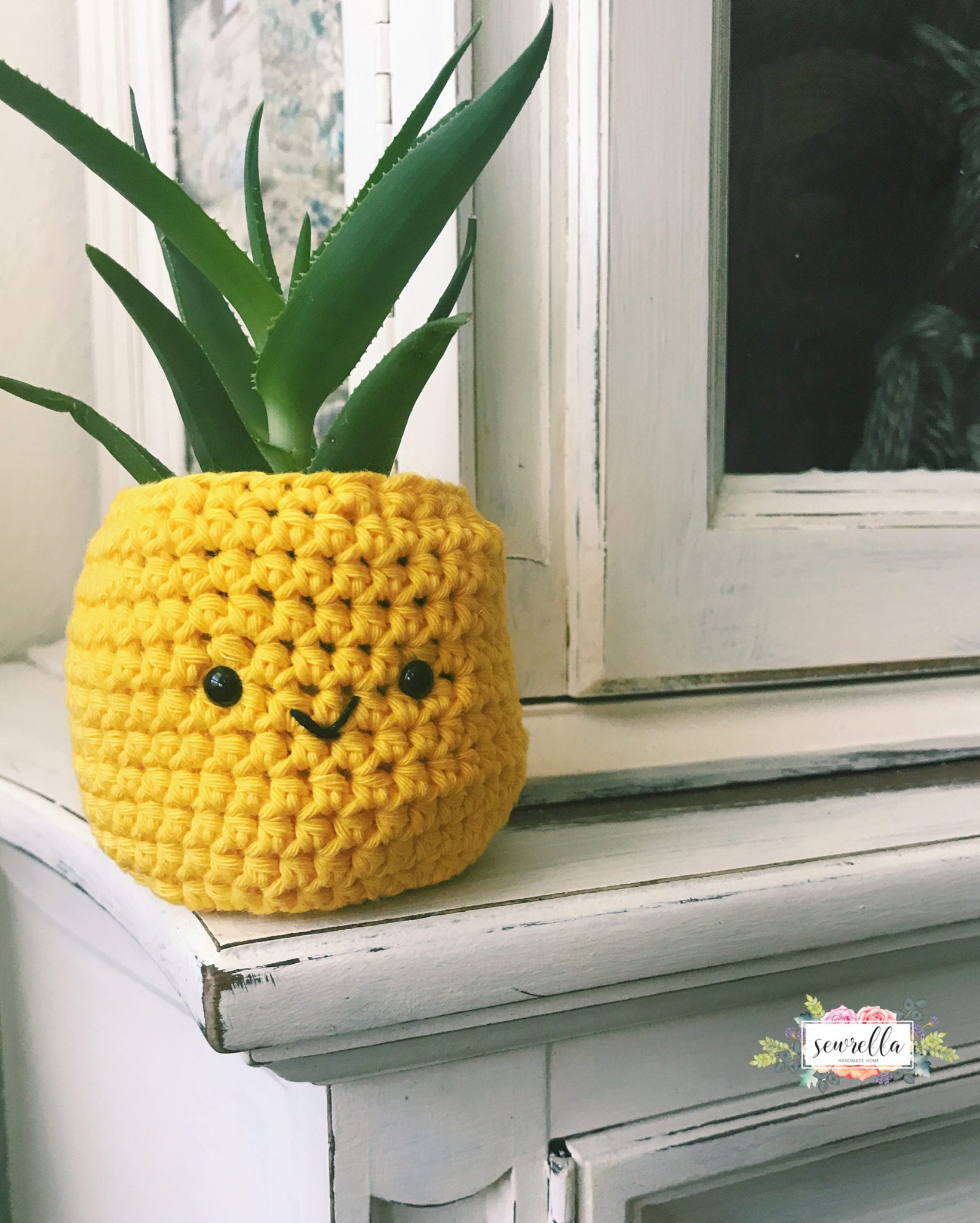 Hey y'all!
Today is National Pineapple Day (who ever heard of such a thing?) so I celebrated the only way I know how:
CROCHET!
Let's be honest, I celebrate everything with crochet. Even silly little things like National Pineapple Day. I actually planned this project weeks ago as part of my Summer Crochet Collection, and moved it up on the schedule when I heard about the sweet yellow holiday.
I grabbed a cute little spiky succulent at the Walmarts garden department for just $3 – score! I think it looks just like the top of a pineapple and it's easy to keep alive – succulents need almost no babysitting, just stick 'em in a sunshine filled place and dampen with water every 2 weeks. That's my kinda gardening!
It took about half a skein of Paintbox yarns cotton aran yarn but I think Lion Brand 24/7 Cotton could make a beautiful planter too. I do recommend using a cotton yarn for this project or any planter because if it gets wet, it will handle the moisture better than an acrylic yarn.
The video below contains instructions to make this planter in ANY SIZE so that you can make all your plants little pineapples. Because why wouldn't you?
PATTERN
PIN this pattern to your Pinterest boards for later HERE.
Grab the Ultimate Pattern Bundle that includes this pattern and 100+ others for under $30 HERE.
Materials:
-Paintbox Yarns Cotton Aran in buttercup yellow
-Sise G 4mm crochet hook
-6mm safety eyes
-small piece of black embroidery floss or yarn
-small spiky succulent or other appropriate plant (with it's own container)
Notes:
-Do not join rounds for the entirety of this pattern, you will work in a spiral instead.
-Make a larger planter by continuing to increase your rounds until your flat circle is just a bit larger than the plant's container, then move on to work up the Hdc rounds. Work Hdc rounds until your crochet planter is as tall as the plant's container.
Begin with a magic ring, Ch 2, 8 Hdc inside ring (8)
Round 2: 2 Hdc in each around (16)
Round 3: 2 Hdc, Hdc in next, repeat around (24)
Round 4: 2 Hdc, Hdc in next 2, repeat around (32)
Round 5: 2 Hdc, Hdc in next 3, repeat around (40)
Rounds 6-14: Hdc in each around (40)
Round 15: Sc decrease, Sc in next 3, repeat around (32)
Finish off, weave ends
Embroider smile over Round 10. Place safety eyes between Rounds 10 & 11 one st away from the smile.
Place plant inside and enjoy!