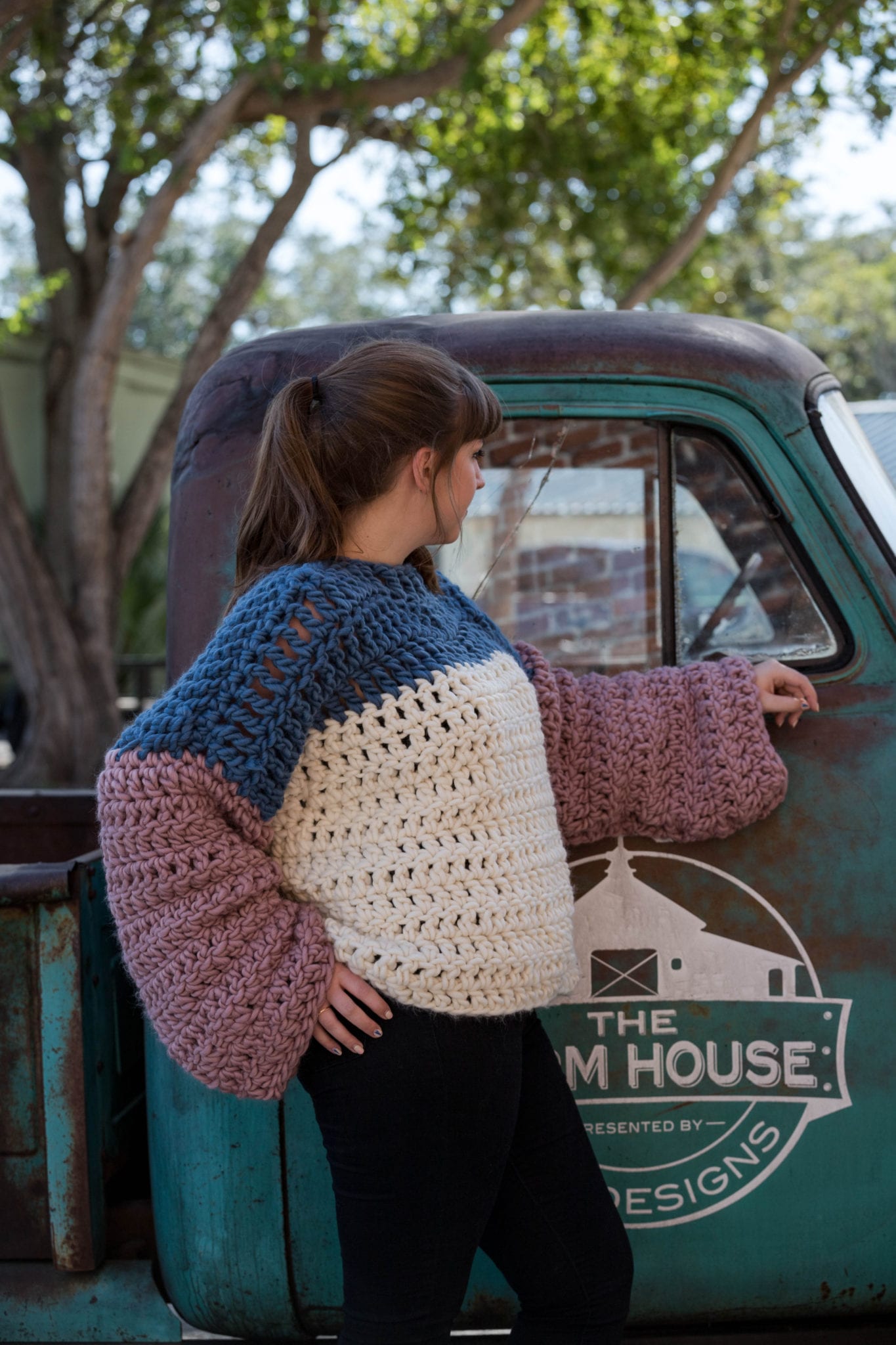 I'm so excited to tell you guys about a splendid kit from the trendiest crocheters and knitters around, Wool and the Gang! This box full of yarn was dropped off at my door and I couldn't believe how quickly and easily I made the softest and warmest sweater in my closet. Read tons more below on how I liked it & why you need your own Handy Dandy Jumper and stick around for the giveaway and discount code at the end of this post!
I've been fangirling over Wool and the Gang (also affectionately called WATG) and their knit kits for SO long. If you've read my blog before, you may know that I fancy crochet over knitting so when they released their new Autumn line of kits, my eyes were immediately drawn to those kits with hooks!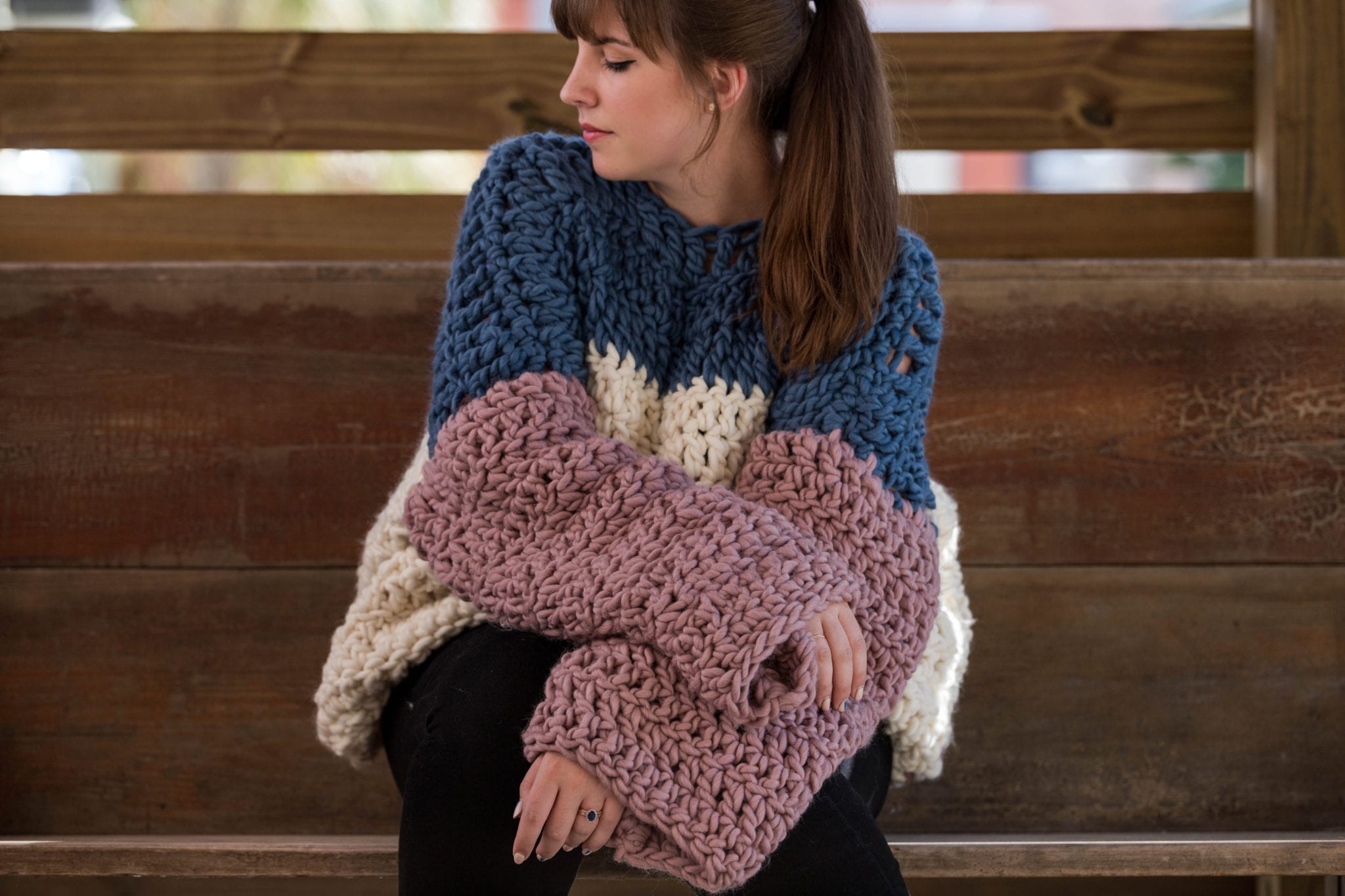 The Kit
It was so hard to choose which kit I wanted to make, but I found myself coming back to the Handy Dandy Jumper – it's such a statement piece that I wouldn't have designed on my own, but NEED in my closet! (Spoiler: you do too)
When the kit arrived in the mail, I couldn't believe how big the box was! All of this yarn for one sweater? It was a big ole pile of yarn, I couldn't even hold it all at once. I couldn't wait to dive in – I had to complete a couple of other projects before I could begin the jumper, and boy did I love seeing those squishy skeins on my desk for a week or two!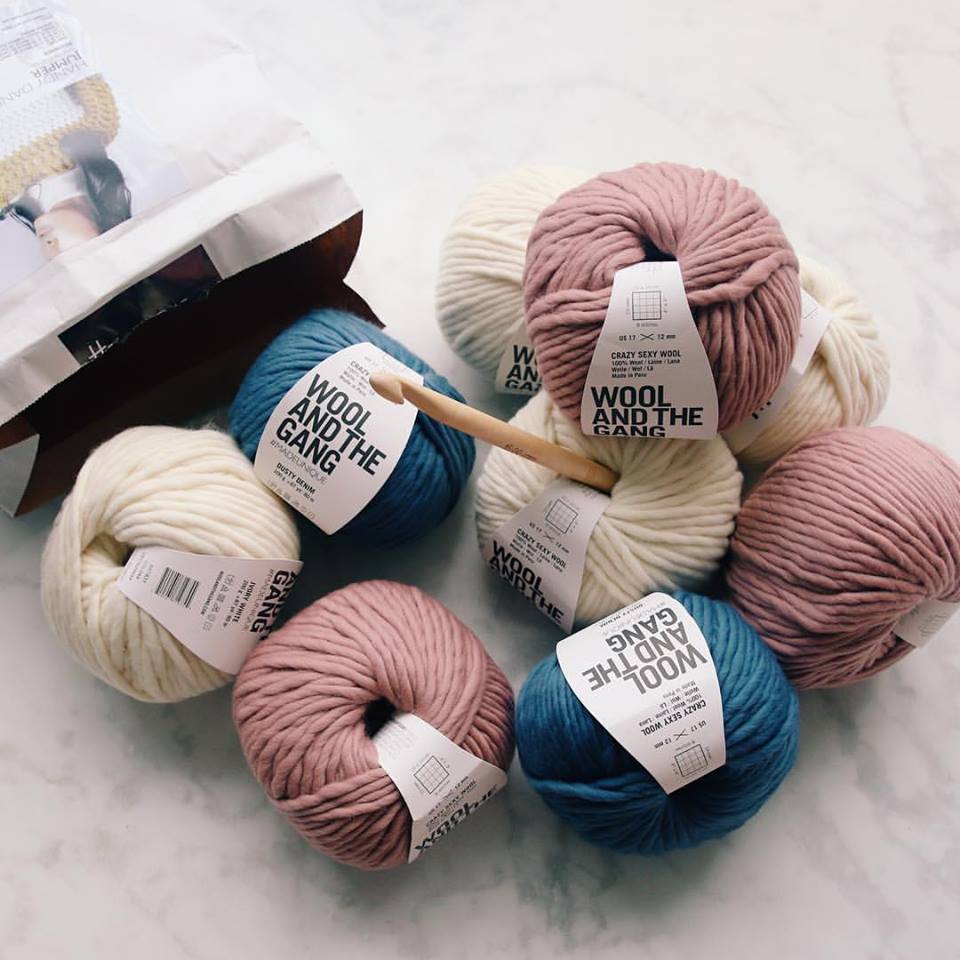 The Yarn
This yarn is so super yummy, I couldn't put it down. Ultimate softness paired with smooth gliding stitches on my hook made for a blissful, meditative crochet experience. You know how sometimes you use a yarn that splits, or has tons of knots, or is scratchy on the hands when you're working with it? Yeah, I hate those yarns. Those yarns take me right out of the blissful experience that is crocheting (I have more texture issues than most people, but it's a real problem!). That's why when I find a yarn that gives me the "ah, yes, I'll stay here all day thank you very much" feeling, I have to shout it from the rooftops!
The feel of my yarn is important, but the next thing I pay huge attention to is color. I'm really into color – soft, pale, muted colors specifically are my jam. A lot of yarns on the market are really bright or really neutral. Don't get me wrong, I can love the heck out of some cream colored yarn (thus the body of this jumper!) but my heart sings when I find yarn in juuuuust the right shade of pink. Not fuscia, not baby pink, but a nice muted mauve. Oh lordy, I'm getting all giddy just thinking about it! I guess you can call me a colorist – I'm nutty for color! And I'm very picky. Usually, I find myself settling for the colors that are available without really being in love with what's in my hands.

However, when my WATG kit arrived, my high hopes for their new Mellow Mauve and Dusty Denim were met with an audible gasp – they're perfect! You know how people talk about their spirit animal? Well I'm pretty sure I found my spirit color. This Mellow Mauve is the end all, be all color that I want my walls, shoes, toothbrush, and hair to be. I love it that much. It's dusty and muted, it's pinky and feminine, it's everything I want yarn to be.
SO – why blather on forever about this yarn? I'm telling you people, it's that great. It really is. I can't say enough good things.

The Pattern
Sometimes we are guilty of being yarn hoarders. We buy the most beautiful yarn we've ever seen, then it sits on the shelf for a month or a year or ten years because we don't know quite what to do with it. When you grab a pattern kit with the most beautiful yarn you've ever seen, it arrives and you gush over the perfection of it all, and you're ready to go get to work! Now those skeins have purpose and a direction. They will shine and be worn. They'll find their true place in the world and you'll wear them with pride.
(Psst… you'll look more fashionable than ever too. Just sayin'.)

When I finally sat down with the pattern, I read through it and was shocked at how straight forward it was. I just needed to make four rectangular panels and sew them up – easy! Like silly, easy. How can a garment be SO trendy and so simple to make? The geniuses at Wool and the Gang made this happen and I'm forever grateful.
After making all four panels of my Handy Dandy Jumper, I seamed them up with easy single crochets and turned this baby inside out per the pattern instruction booklet (that by the way even had diagrams of all the simple stitches you need to know for this pattern – so thorough and helpful!). I couldn't wait to pop this jumper on, I sprinted to my dressing room and carefully pulled it on.


Adjustments
I made the jumper exactly as the pattern recommends (I made mine in a size 3 but definitely could have sized down to a 2 due to the oversized nature of this piece), I was so comfy and so thrilled with the look! I looked like I was wearing something on the runway for trendy, forward thinking handmade clothes. I couldn't believe this is the product of a bunch of simple crochet rectangles!
The one and only adjustment to the pattern I made to fit my preferences was at the neckline. I sewed up my pieces a bit more than the pattern recommends so that the neckline opening was a bit smaller, as I wanted a higher neckline and a bit less "off the shoulder, open neckline" look – this effect may have been a product of my jumper being made almost a size too big too. If I make another oversized sweater, I think I'll size down!
Isn't that the best part of hand making your own clothes? If you want a higher neckline, after a few stitches, your neckline is higher. It's all up to you, and you can adjust this kit to fit your own preferences! But honestly, this pattern is stunning and beautiful as is. Creativity optional!

Final Thoughts
After a long Netflix binge session to break in this jumper, I brought it out into the world to shoot. Despite mile-high temperatures in Florida recently, I was feeling so at home in this sweater. It was a bit toasty while modeling outside, but I'm definitely bringing it with me for a trip up north in January! The Crazy Sexy Wool included in the kit is 100% Peruvian Highland Wool yarn and is super warm. With an oversized fit and billowy sleeves, you've got plenty of wool to keep you cozy when temps drop.
From picking out this kit online, with tons of beautiful color options, to making each beautiful stitch, and finally wearing my finished jumper – I have enjoyed this project more than most. As you read, I found my spirit color and that in and of itself is a beautiful thing!

Wool and the Gang have been generous enough to host a giveaway for my readers! Enter below for a chance to win your own Handy Dandy Jumper – or grab your own kit here.
If you enter promo code SEWRELLA15 at checkout you'll get 15% off your purchase too!
Here's how to enter, do any of the following!
Follow me @sewrella and @woolandthegang on Instagram
Leave a comment on my Instagram giveaway photo with your favorite yarn colors for this winter
Tag up to 3 friends on my Instagram giveaway photo for 3 additional entries. Tag one name per comment/entry.
Using the Rafflecopter widget below, visit my Facebook page (I'd love ya if you LIKE it!)
Here's the fine print: This contest will end on Friday, November 17. The winner will be randomly chosen from all entries on Monday, November 20, and tagged or emailed for notification. Winner will have 24 hours to respond; otherwise, a new winner is chosen. Winner needs to send me their size, yarn color choices, and shipping address. This giveaway is not affiliated with Instagram or Facebook.
Good luck!
a Rafflecopter giveaway