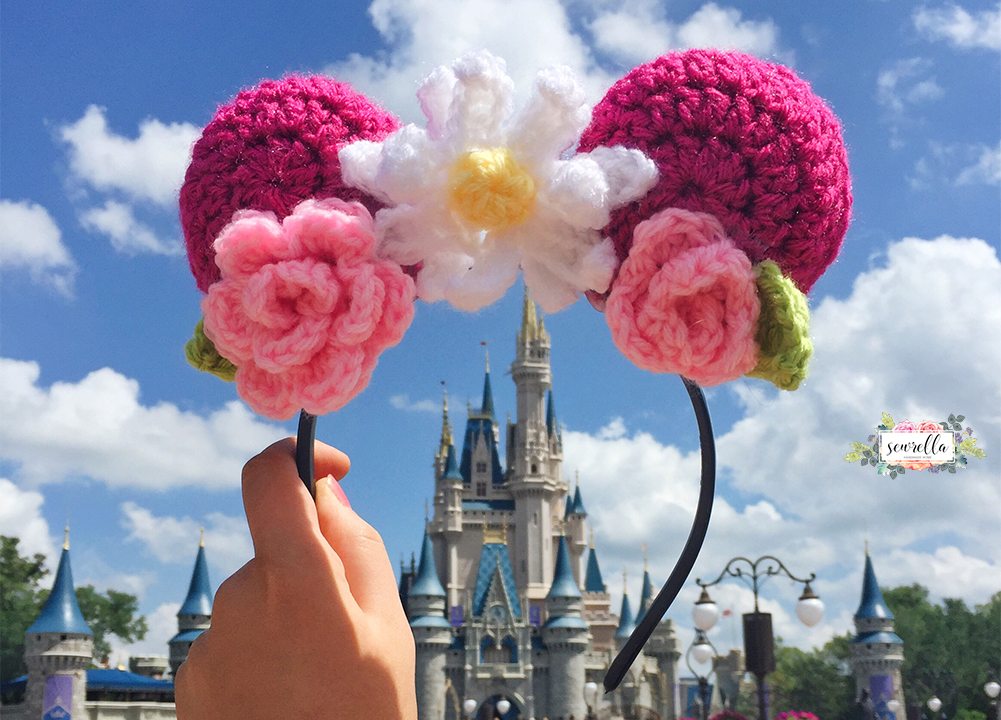 I grew up going to Walt Disney World. Living in Florida, being an annual pass-holder is kind of like having a membership to the local bulk shopping store. Not everybody has those memberships, but it's pretty common.
I can navigate all the Disney parks without a map, know all the best restaurants around Disney Springs, and love going back to the parks for a bit of nostalgia.
A few weeks ago my best friend and I decided that we both needed a break from life – we needed to take a few days to have some girlish fun without husbands, kids, work, or healthy food choices.
While we were planning our trip, I knew I had to crochet something fun & festive to wear around the parks. I love crocheting in preparation for special occasions! I always think of the experience I had when I see that crochet project later on & it makes me so so happy.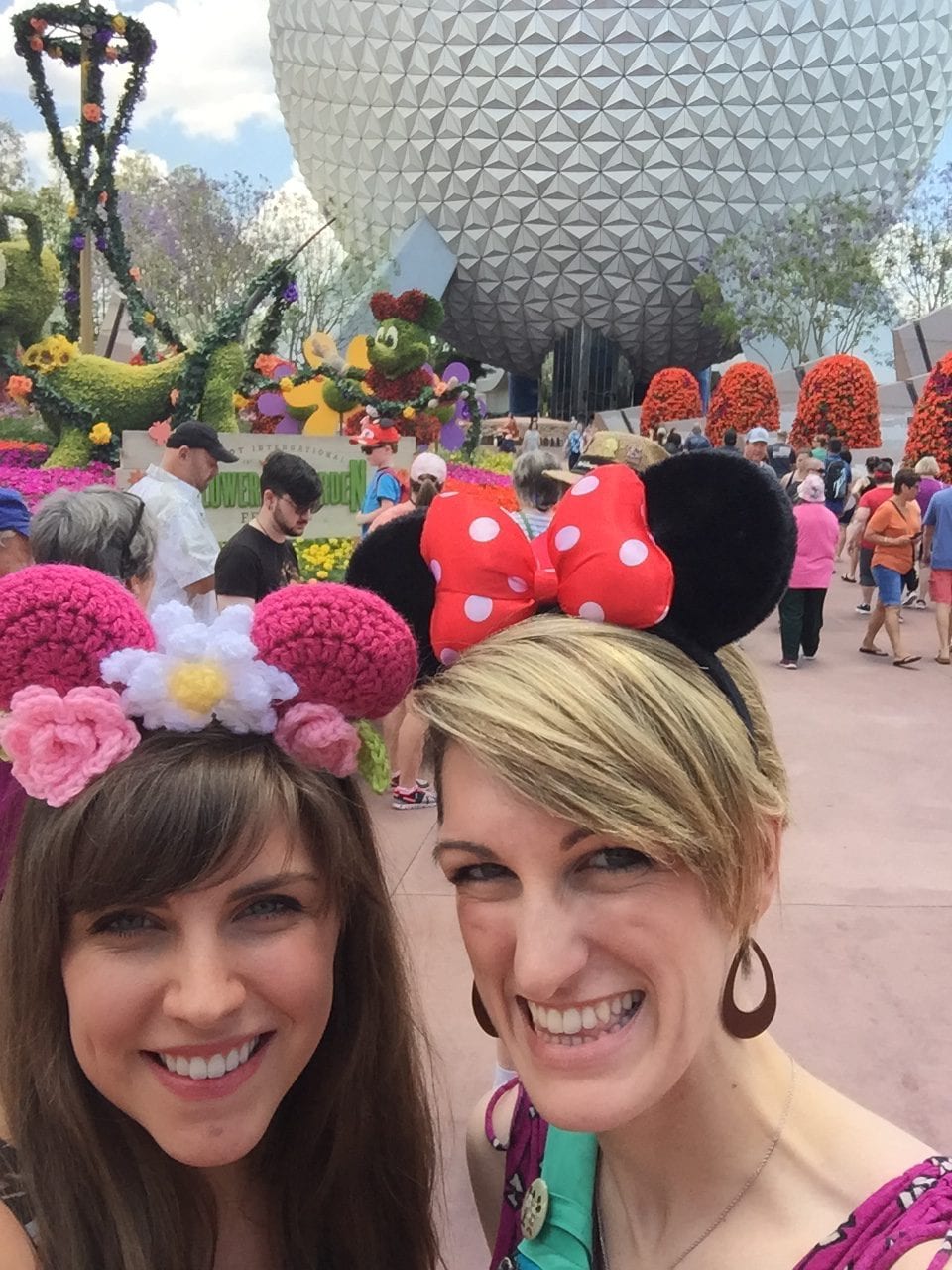 As I was thinking about what clothes I would pack, I got out my old pink sequin Minnie Mouse ears that I got at the parks a few years ago. I don't know if they make these ear headbands to fit children & adults or why they would make them so small, but those ears are SO TIGHT. They give me a horrible headache within an hour of wearing them. It's miserable. And I'm not the type to undergo that kind of pain just to wear my cute ears.
So I set out to make a new pair, and what better medium than crochet? I made my ears a little puffy with polyfil stuffing and embellished with flowers. You can leave them plain or add a bow or other embellishments too – the possibilities are endless!
I've also got modifications below to make the ears kid sized! Just attach the kid sized ears to a kid's headband and you're good to go. So easy!
Here's the handy video tutorial –
PATTERN
Get the ad-free, large print, printable PDF pattern from Etsy HERE.
Grab the Ultimate Pattern Bundle that includes this pattern and 100+ others for under $30 HERE.
PIN this pattern to your Pinterest boards for later HERE.
Materials:
-Worsted weight yarn (I used Lion Brand Vanna's Choice in Raspberry, Lemon, White, Pink, and Kelly Green)
-Size H 5mm crochet hook
-A handful of polyfil stuffing
-Tapestry needle
–Adult size headband (this one is my FAVORITE)
-Hot glue
Ears:
*Make 4
With Rapsberry (or chosen ear color) make a magic ring, Ch 2, 10 Dc inside ring, sl st to join, Ch 2 (10)
Round 2: 2 Dc in each around, sl st to join, Ch 2 (20)
*FOR KIDS SIZE: skip Round 3 and proceed to Round 4. All other instructions are the same.
Round 3: 2 Dc, Dc, repeat around, sl st to join, Ch 1 (30)
Round 4: Sc in each around, sl st to join, finish off leaving a long tail to sew ears up (30)
-With a tapestry needle use the long tail to whip stitch 2 ears together, tie a knot with two long tails to finish.
-Repeat with other ear.
-Tie ears onto headband & use a tapestry needle to sew through several stitches closest to the headband to secure. Weave ends & repeat with other ear.
-Place a thick line of hot glue on the under side of the headband where the ear is sewn on. Make sure hot glue is touching the yarn and the headband. Repeat on other ear. Let dry completely before trying on! (Once the glue is dried it won't interfere with your hair at all, don't worry!)
Flowers:
-Crochet 1 daisy flower using THIS tutorial
-Crochet 2 Roses & 2 leaves using THIS tutorial
Larger rose: Begin with a foundation Chain of 51
Smaller rose: Begin with a foundation Chain of 31
*Note: the video above helps describe the placement of the flowers. Once you attach with hot glue, there is no going back so be sure of your placement!
-Attach the daisy at the center between the ears. Be sure the daisy isn't too low on the headband (as it will just be smushed down on your head when worn). Use hot glue just on the backs of the petals that will touch the ears (a couple of petals on either side of the flower). Use plenty of glue and press firmly to secure.
-Attach each rose to the front lower portion of each ear with plenty of hot glue. Only apply glue where the rose will come in contact with the ear, you don't need to cover the back of the rose with glue. Press firmly to secure.
-Once all glue is dry, your ears are ready to be worn!
I hope you enjoy your ears and have a ton of fun at Disney – be sure to take photos and tag me on Instagram & Facebook!