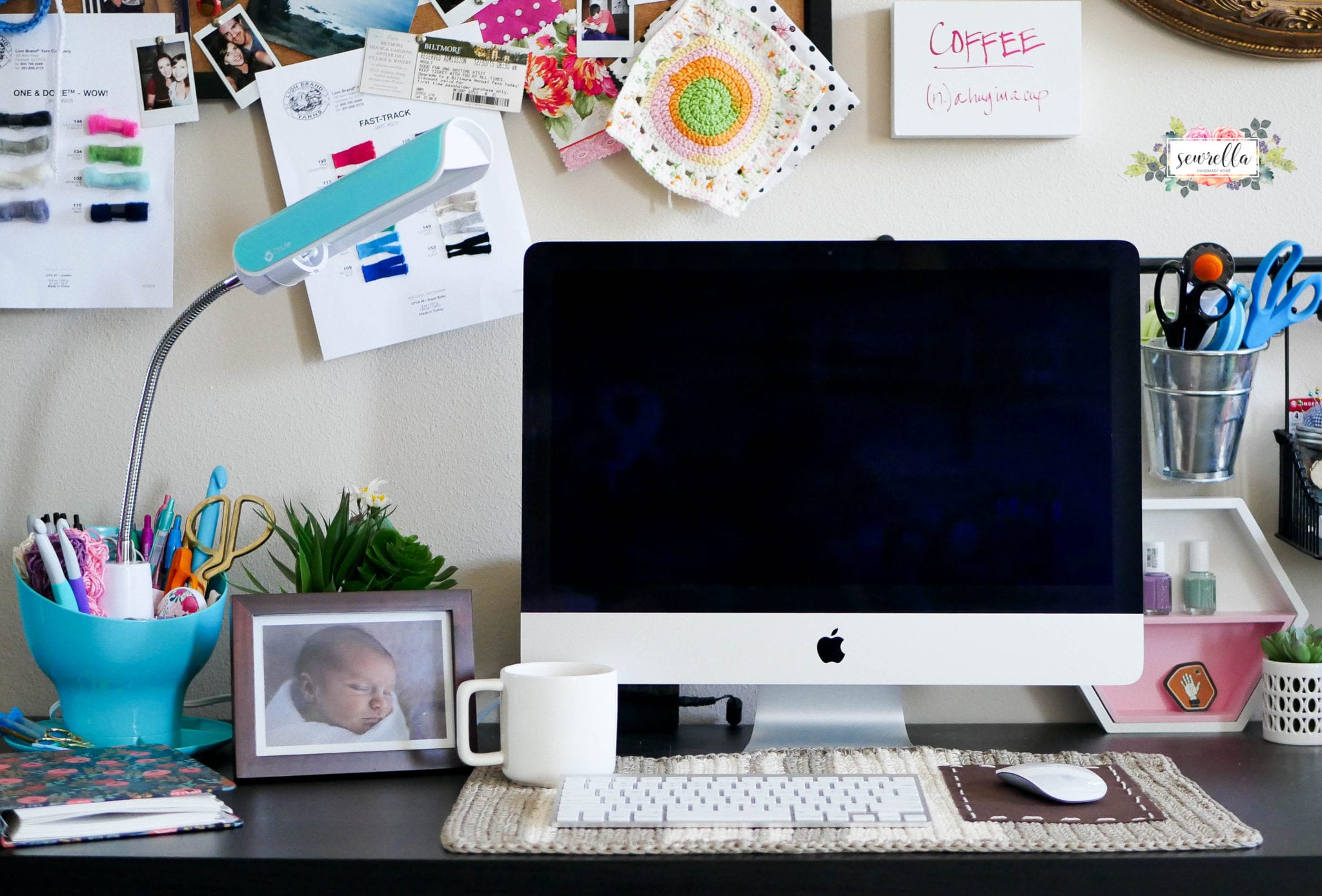 Hey there crafty folks!
I've got TWO exciting things for you in this post – one of them is my new favorite crochet project & the other is my new favorite desk buddy.
My desk has gotten a bit of a makeover this week and look how happy it looks!
Okay, I'll be honest – a lot of what made over my desk was a deep, desperate cleaning. BUT ALSO – take a gander at my new goodies!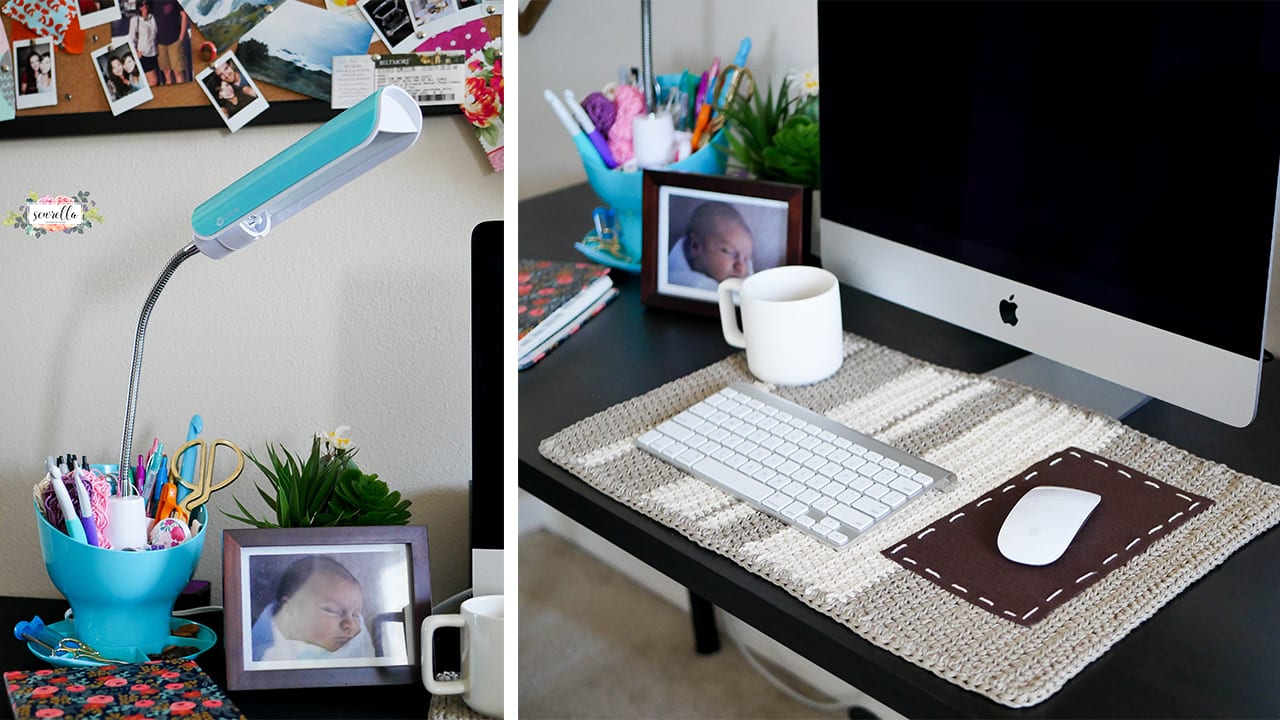 First up is my brand new 13w Craft Space Organizer Lamp made by OttLite. When this baby came in the mail I couldn't wait to load it up with all my necessities and get to work. I opened the box , plugged him in (yes, him – I've affectionately named him Oscar), and it was love at first sight. No, really – at first SIGHT. I have pretty horrible vision and when I turned the lamp on, heaven's to Betsey, I could SEE!
I've had one OttLite lamp in the past, a wonderful floor lamp named Scott that's been used for everything from basic crochet to studio lighting for filming tutorial videos. He's worked well for me, but I had been dragging him around the living room from work station to my video filming area to the couch and it was getting tiring. Nevermind the fact that the baby found my OttLite friend and decided to climb Scott one day. So Scott needed to hightail it to a spot that wasn't so baby-accessible.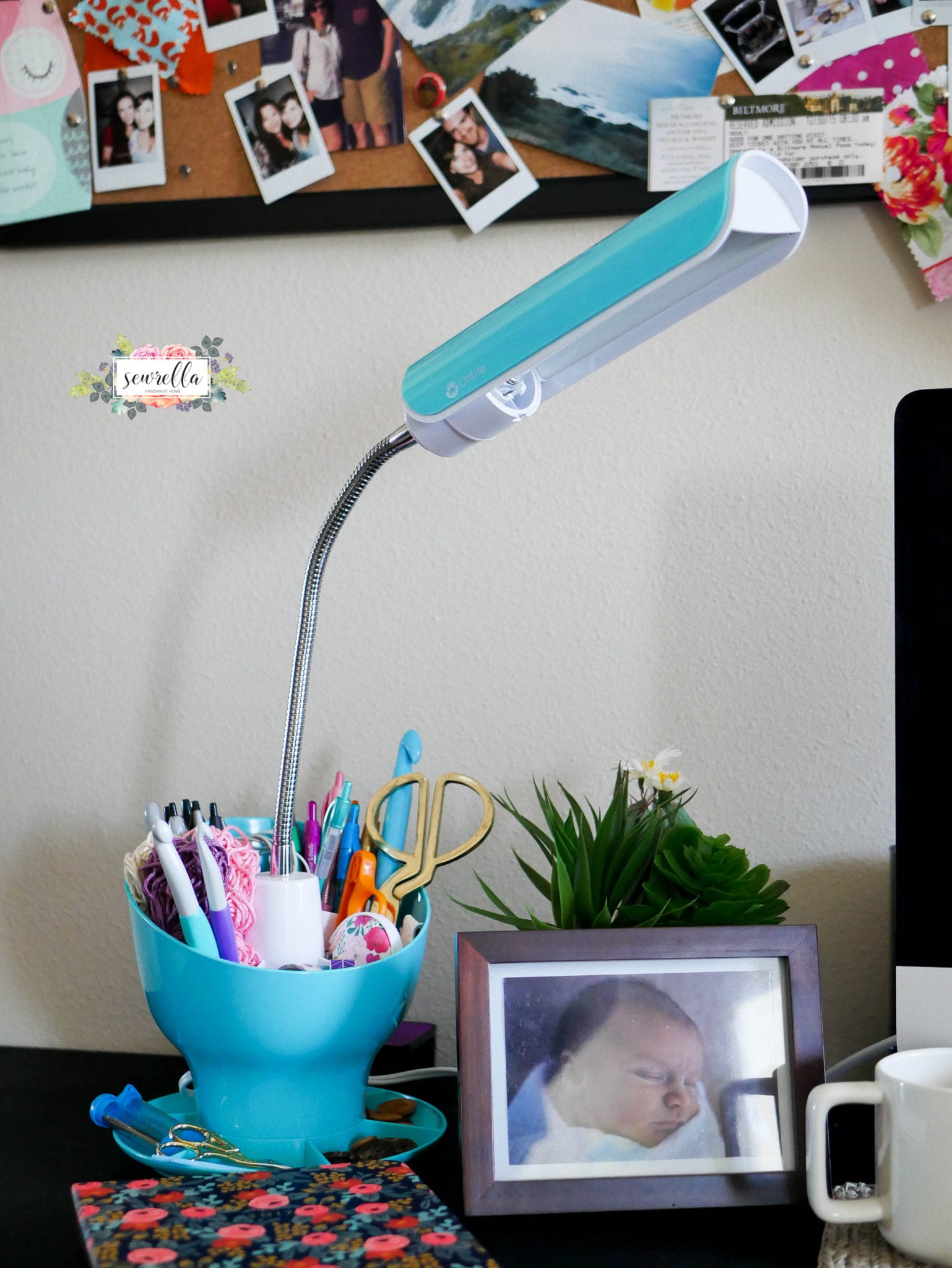 Enter, Oscar! My little desktop lamp not only put out just as much brilliant bright light as his heftier floor lamp brother, but was compact, cute, and a base station to corral all of my notions!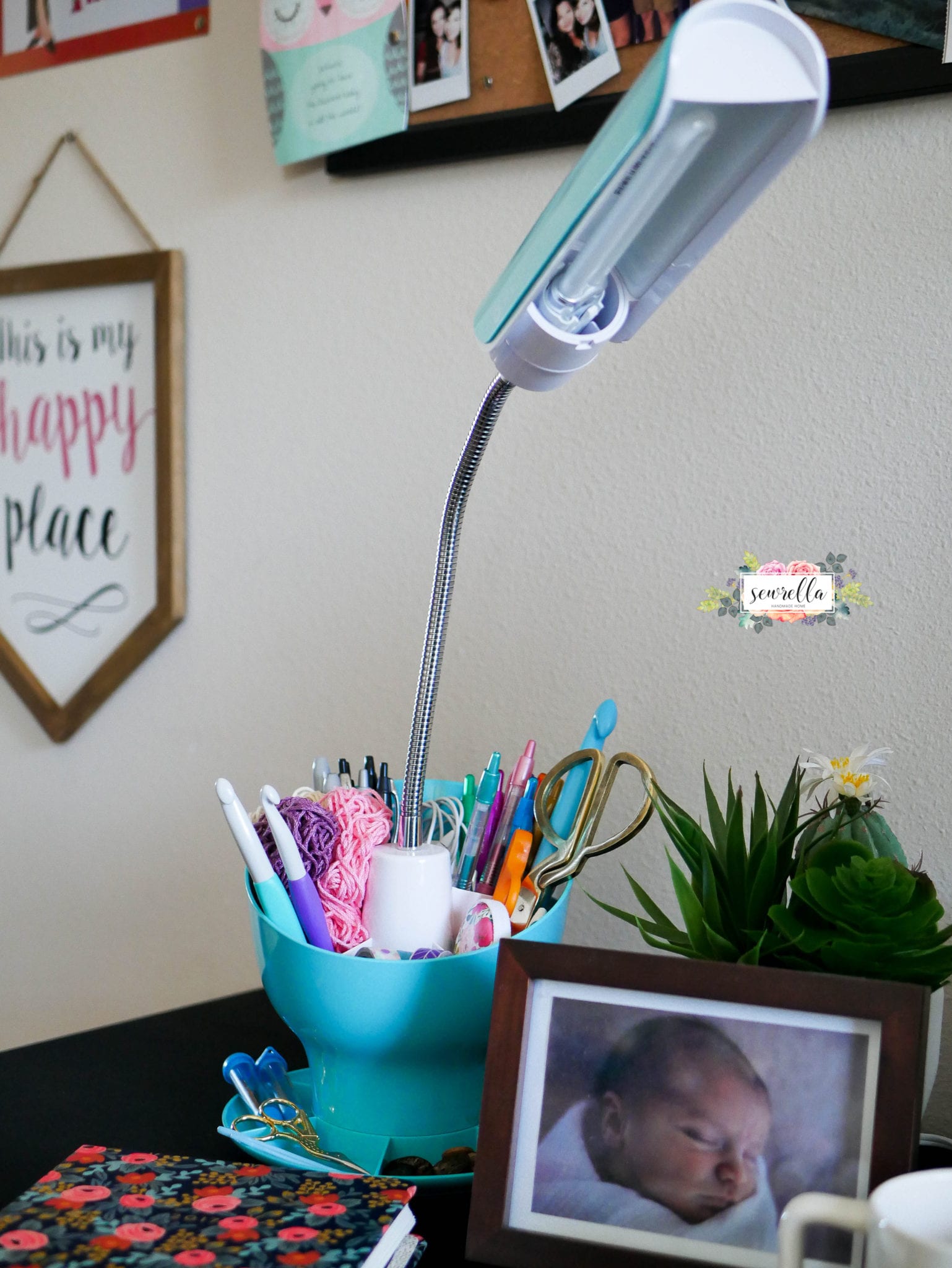 The light on a lamp is the most important part for me. I don't have the best eyesight, I love working with darker colored yarns, and I do most of my crafting at night after the baby is in bed. Combine all of these symptoms and the diagnosis isn't looking good. The cure? An OttLite! Famous for their Natural Daylight lamps, they are hands-down the best lamp on the market for crafting, reading, and even office work (yes, my OttLite is on while I write up this post for you guys!).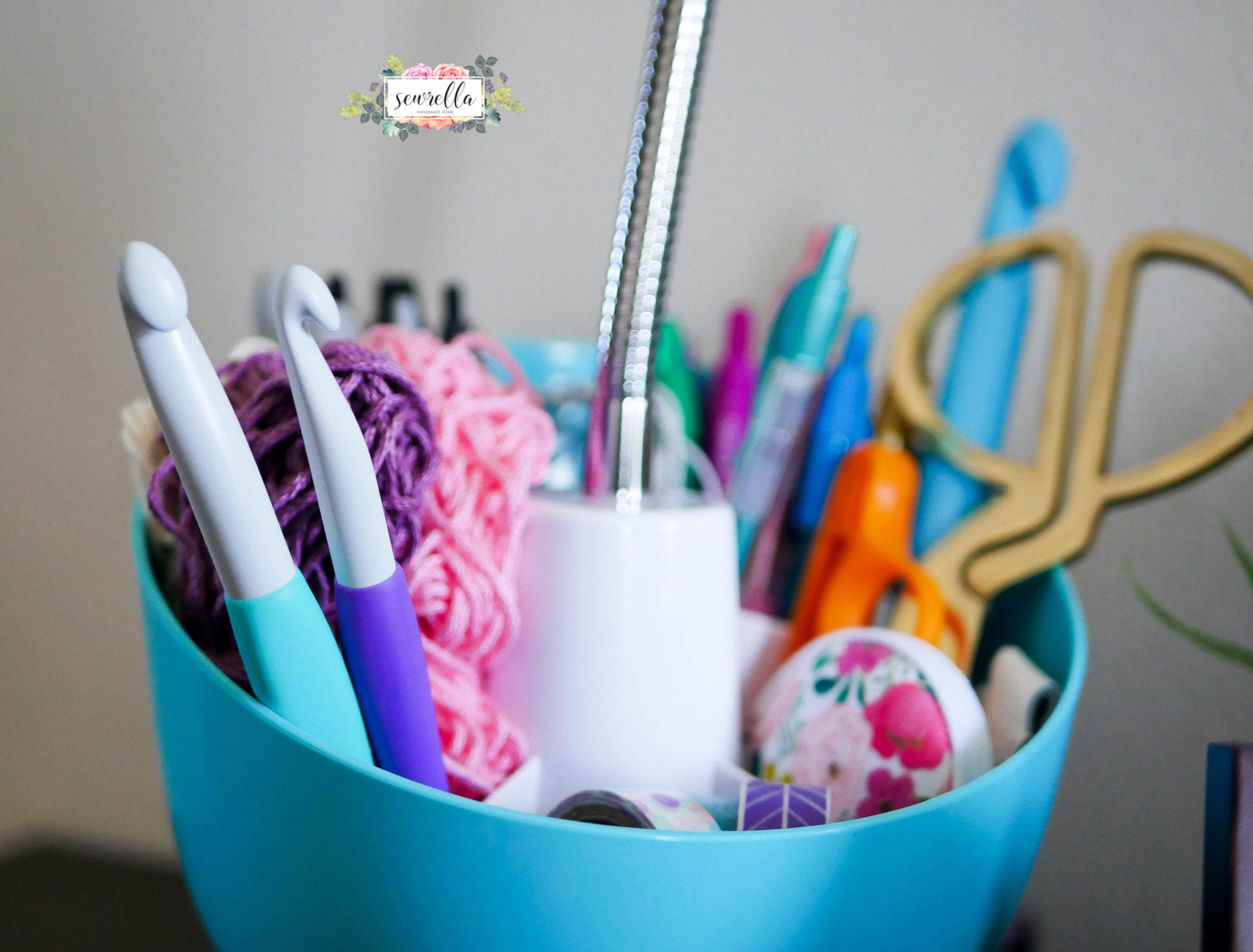 As any crafter knows, we have a lot of tiny thingamabobs and whatchamacallits that somehow wind up between the couch cushions, along the floorboards, and covering any workspace we are lucky enough to have. I've always done my best to organize my buttons, scissors, pens, hooks, and needles but somehow or other they always find a way to scatter inexplicably. Pesky little buggers.
Not anymore! Now all of my little friends have a home with each other. There are compartments of varying sizes in the caddy, perfect for corralling everything from hooks and yarn to washi tape and buttons. The lamp is a happy little organized moment on my desk, full of tools that remind me that I get to craft everyday for a living. And the neat freak in me smiles every time I see such an organized spot.
So, to conclude the rambling review of my new OttLite – GET ONE. You won't be sorry you did, especially the next time you come across a pattern using black yarn (*shudders*).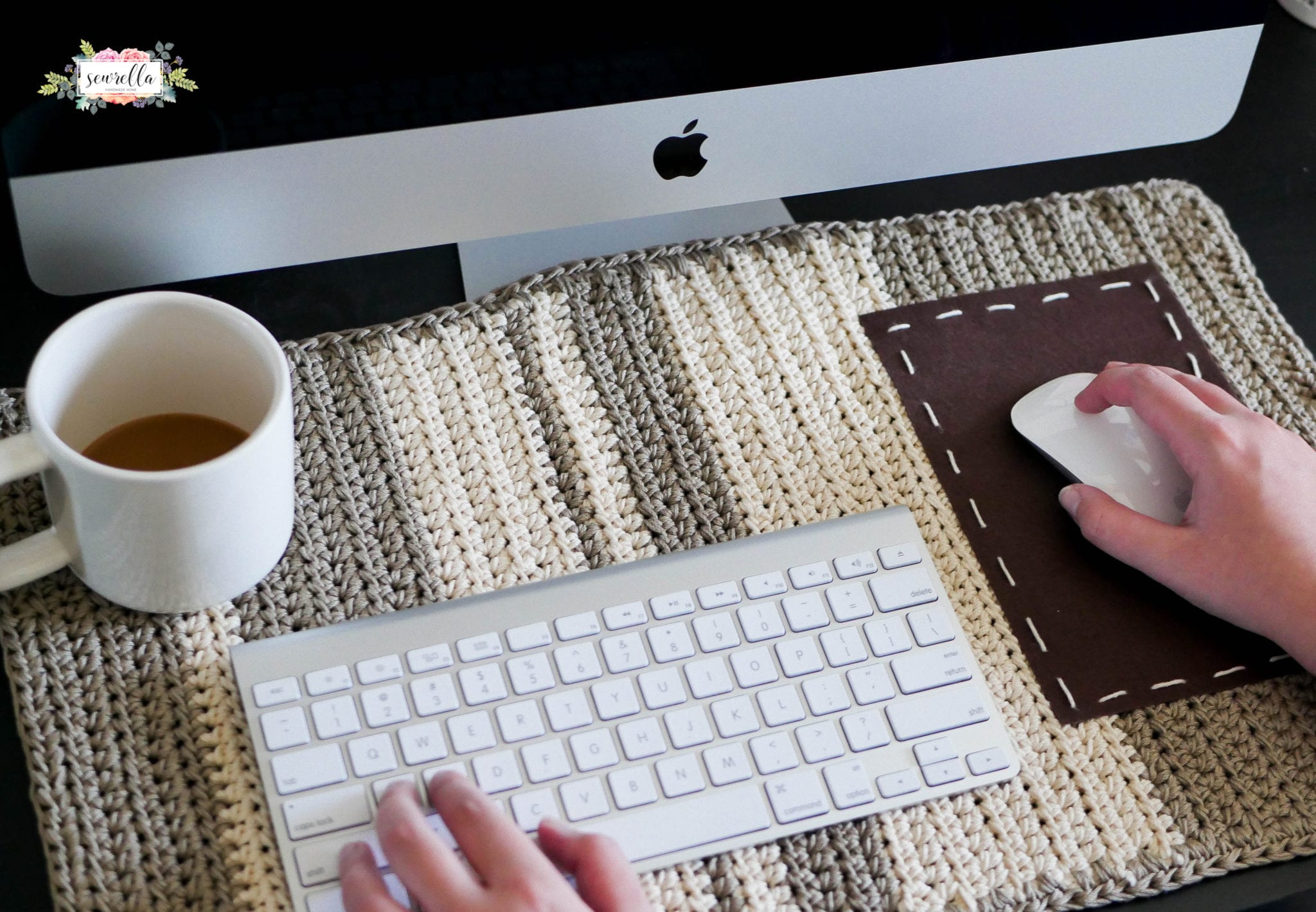 The second part of my desk makeover is my new Crochet Desk Mat!
It dawned on me, while brainstorming my next project, that I had gone a very long time without a mousepad. Like years. My computer mouse on the bare desk was working fine, but made an awful lot of noise, and it was getting old.
In addition to my mouse's lack of pad, there was absolutely NOTHING crochet on or around my desk! What an unbelievable travesty!
So, I thought I'd crochet a mousepad. And boy, did that go horribly. No matter how smooth the yarn, or how even the stitches, my mouse wasn't sliding along the fabric like butter as I'd hoped. Back to the drawing board I went.
After a bit of wandering around the craft store, I found this!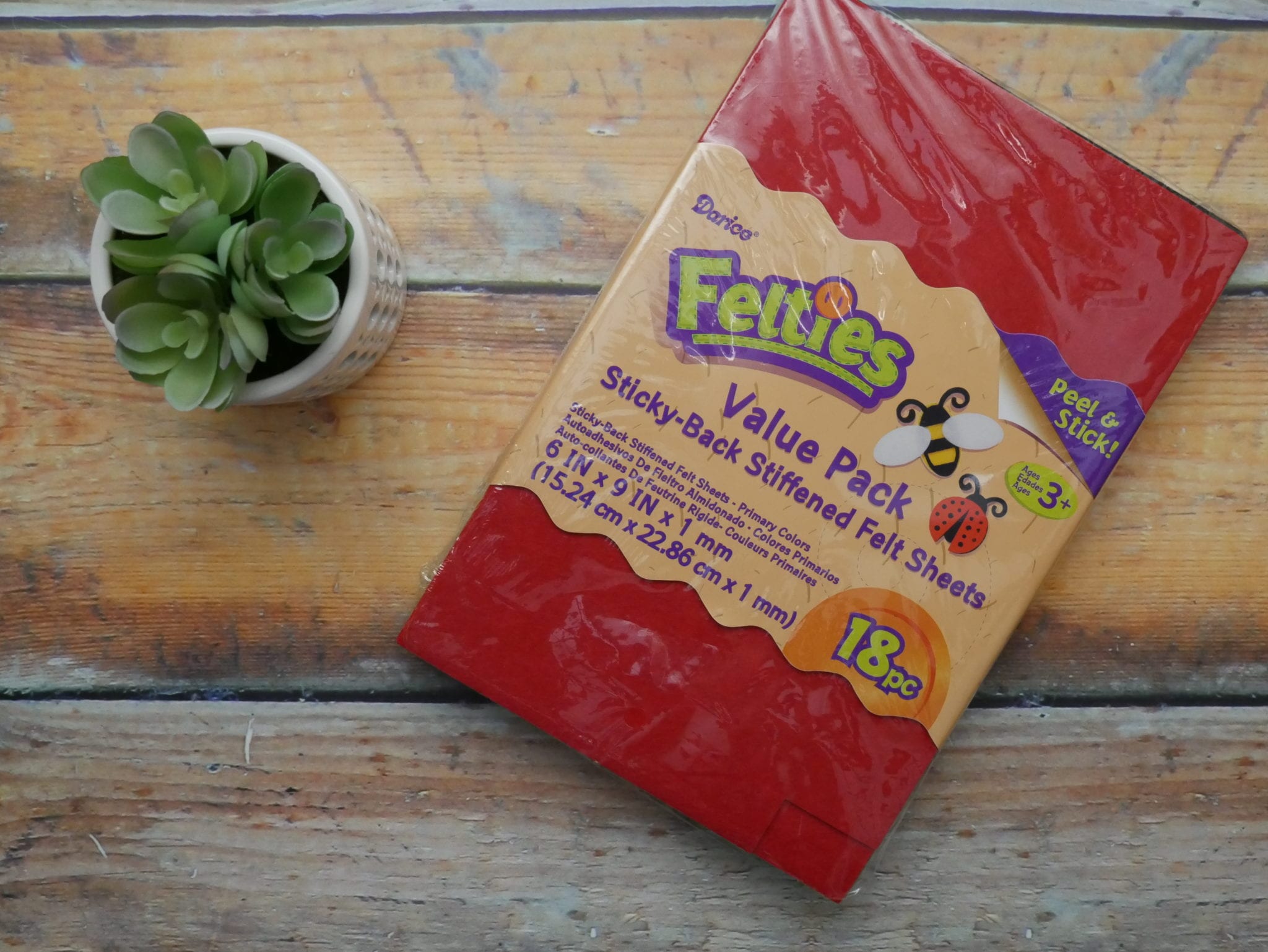 Adhesive felt! For under $5! And right there in the clearance crafting aisle, I saw my desk mat/mousepad creation in my mind's eye, grabbed that value pack of felt, and skipped all the way to the checkout counter.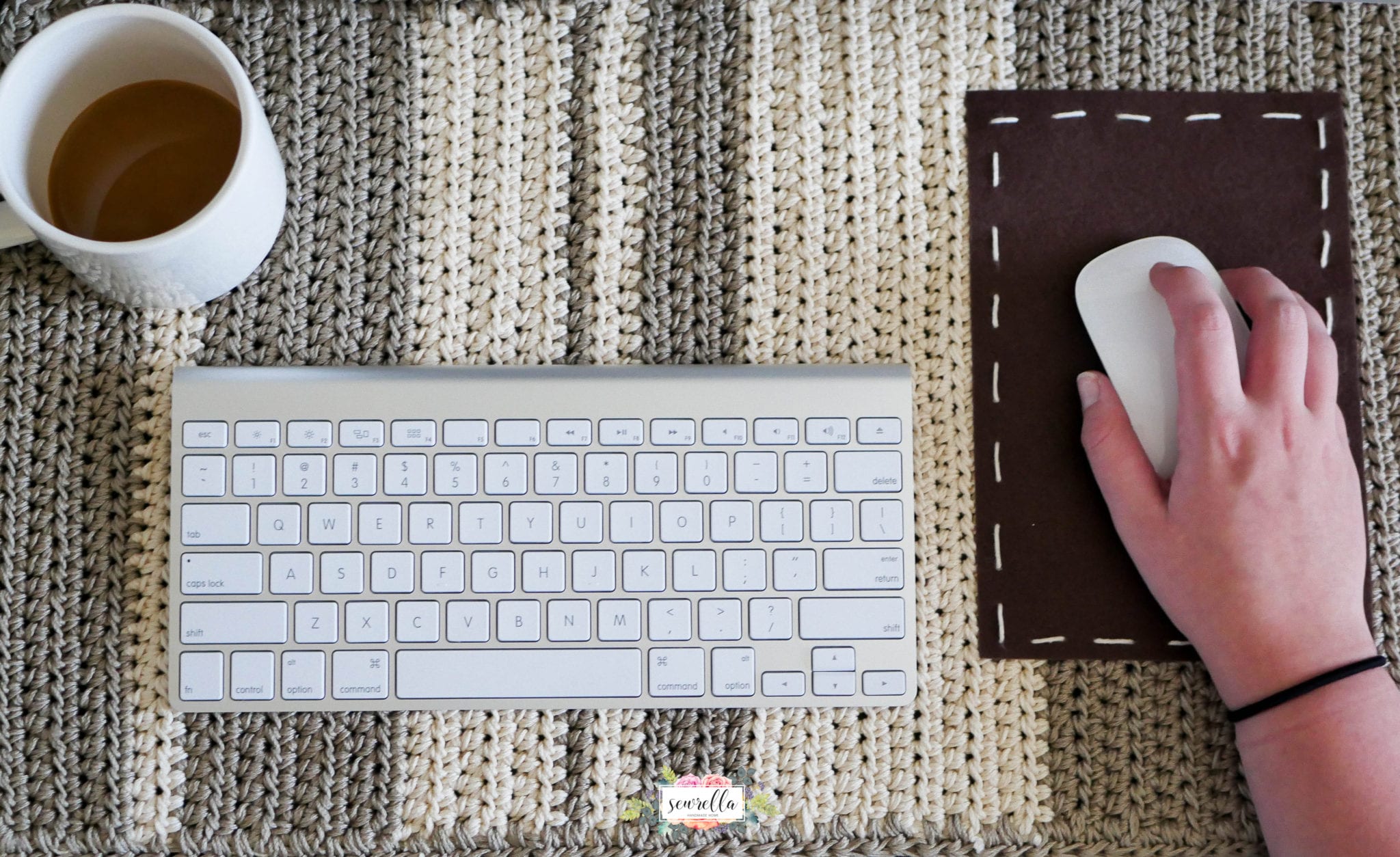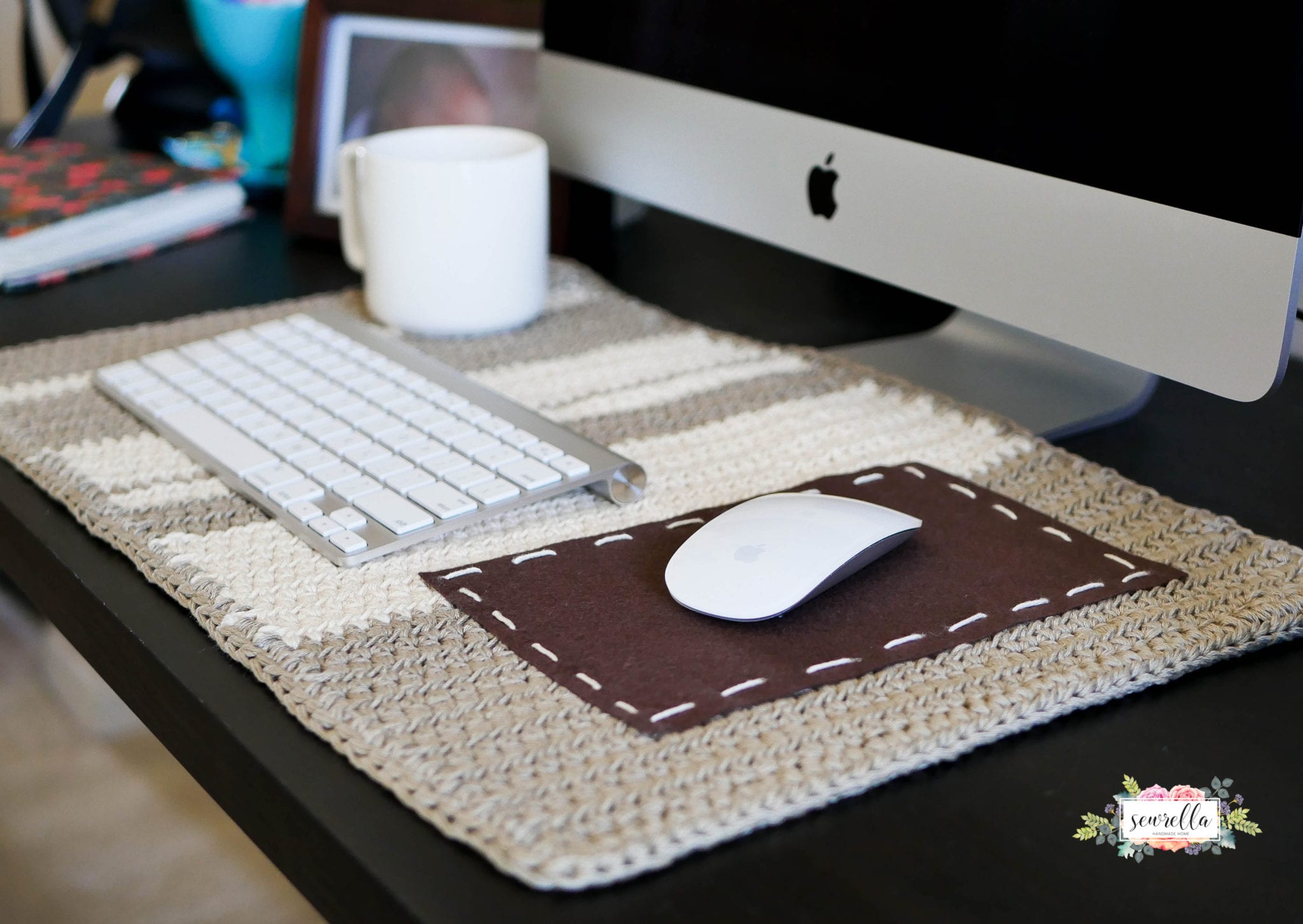 And that, friends, is the story of how this little mat was created. Interesting, no?
Okay, I've rambled enough. You get a gold star for sticking it out through that Tolstoy style intro.
ALSO scroll all the way down to the bottom of the page to enter in the GIVEAWAY to win one of these amazing lamps and the Lion Brand 24/7 Cotton yarn to make this desk mat!
PATTERN
Materials
-Lion Brand 24/7 Cotton in ecru (1 skein) and taupe (2 skeins)
-1 piece of brown adhesive felt
-Size H 5mm crochet hook
-Sharp tapestry needle
-Thimble
-Fabric glue (optional)
*Note: For the entirety of this project I held two strands of yarn together and crocheted with them as if they were one. When working with your 1 skein of ecru yarn, pull from the center and the outside of the skein to gather your two strands.
With Taupe, Ch 40, Hdc in 3rd from Ch and across, Ch 2, turn (38)
Rows 2-57: Hdc in each across, Ch 2, turn (38)
Color changes are as follows:
Rows 1-18: Taupe
Rows 19-28: Ecru
Rows 29-32: Taupe
Rows 33-34: Ecru
Row 35: Taupe
Rows 36-41: Ecru
Rows 42-49: Taupe
Rows 50-51: Ecru
Rows 52-58: Taupe
Row 58: Hdc evenly around the perimeter of the rectangle, sl st to join, finish off, weave all ends
Remove adhesive backing from half-sheet sized adhesive felt. If you wish, apply fabric glue for extra grip (if you stitch the mousepad down in the next step, you don't need glue). Stick down where desired (I centered mine about 5 rows in from one side).
Thread your sharp tapestry needle with a piece of Ecru yarn about 20 in. long.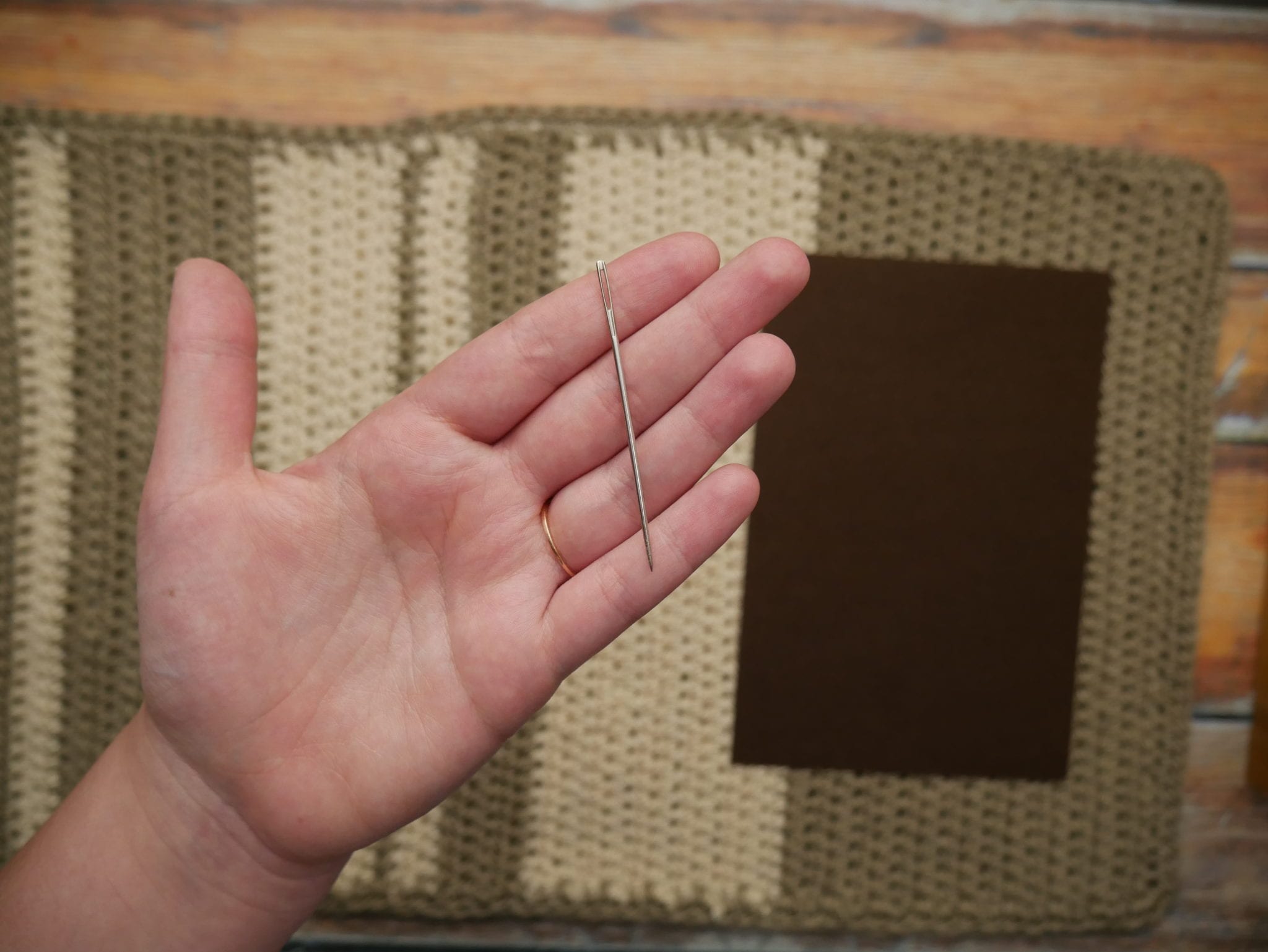 Sew a basic running stitch around the perimeter of the felt piece with 1 in. long stitches (I used a thimble here because it was pretty hard to push my needle through the felt!).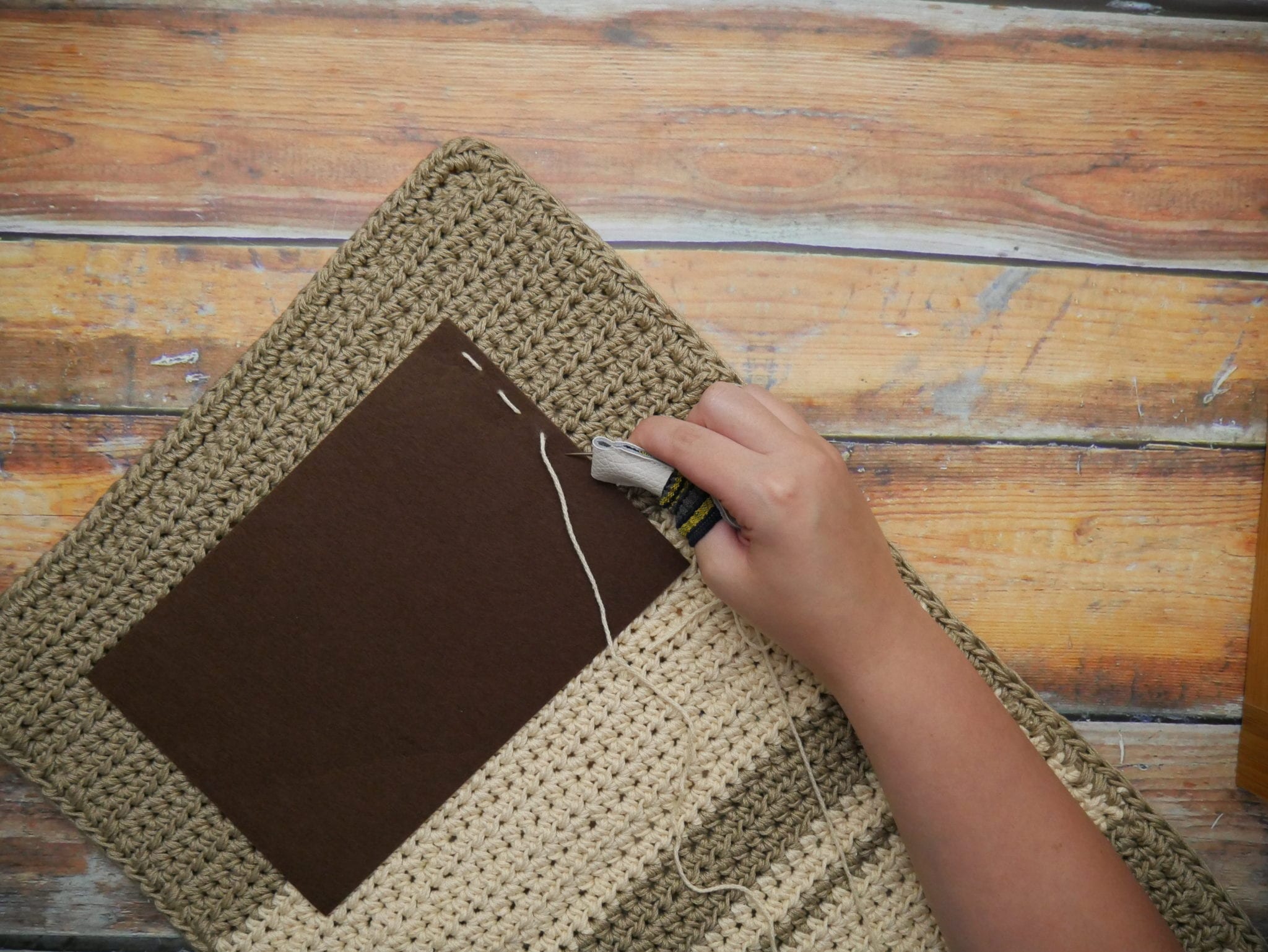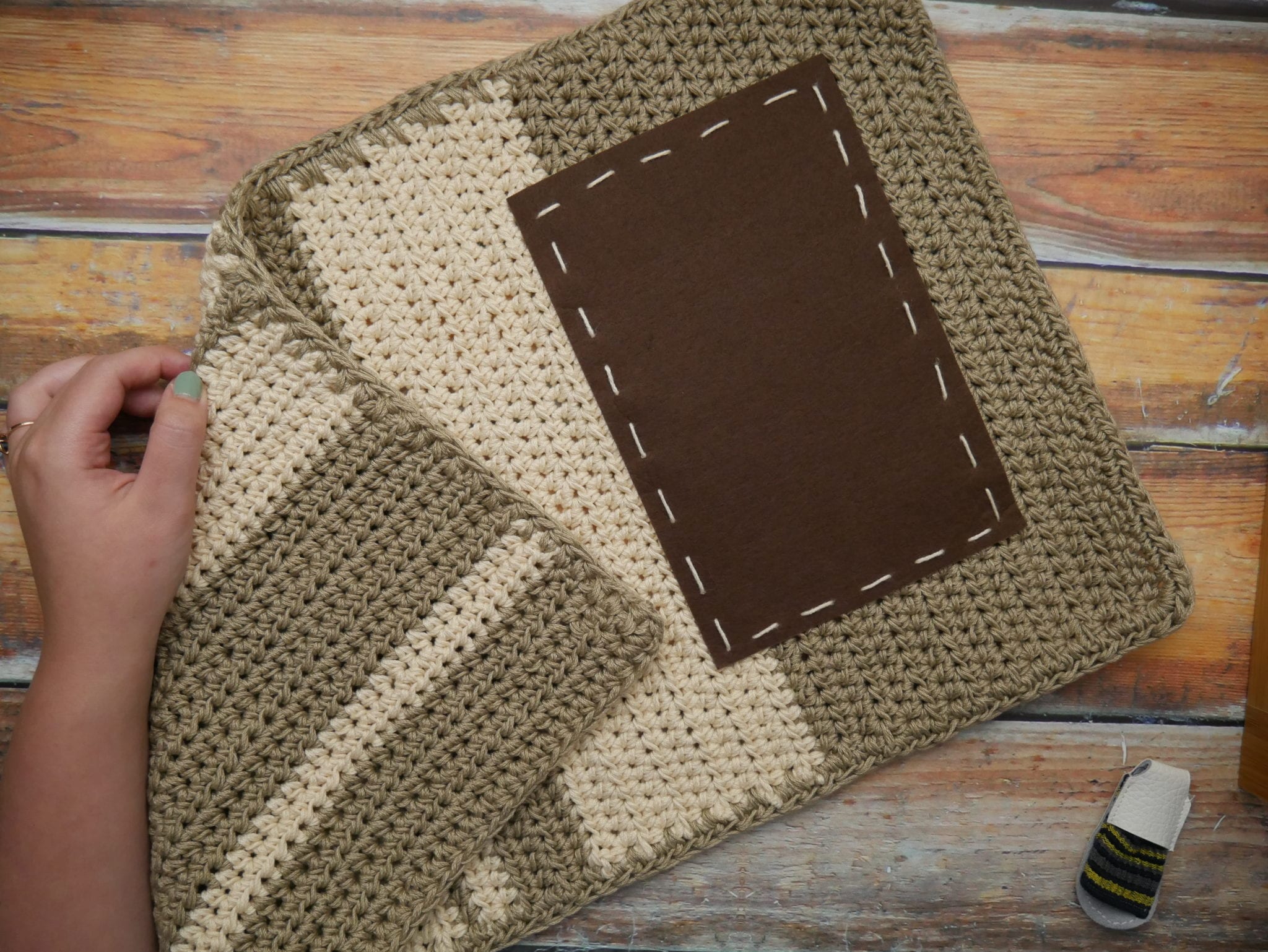 Also, be aware that your needle will get sticky due to the adhesive on the felt – clean with rubbing alcohol halfway through the stitching and after you're finished. Weave ends.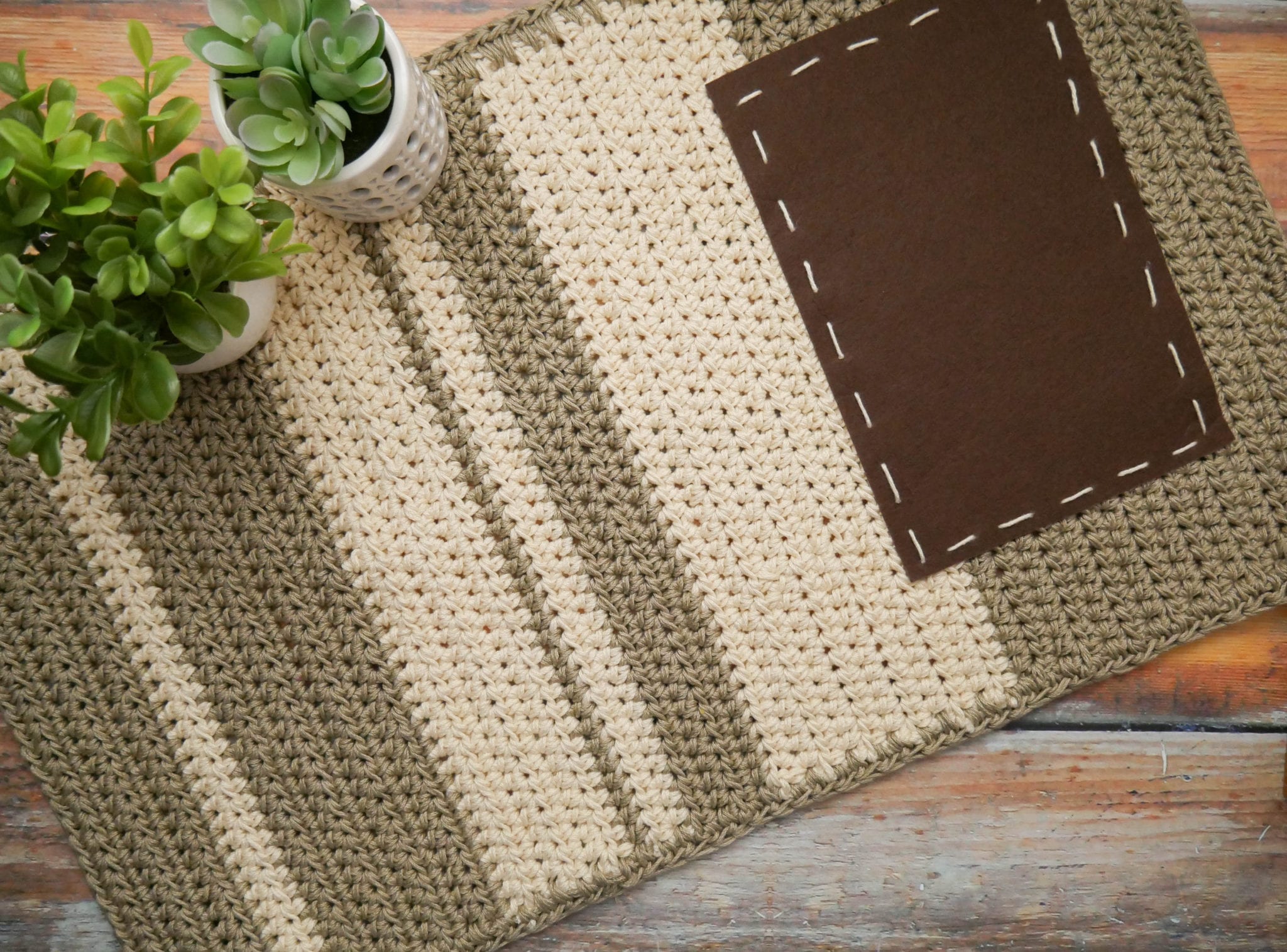 Enter in the Rafflecopter widget below to win one of the amazing OttLite lamps and the Lion Brand 24/7 Cotton yarn to make this desk mat!
a Rafflecopter giveaway
Don't forget to PIN this project to your Pinterest boards!
Here's to hoping your work space is a little more warm, homey and BRIGHT! (Don't forget to pick up your OttLite
here
!)