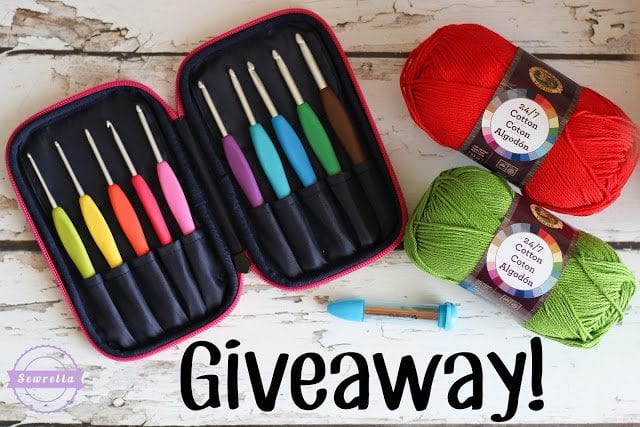 Giveaway time, everyone!
The 25 Days of Christmas Traditions Ornament Crochet-A-Long kicked off this week here on my blog (Click HERE for all the details!) and with it, I have an awesome giveaway for you all!
I've teamed up with Clover USA who will be generously giving away a bundle of crochet goodies!
A set of their top of the line Amour Crochet hooks – these are my FAVORITE hooks to use and the only ones I'll be using for this CAL!
Yarn needles – you'll need these for every single CAL ornament
Stitch markers – super handy for many projects
In addition, Lion Brand Yarn will be giving away a box full of 24/7 Cotton Yarn – that's right, the amazing Sewrella CAL Kit! (If you're interested in purchasing your own kit now, you can do that HERE)
That's 29 skeins of 24/7 Cotton yarn people!!!
Here's how the entries will go:
REQUIRED TO ENTER:

Use the Rafflecopter widget below to enter your info
visit Sewrella's Facebook page (via link on the Rafflecopter widget)
visit Clover's Facebook page (via link on the Rafflecopter widget)

ADDITIONAL ENTRIES:
Just be sure you get your entry in by the end of our Christmas CAL – Thanksgiving Day!
That's it, good luck everyone!