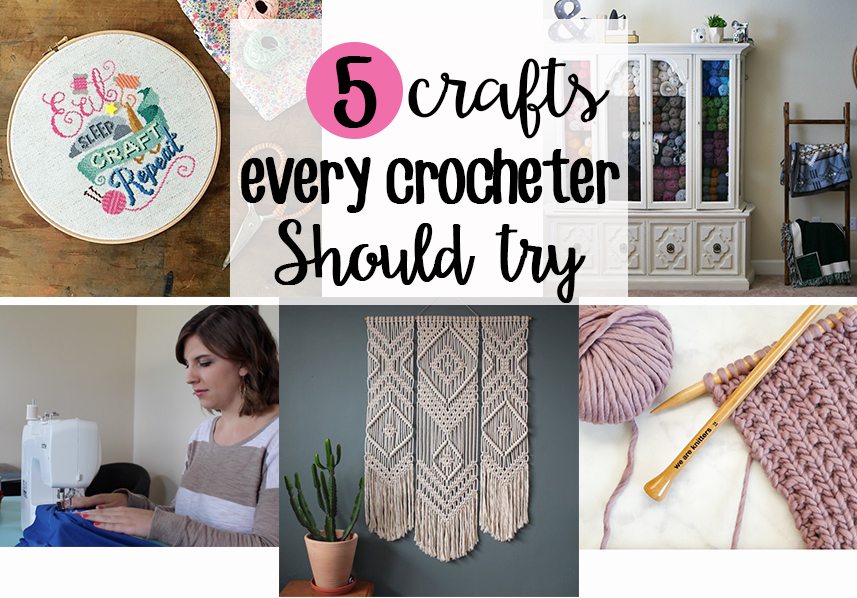 Crochet is definitely my end-all, be-all, do-it-til-I'm-ninety craft – no doubt about it.
And although I love my hooks, sometimes I feel like doing something a little different. Every now and again I need to try something new, learn a new skill, and step aside from the hook.
I'm also what some people call multi-craftual – that means that although I have a favorite craft, I like to try different things and experience different crafts!
Many of the other crafts I do are somehow related to crochet (and are in the needle art family) but others have no similarities at all – and that's what makes crafting so fun! It can take all kinds of forms for all types of people.
My Great Grandmother Betty (who I named an entire series of crochet patterns after!) was the multi-craftual queen. She went through phases of sewing, needlepoint, cross stitch, and many others. She experimented with all sorts of crafts and got good at all of them! She was something special.
So browse my list of crafting alternates and who knows, maybe you'll find a new favorite thing! For a while anyway.
1.Cross stitch
Cross stitching is a needle art just like crochet, but it uses thread or embroidery floss & (usually) Aida cloth. It is pretty fool proof, you follow a chart and make tiny X's in all different colors where the chart tells ya to.
These can get so diverse, intricate, and stunning! Or there are loads of simple one-color designs too.
I love taking a break from crochet and cross stitching because it's sort of mindless. You just look at the chart, stitch where it tells ya to stitch, and after a few hours you have a stunning piece of art! It's the perfect thing to Netflix & Craft.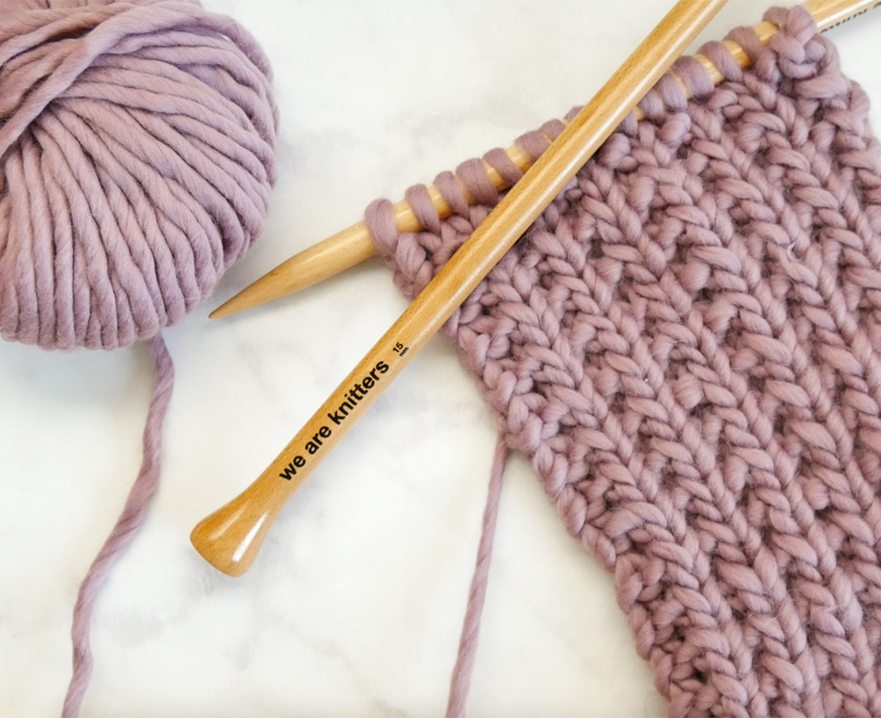 2. Knitting
Recently I've learned to knit & I. Can't. Stop. It's the most addicting thing!
With crochet, the stitches and style looks much different from knitting. I see knitting as being a bit cozier and stretchy/squishy. That's probably just my interpretation of the craft, and not very accurate. Regardless, I saw it as this magical yarn art that I didn't know how to do.
So last month I taught myself to knit using the We Are Knitters Praline Scarf Kit and used my hook to help me! I put together a few video tutorials on knitting for crocheters too, so if you've been wanting to learn to knit – check those out here!
Knitting opens so many doors for yarn art and I'm so excited to do more of it soon.
3. Macrame
I have yet to try out macrame but HOLY COW is it beautiful! It's definitely on my list of projects to try for 2017.
Macrame is a way of knotting cord to create beautiful works of wall art, planter hangers, and other home decor! It's incredibly intricate and looks stunning in the home.
This style of fiber art has a very modern look and gives off a bohemian vibe, it reminds me of Anthropologie style – and who doesn't want more of that in their life?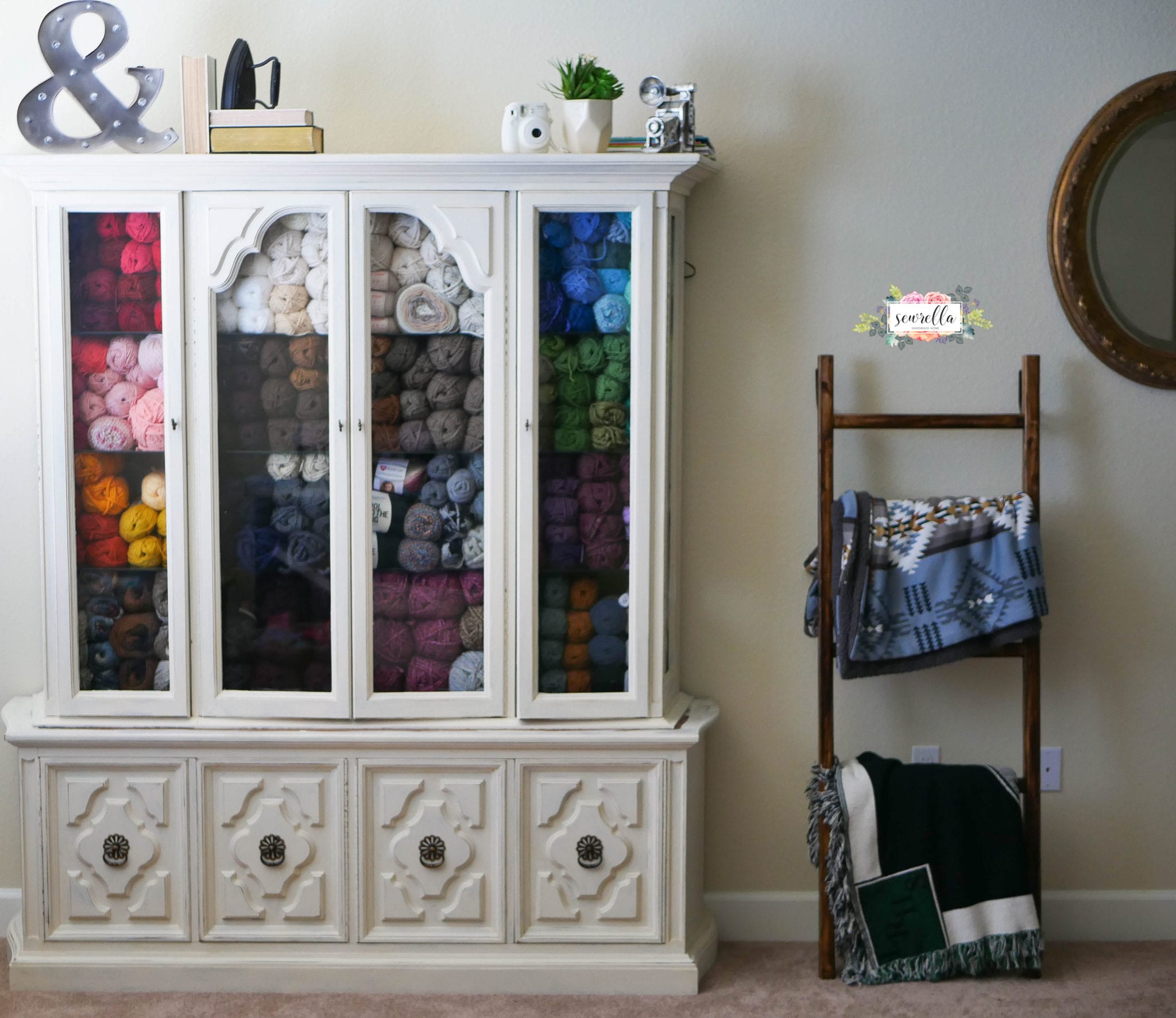 4. Chalk painting furniture
This one has absolutely nothing to do with yarn art but it's so fun! I'm a rehab addict, picking up unloved furniture from garage sales & Goodwill stores to paint and refinish all the time!
In fact, in my house the dining room table, end tables, bar stools, various decor, and desk were all old forgotten pieces of furniture that were given new life!
I even found an old china cabinet on Craigslist and chalk painted it to become the yarn storage of my dreams! I love chalk paint because it's affordable, requires no sanding or priming, and gives a great matte finish – achieving the vintage farmhouse look I love with ease.
This one may not appeal to every crocheter at first – but try it out with a few picture frames or a small end table and I promise you'll be looking for anything to paint! It's also a bit more physically laborious than crochet – which is nice because this mama needs to get off the couch once in a while!

5. Sewing & Quilting
Crocheters are all about color, texture, and visual appeal (that isn't just me right?). So naturally, quilting comes to mind.
Have you ever seen those amazing heirloom quilts that are so perfectly pieced together that they don't look handmade? Something to aspire to. I actually started quilting right around when I picked up crochet because I was mesmerized by all the quilting cotton options at my craft store. I wanted to take them all home. And I did.
The nice thing about quilting is its a slow process. Some see that as a bad thing, but I love the "I can take my time because this is supposed to take a year to complete" concept. There's no pressure, and I can really make my Type A brain happy with straight lines and perfect angles. I even made a few dresses too! (excuse the poorly lit iPhone photos – these were from about a year before I started my blog!)


With crochet, you mix colors and textures together but you don't get to work with prints or images very often. I love putting a floral next to a stripe or a fabric with dots next to one with kitchen utensils all over it. I'm into novelty fabrics and get a big kick out of finding fabrics that coordinate based on a theme.
There are some tools necessary to getting this job done like a machine, thread, fabric and other notions – but try it before you invest! Craft stores and quilt shops have classes that don't require any brought-from-home materials and you can practice to your hearts content.
Don't forget to PIN this roundup to your Pinterest boards!
I hope you found something new to try! I'll be dabbling a bit into these areas myself, they are just so much fun! What will you make?