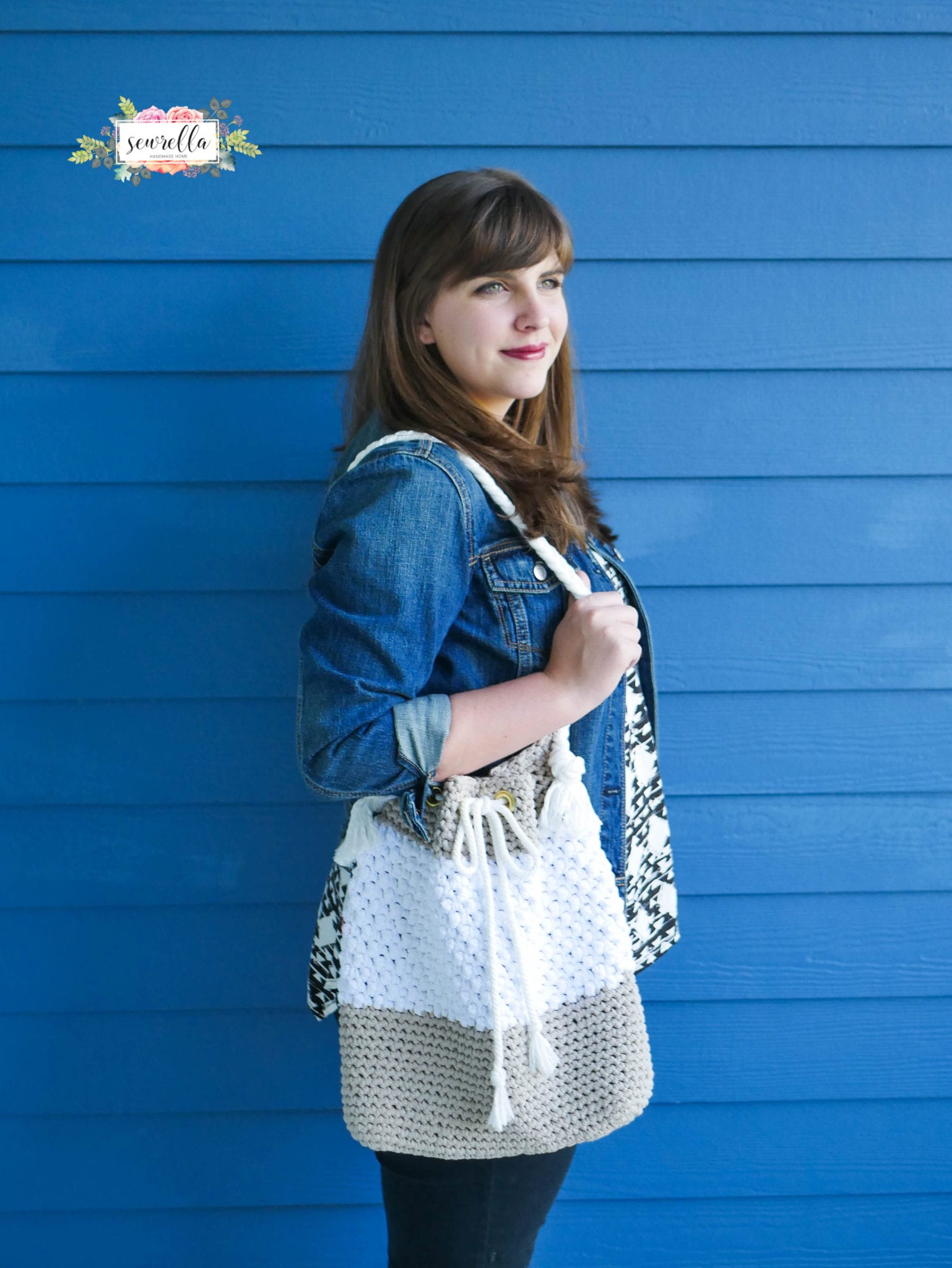 I'm not generally a purse person. I've never been the kind of gal to stalk the designer sites and shops for the hot new bag to buy. I'm the use-the-same-bag-until-the-strap-rips-apart kind of girl.
Until I realized I can make any style bag I like, in the colors I want, and for only a few dollars!
I've been eyeing bohemian, bucket style bags lately, and I'm love with the shape. Many of them have tasseled ties and long straps, but not a lot of space for all the things moms need to bring everywhere (diapers, snacks, socks, patience, etc.).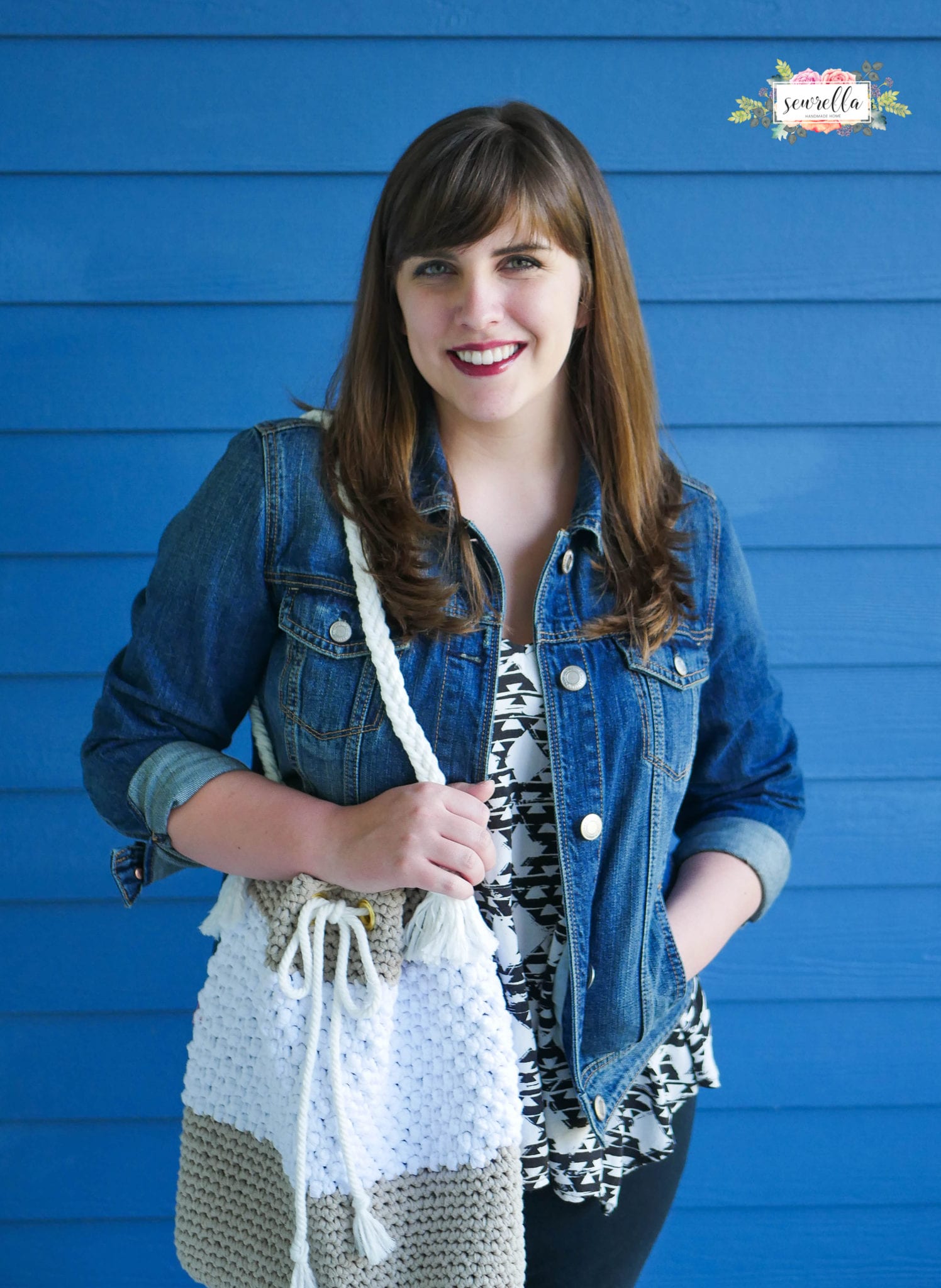 So after seeing too many of these on my most recent trip to Target (because again, mom life) – I sat down to make one!
And what better yarn to use for a big bucket bag than Lion Brand Yarn's brand new cotton/polyester hybrid Fast Track! This yarn is THE BEST y'all. Remember how last year I was obsessed with their 24/7 Cotton? I made this, this, this, and all of these. Okay, I'm still obsessed but Fast Track is my NEW obsession!
I've already got a whole slew of projects just a'waitin to get made. I see many late nights with Fast Track in my future, just don't tell my fiance.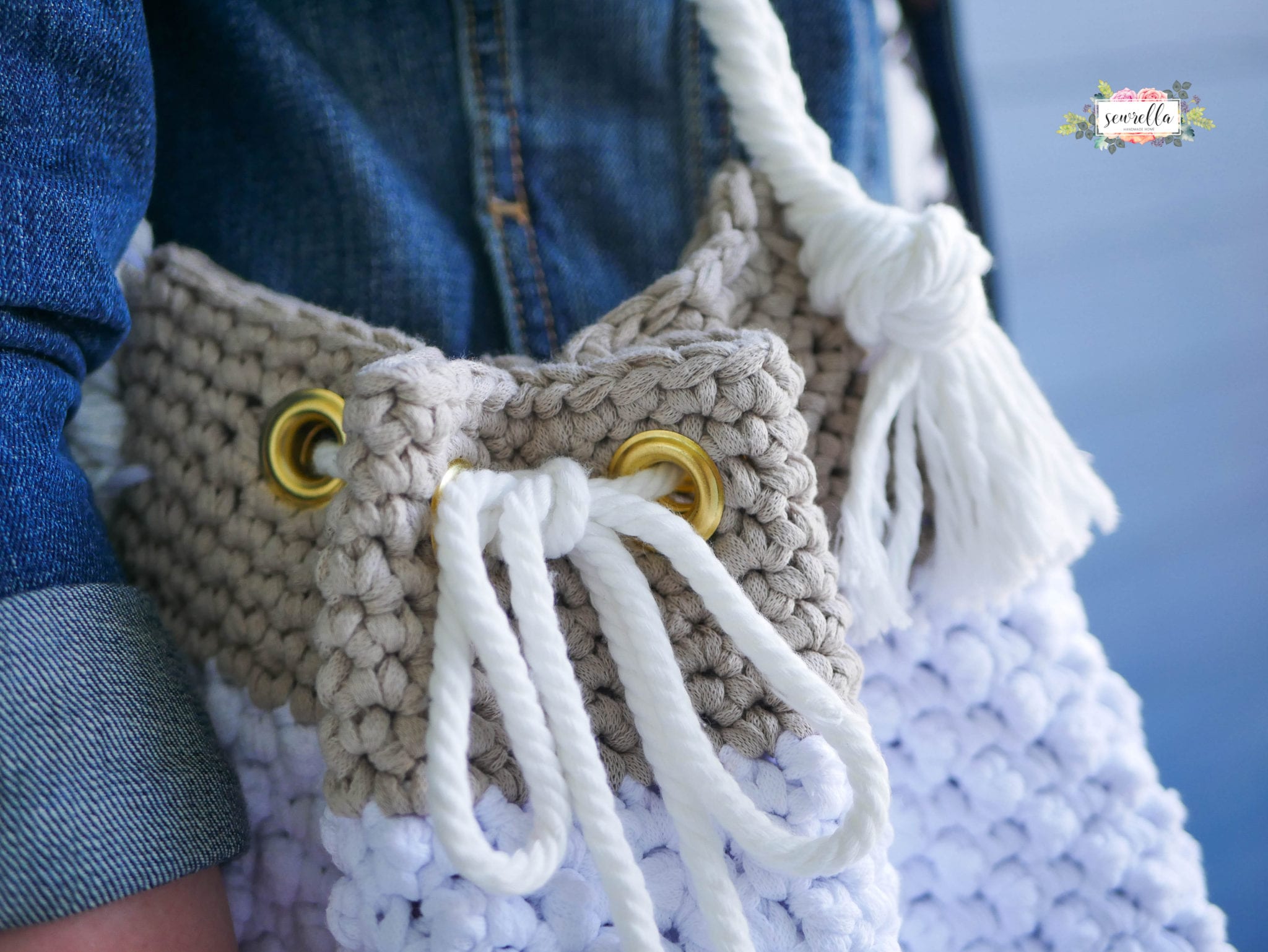 And this bag only takes 2 skeins! For this big ole bag! Usually I'm the queen of color, but I decided to neutral-it-up for this one – because let's be honest, this thing is going with me everywhere. And taupe is dope.
You can now get a kit from Lion Brand for all the yarn you need for this pattern! Grab yours here.
I also chose to make the straps and drawstring out of Dritz Home Cable Cord – you can get this from Joann's but it's cheaper on Amazon! This stuff is super sturdy and usually used for piping in sewing projects like pillows & upholstery. If it weren't so expensive, I'd crochet a whole project out of it. Just sayin'.

As if that weren't enough, adding some gold hardware really sends this thing through the roof. People will think you bought it. From Saks Fifth Avenue. Seriously.
Alrighty, enough of my rambling. Here's the pattern!



PATTERN
Get the ad-free, large print, printable PDF pattern from Etsy HERE.
Grab the Ultimate Pattern Bundle that includes this pattern and 100+ others for under $30 HERE.
PIN this pattern to your Pinterest boards for later HERE.
Materials:
-Lion Brand Fast Track yarn (1 skein Airstream White & 1 skein Trucker's Taupe) – grab the kit with all the yarn here!
–12 size 1.1mm gold grommets and tools to attach them (if you haven't used eyelets or grommets before, get the "kit" version that comes with the base and chisel to attach, linked here)
–1 package Dritz Home o.28″ Cable Cord  (I got mine on Amazon here)
Shop all my favorite tools & materials HERE!
Bag:
Round 1: With Trucker's Taupe, Ch 26, Sc in 2nd and across, 3 Sc in last st, turn to work down the other side of the Ch & Sc in each, 2 Sc in same st as beginning of the round, don't join (54)
Round 2: 2 Sc in each of next 2 sts, Sc in next 21 sts, 2 Sc in each of next 4 sts, Sc in next 22, 2 Sc in each of next 3 sts (61)
Round 3:  2 Sc in each of next 3 sts, Sc in next 24 sts, (2 Sc, Sc) 3 times, Sc in next 24, (2 Sc, Sc) 2 times, Sc in last (70)
Rounds 4-17: Sc in each around (70)
*Note: From now on, consider the side of the bag to be the beginning of the round. Before changing each color, Sc to the approximate side of the bag (should be directly above the end of your foundation chain)
Rounds 18-30: Color change to Airstream White, work Griddle Stitch around (Sc, Dc, Sc, Dc, repeat across) (70)
Rounds 31-35: Color change to Trucker's Taupe, Sc around (70)
Round 36: Considering the side of the bag the beginning of the round, Sc in next 4, Ch 2, skip 2, *Sc in next 3, Ch 2, skip 2, repeat 4 more times, Sc in next 8, Ch 2, skip 2, *Sc in next 3, Ch 2, skip 2, repeat 4 more times, Sc in last 4 (46)
Round 37: Sc in each around making 2 Sc in each Ch 2 space (70)
Round 38: Sc in each around, finish off, weave all ends (70)
Using instructions in grommet/eyelet kit, attach grommets to the Ch 2 spaces. Be sure you are catching some of the fabric with the teeth of the grommet so that it doesn't slip out while in use.
Once secure, cut a piece 3 feet long of the Cable Cord. Thread it through the grommets, with the tails coming out of the front 2 center grommets. Trim the cord to desired length (I left mine long) and knot the ends of the cord to keep from unraveling.
Shoulder Strap:
Cut the remaining cord in 5 equal length pieces. Knot one end leaving 2″ of cord to fray, and braid the length of the cord.
Make a 5 strand braid by separating the strands – 2 on the left and 3 on the right. Start by moving the right far outside strand, and move it down and to the opposite side. Now move the furthest strand on the left down and to the opposite side. Continue in this manner until the entire length is braided.
If you have trouble, follow THIS video tutorial.
Knot the end of the braid and trim the tails to make them even.
Using your scrap Airstream Fast Track yarn and a large eye tapestry needle, Sew the knots and up a bit into the braided handle over Rows 36-38 of the bag, knot & weave ends.
Don't forget to PIN this pattern to your Pinterest boards!
I hope you enjoy this fun bag – be sure to tag me @sewrella on Instagram so that I can see your beautiful work. You might even be featured on my page!