Hi everyone!
So today is the day for the SHERBERT ROSETTE CROCHET BLANKET TUTORIAL!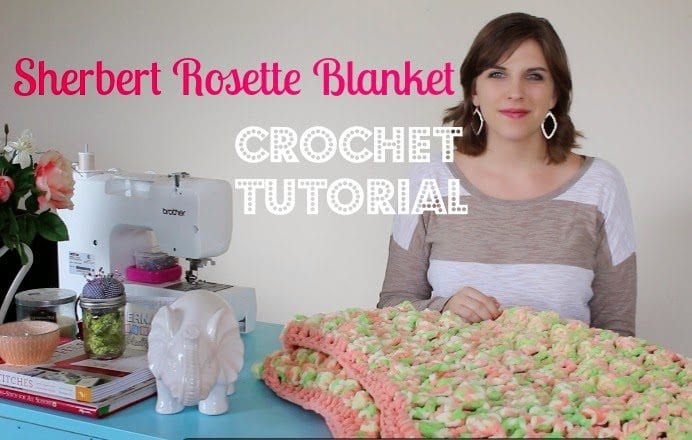 Can I get an amen? …this blanket took a while to finish!
I will tell you guys that this blanket was a lot of fun to make and turned out so beautifully, I can totally envision this one as a present to a new Mom or as a wonderful springtime gift for a lovely friend! (I think this one just screams springtime, don't you?"
Without further adue — here is the video tutorial to follow along with and below is the written pattern!
https://www.youtube.com/watch?v=K0LE9Lqj0WE
Sherbert Rosette Blanket Pattern

Materials:
4 skeins of Bernat Big Ball Baby Blanket Yarn – I don't think they still make the exact color that I used but any of the baby varieties would be beautiful!
1 skein of contrasting color for the border (optional)
P size crochet hook
Yarn needle
Abbreviations
CH – chain
DC – double crochet
CS – cluster stitch (see my video for a how-to!)
Pattern
CH 89.
Row 1:       CS in 6th CH from hook, CH 1, *skip next CH, DC in next CH, CH 1, skip next CH, CS in next CH. Repeat from * to the end of the row. CH 4, turn.
Row 2:      *DC in top of the CS from previous row, CH 1, CS in next DC (from Row 1), repeat from * to the end of this row. One DC in last DC. CH 4, turn.
Row 3:      *CS in top of DC, CH 1, DC in next CS, repeat from * to the last two DC from row 2. CS in first DC, CH 1, DC in last DC. CH 4, turn.
Repeat rows 2-3 until you have 32 rows total, or run out of the 4 skeins of yarn.
Border – (Crochet with alternate color) Working from a corner of your blanket, CH 3 (counts as first DC), stitch DC all the way around your blanket, placing 3 DC in each corner. Slip stitch to join once you have worked all the way around.
This blanket is definitely worth the time to make and will light up any lady's life!
Why give a bouquet of flowers that will be gone within the week, when you can handmake this bed of roses that will last a lifetime??
Comment below with who you will give these flowers to!