Hey everybody!
Spring and Summer are approaching.
Which means in South Florida it's already in the mid-eighties in the afternoon.
Which means I am drinking more cold beverages than every before (except this is very serious due to pregnancy! Canigetta lemonade ova here!)
Which means more sweaty glasses.
Which means I need some pretty new spring coasters to save my tables from rings.
Or just to feel frilly and pretty – because lemonade looks better on a variegated pink coaster, right? Right!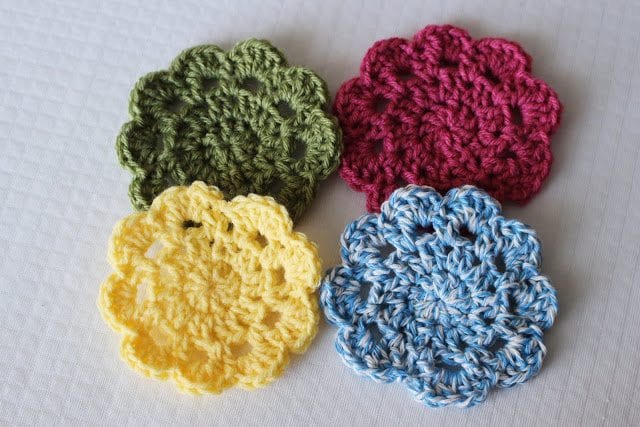 So in short, today I have a quick, simple crochet coaster tutorial for ya!
This pattern can be worked with acrylic yarn but I definitely recommend using cotton. Much better lemonade-sweat-absorbing capabilities.
I'll link to some of my favorite cotton yarns below!
This pattern is also great for beginners! It uses very simple stitches and only consists of 5 rounds, so you're done and satisfied in a snap.
These would also make a great gift for teachers or friends with a fun new cold beverage tumbler and a cute printed recipe for homemade lemonade. Just sayin'!
Here is the handy video tutorial and pattern – enjoy, and stay cool!
PATTERN:
Materials:
-Cotton yarn
–Size J 6mm crochet hook
–Tapestry needle
Shop all my favorite tools & materials HERE!
— Get the exact same tools that I use! By purchasing through these affiliate links you support this blog and its free content at no extra cost to you! —
Begin with a magic ring, Ch 2
Round 1: 10 Dc in ring, sl st to join, Ch 3
Round 2: Dc in first st, V stitch in each st around (Dc, Ch 1, Dc all in the same st), sl st to join, Ch 2
Round 3: Dc in first st (Ch 1 from V st below), Ch 1, *2 Dc in Ch 1 space from Round 2, Ch 1*, repeat from * around, sl st to join, Ch 2
Round 4: 4 Dc in first Ch 1 space from Round 3, sl st into space between 2 Dc from from Round 3, *5 Dc in next Ch 1 space, sl st into space between 2 Dc*, repeat from * around ((on the very last sl st, sl st to the last Dc instead of in between the last 2 Dc)), finish off, weave ends
And there ya have it folks! Easy crochet coasters that whip up in a snap – hope ya love these and make them for somebody special!