Howdy!
After making the coffee cup granny square to go with our Bake Shop Blanket, I wanted to be sure to not leave my tea drinkers hanging.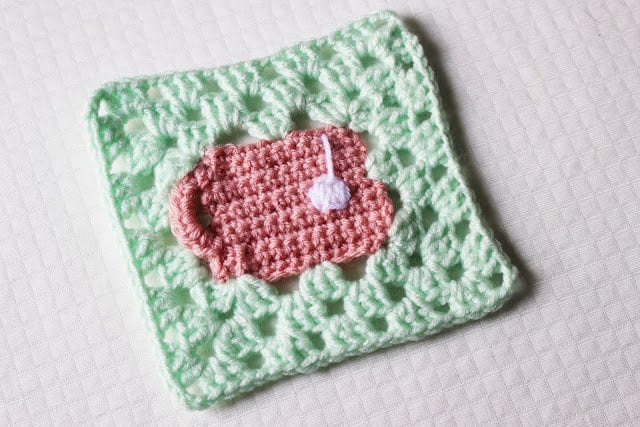 I do have a more deep-rooted affection for coffee but I've been known to enjoy my fair share of tea – and you tell me what goes better with a crunchy cookie than a cup of steaming hot tea…
Nothing I tell you, nothing!
So here is this little cutie – he works up super quick and is just too adorable!
As always, the handy video tutorial!
PATTERN:
Materials:
-Worsted weight yarn in 2 colors, (I used Lion Brand Vanna's Choice in mint and pink) with a small amount of white (tea bag)
-Size H 5mm crochet hook
-Tapestry needle
— Get the exact same tools that I use! By purchasing through these affiliate links you support this blog and its free content-thank you! —
Tea Mug:
Begin with a slip knot, Ch 11
Rows 1-6: Sc in each st (10 Sc), Ch 1, turn
After Row 6, Ch 1 and do not turn.
-Working down the side of your rectangle, Sc in first 2 sts, Ch 5, skip 3 sts, sl st in next st, Sc in last 2 sts, don't Ch, turn
-sl st in first 3 sts, 5 Hdc in Ch space, sl st in last 2 sts, finish off
Tea Bag:
Using a tapestry needle and white yarn, sew a small square, fill it in, and sew a line to the top of the mug – see video tutorial for help with this!
Granny Square:
*Please see video tutorial above for stitch placement – thanks!*
Round 1: With new color, sl st into top right corner of cup, all in the same st: CH 2, 2 DC, CH 3, 3 DC, CH 1, skip 3 sts, 3 DC in next st, CH 1, *3 DC, CH 3, 3 DC, CH 1, skip 3 sts, 3 DC in next st, CH 1*, repeat from * twice more forming a square, sl st to beginning CH 2
Rounds 2-3: Continue in this same manner – in corners 3 DC, CH 3, 3 DC, CH 1 and in all other CH spaces 3 DC, CH 1, finish off, weave ends
Easy, peasy, right? I hope you guys enjoy this one! I'll see ya next Friday for another square!
Thanks for checking out this installment of the Bake Shop Blanket Series! Click HERE to see the whole project finished and get all the other squares!