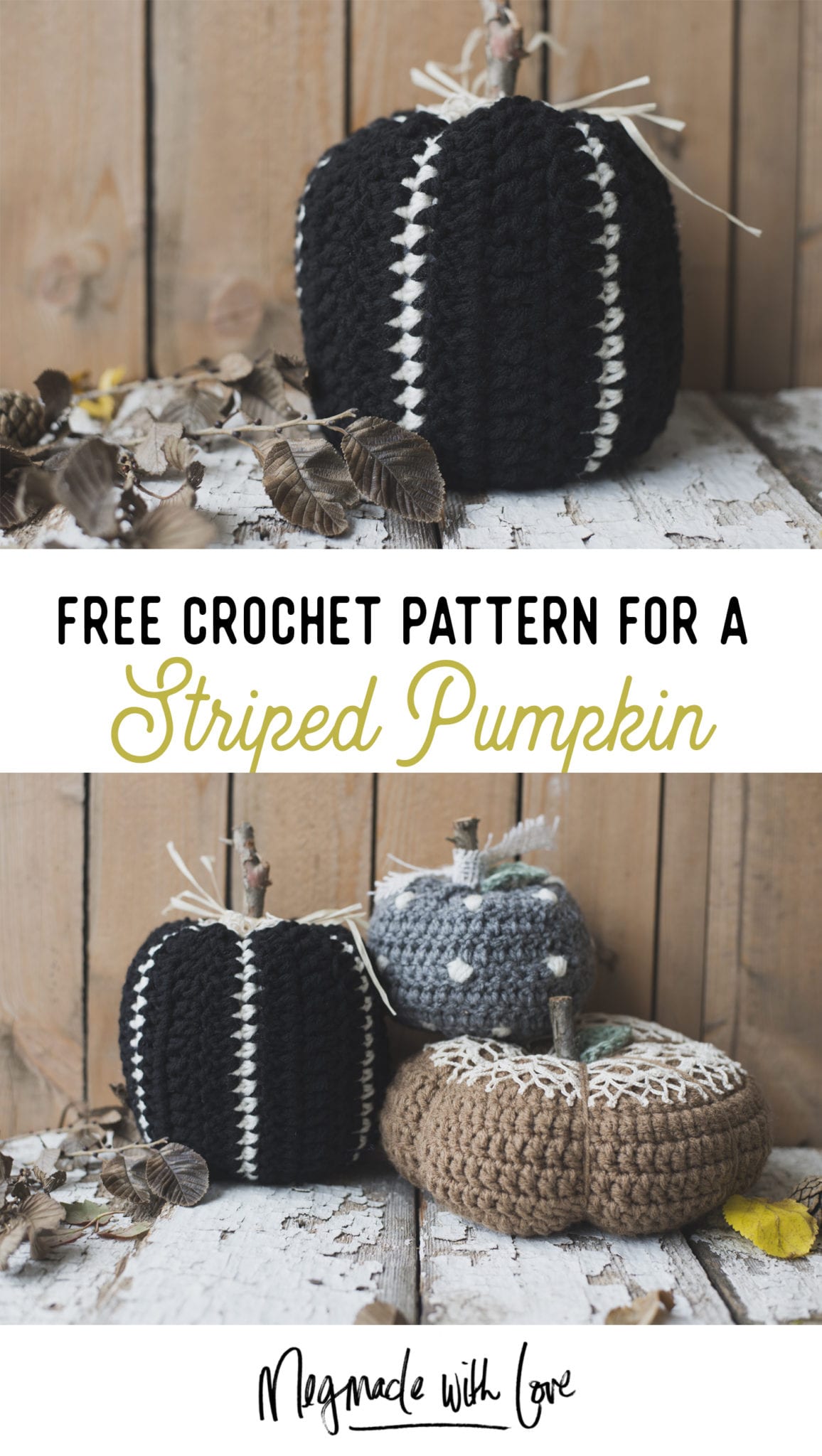 Hey Sewrella Peeps! It's Meg again, from over at Megmade with Love. 🙂 So, not too long ago, I popped in over here to share the ridged pumpkin, a part of a three-pattern collection of pumpkins. It turns out I enjoyed designing those pumpkins so much that I've made three more cutie pumpkins for your crafting pleasure!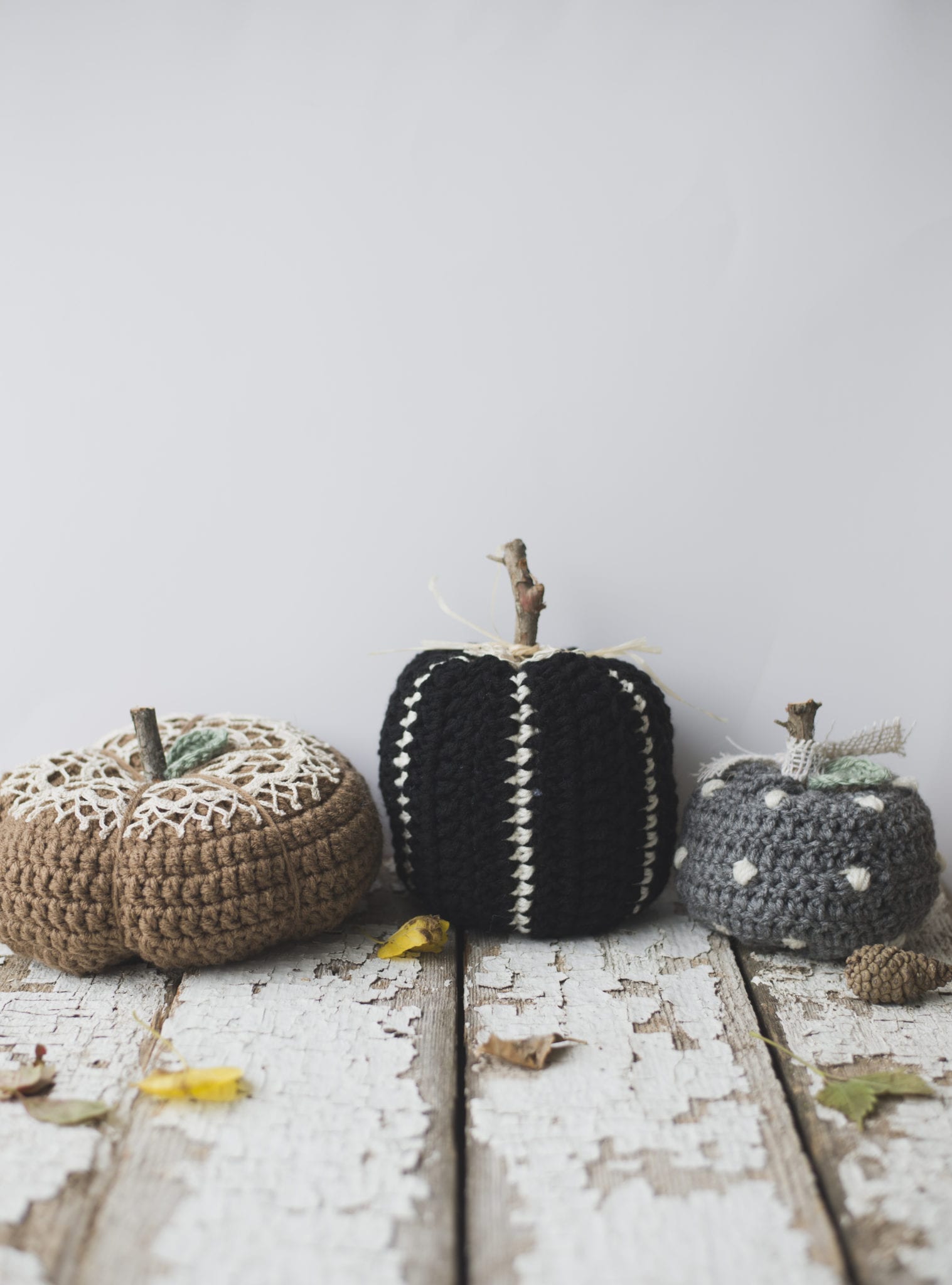 And today I'm sharing the pattern for the striped pumpkin with you. It's oh-so-easy, and just simply beautiful. It can be made in a couple hours, easy! I'm a sucker for black and white, and I think that, plus the stripes makes it look extra classic. But of course, I think any colors would look great!
You can find the other pumpkin patterns over at MegmadewithLove.com. All of them are pretty simple, and make for some pretty great fall decor if you ask me.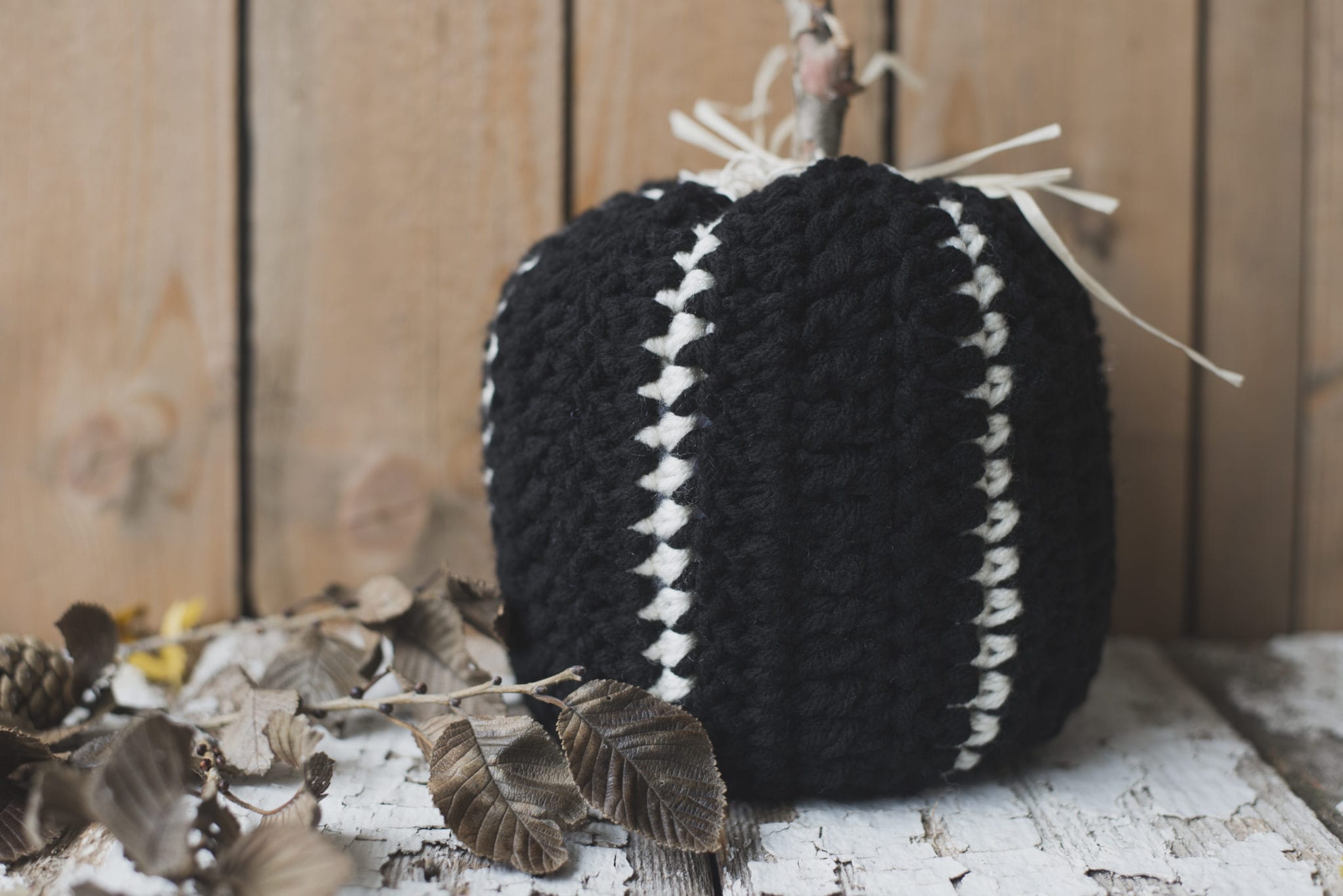 Materials:
-worsted weight yarn in two colors (I used Red Heart with Love in Black and Red Heart Super Saver in Aran)
-size K hook (6.5 mm)
-yarn needle
-big handful poly-fil
-hot glue gun
-approx 2 in stick or stem of choice
-adornments of choice (raffia, burlap, jute, felt..)
-optional: rock to weigh down the bottom
Measurements:
finished pumpkin is approximately 8″ tall by 6.5″ wide
Notes:
-the whole pumpkin is worked with two strands of yarn
-since this pumpkin is pretty tall, I put a rock in the bottom to weigh it down so it wouldn't topple over easily
-there are lots of color changes, I just cut off after each change to pick pack up again on the other side when changing again. This creates a lot of ends, but I found they were easy to conceal inside the pumpkin, so I didn't worry about weaving them in. Call me lazy, but hey, it works!
-ch's at the beginning of rows do not count as sts
-if you're interested in crocheting a little leaf for your pumpkin there's a pattern for one in this post.
Pattern:
Row 1) using two strands of black: ch 24, dc in 3rd ch from hook and across (22 total sts, and for remainder of the rows)
Row 2) ch 2, turn, dc across
Row 3) change to two strands of white: ch 1, turn, sc across
Rows 4-6) change to black: ch 2, turn, dc across
Row 7-22) repeat rows 3-6 four times
Row 23) change to white: ch 1, turn, sc across
Row 24) change to black: ch 2, turn, dc across
Finish off and leave a very long tail to sew the pumpkin
Assembly:
Below you can see a photo of the piece after it's been crocheted.

First you will take your tail of yarn and needle and sew row 1 to row 24, creating a tube.

Next you will close up the ends. Still using your yarn and needle, make a running stitch along one of the short ends of your "tube". Make sure the running stitch is very loose, and use long strides so it will close up for you.
After you've gone all the way around the short end with your running stitch, you will pull on the tail of yarn and gather the end up.
Then tie a couple of knots to secure. Draw your yarn and needle through the center of the pumpkin to use for sewing the other end.

Next, you can put your rock on the bottom of your pumpkin- if you choose to do so, and then you'll stuff your pumpkin full of polyfill. After it's full, close up the other end of the pumpkin the same way you closed up the first end, with a loose running stitch, pulling tightly to gather.
Then tie a couple of knots again to secure and weave in your yarn to hide.
To finish the pumpkin, put a glob of hot glue in the middle top of your pumpkin then press your stem firmly on top of it until the glue cools. Add any other fun extras to personalize! (the cute little squiggly stuff on this pumpkin is actually yarn that I frogged from the doily pumpkin- lol!)

And there ya have it, another cute and simple pumpkin pattern! If you complete your pumpkin, feel free to tag me over on Instagram. I'd love to see it. 🙂
Happy fall pumpkin making guys!
-Meg