Have you made anything for Easter?
-let me rephrase-
Have you been wanting to make something fun and adorable for Easter but time has gotten away from you and now you have like four days and have nothing done and it's a real problem?
Ok, good. Me too.
I've seen this technique for making a bunny out of a knit square for a little while now, but I'd only ever seen it done with a small bunny – probably perfect for going in an easter basket or as a centerpiece.
Well I loved this idea and 1. can't knit & 2. why make something little when you can make it extra-super-duper-huge??
I'm glad you're with me on this.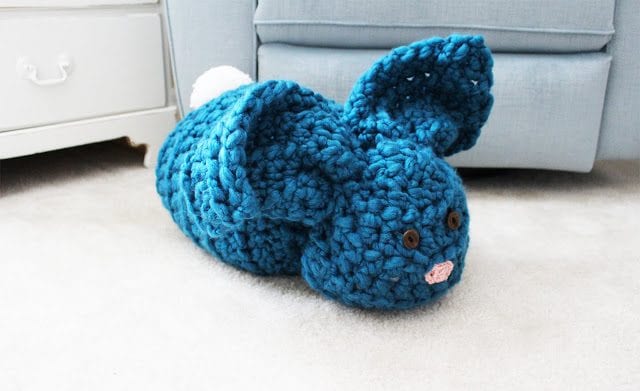 I'd had some Patons Cobbles yarn lying around since I found it on sale for 60% off at Joann's a few weeks ago with no idea what to do with it.
So I made the largest square of Half Double Crochets I could out of five skeins of the stuff and tried out this process.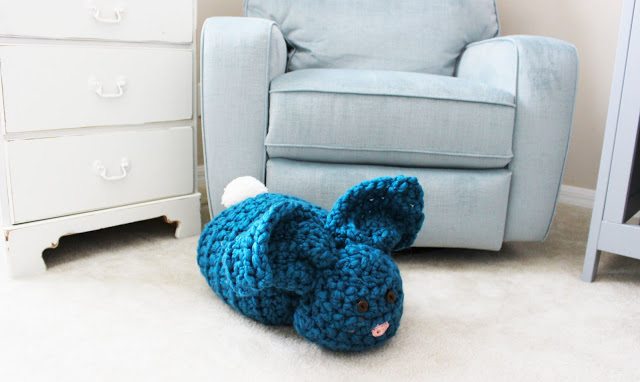 The result?
A jumbo amigurumi bunny that is sure to knock the socks off of any little person in your life!
As always, I've made a quick video tutorial for those of us who are visual learners.
***PLEASE watch this video to see how I stitch this square into a bunny! The pattern below will only give you instructions for making the square, not how to transform the square into a bunny!***
PATTERN:
Materials:
-5 skeins Patons Cobbles yarn (or any super jumbo yarn) – I used Teal
-small amount of worsted weight baby pink yarn (nose) & white (pom pom tail)
-Size Q crochet hook
-Extra large tapestry needle
-Polyfil stuffing
-2 buttons
-optional: Large Clover Pom Pom Maker (for tail)
— Get the exact same tools that I use! By purchasing through these affiliate links you support this blog and its free content-thank you! —


Bunny:
Begin with a slip knot using Teal Cobbles, Ch 35
Row 1: Hdc in 2nd Ch from hook, continue Hdc in each st across (33 sts), Ch 2, turn
Rows 2-28: Hdc in each st (33 sts), Ch 2, turn
finish off
*See video for how to stitch this square into a bunny!*


Nose:
Using baby pink yarn, begin with a slip knot, Ch 7
Row 1: Hdc in 2nd Ch from hook, Hdc in each st across (5 sts), Ch 1, turn
Row 2: Hdc in each st across (5 sts), finish off leaving a long tail for sewing
Sew button eyes and nose onto face.
I used a large Clover Pom Pom Maker to make a white pom pom and tied this onto the bunny's bum for his tail – it was the perfect size!
Hope you guys love this little guy – I know I do!
*Original concept found on Pinterest*