Hi friends! I'm so excited to introduce you to my friend Vincent from Knot Bad Crochet! He has some of the cutest crochet pieces I've ever seen and he's such a wonderful, warm fella – I know you'll love him as much as I do. We had the chance to meet and crochet together while I was in Portland in July and we became fast friends, so I knew I needed to have him on the blog! Enjoy his cowl pattern & be sure to follow along with him on his blog too!
​Hi​ ​everyone!​ ​I'm​ ​Vincent,​ ​and​ ​I​'m​ ​the​ ​face​ ​behind​ ​Knot​ ​Bad!​ ​I​ ​run​ ​my​ ​own blog​ ​over​ ​at​ ​​knotbadami.com​​ ​where​ ​I​ ​offer​ ​free​ ​patterns,​ ​community​ ​led​ ​events,​ ​and​ ​a​ ​few charities!​ ​If​ ​it's​ ​anything​ ​to​ ​do​ ​with​ ​crochet,​ ​my​ ​heart​ ​flutters​ ​for​ ​it.​ ​It​ ​is​ ​an​ ​extreme​ ​honor​ ​to be​ ​meeting​ ​all​ ​of​ ​you​ ​over​ ​here​ ​on​ ​Sewrella,​ ​I​ ​actually​ ​had​ ​the​ ​chance​ ​to​ ​meet​ ​Ashleigh​ ​in person,​ ​and​ ​she's​ ​just​ ​as​ ​fun​​ ​as​ ​she​ ​seems​ ​on​ ​the​ ​web!​ ​She​ ​is​ ​actually​ ​my​ ​main​ ​push for​ ​entering​ ​the​ ​blogging​ ​world!​ ​Today,​ ​I​ ​have​ ​a​ ​fun,​ ​easy,​ ​and​ ​quick​ ​pattern​ ​that​ ​is​ ​just perfect​ ​for​ ​October!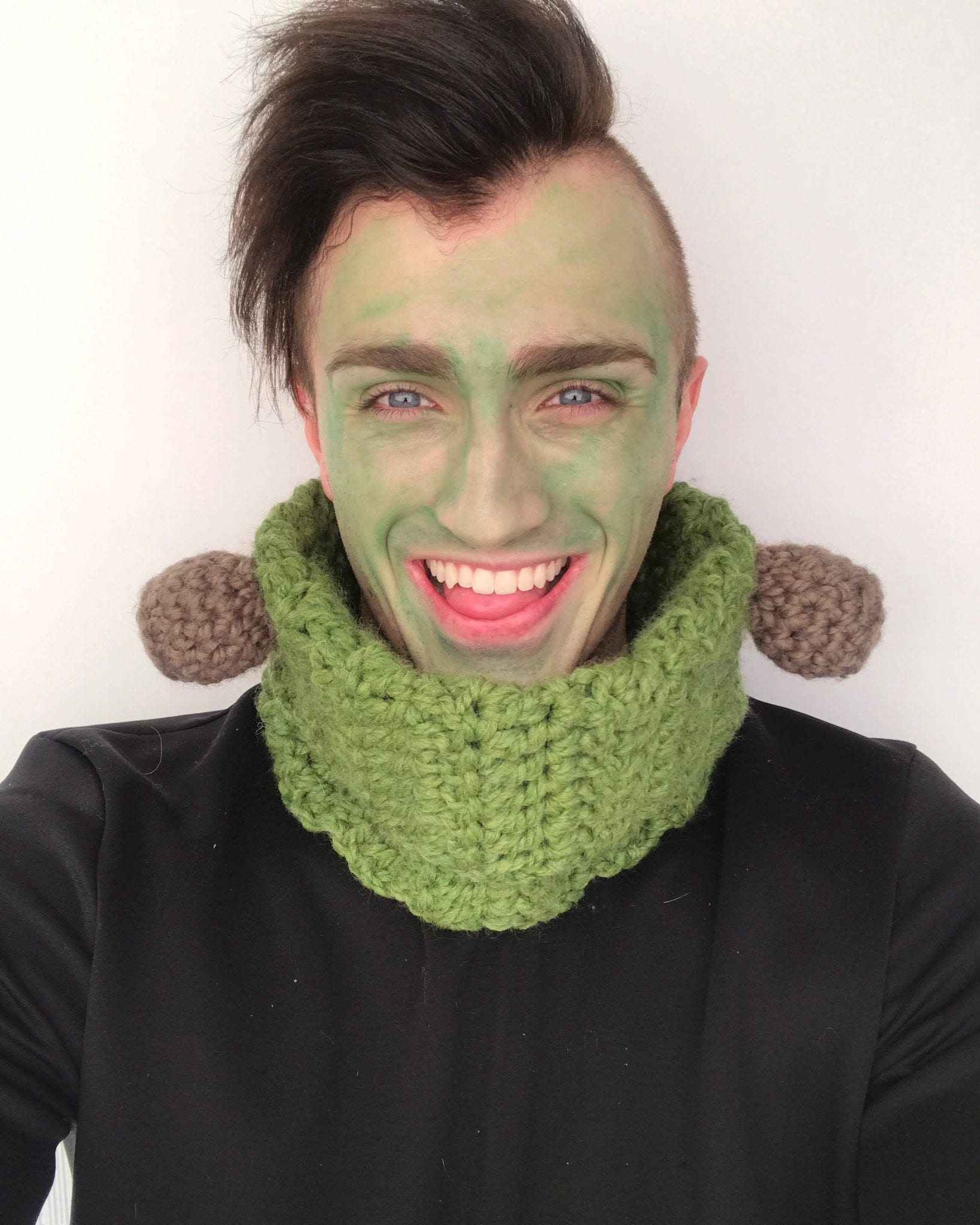 I​ ​present​ ​to​ ​you​ ​the​ ​Frankenstein​ ​Cowl!​ ​As​ ​we​ ​know,​ ​going​ ​out​ ​on​ ​Halloween​ ​can​ ​be​ ​a​ ​little chilly​ ​and​ ​this​ ​cowl​ ​keeps​ ​you​ ​warm​ ​along​ ​with​ ​giving​ ​you​ ​that​ ​Frankenstein​ ​aesthetic​ ​that​ ​I know​ ​we're​ ​all​ ​dying​ ​to​ ​have.​ ​This​ ​pattern​ ​can​ ​be​ ​done​ ​in​ ​one​ ​sitting​ ​if​ ​you're​ ​determined and​ ​makes​ ​for​ ​a​ ​great​ ​halloween​ ​costume​ ​for​ ​all​ ​ages!​ ​I​ ​plan​ ​on​ ​wearing​ ​it​ ​this​ ​year​ ​myself!
This​ ​pattern​ ​was​ ​made​ ​with​ ​Lion​ ​Brand's​ ​Wool-Ease​ ​Thick​ ​and​ ​Quick​ ​with​ ​a​ ​10mm​ ​hook,​ ​so you​ ​can​ ​probably​​ ​imagine​ ​how​ ​quick​ ​it​ ​goes!​ ​Keep​ ​your​ ​neck​ ​super​ ​toasty,​ ​it's​ ​perfect​ ​for this​ ​weather​ ​change​ ​as​ ​everything​ ​is​ ​cooling​ ​down.​ ​Did​ ​I​ ​mention​ ​how​ ​great​​ ​an​ ​ice​ ​breaker it​ ​is?
-10mm​ ​hook
-Lion​ ​Brand​ ​Wool-Ease​ ​Thick​ ​and​ ​Quick​ ​in​ ​these​ ​colors:
-Darning​ ​needle
-Poly​ ​Fill
Abbreviations:
sc​ ​=​ ​single​ ​crochet
dc​ ​=​ ​double​ ​crochet
mr​ ​=​ ​magic​ ​ring
sc​ ​inc​ ​=​ ​increase​ ​(2​ ​sc​ ​in​ ​next​ ​stitch)
dec​ ​=​ ​decrease​ ​(sc​ ​2​ ​together)
ch​ ​=​ ​chain
BLO​ ​=​ ​Back​ ​Loop​ ​Only
*​ ​=​ ​repeat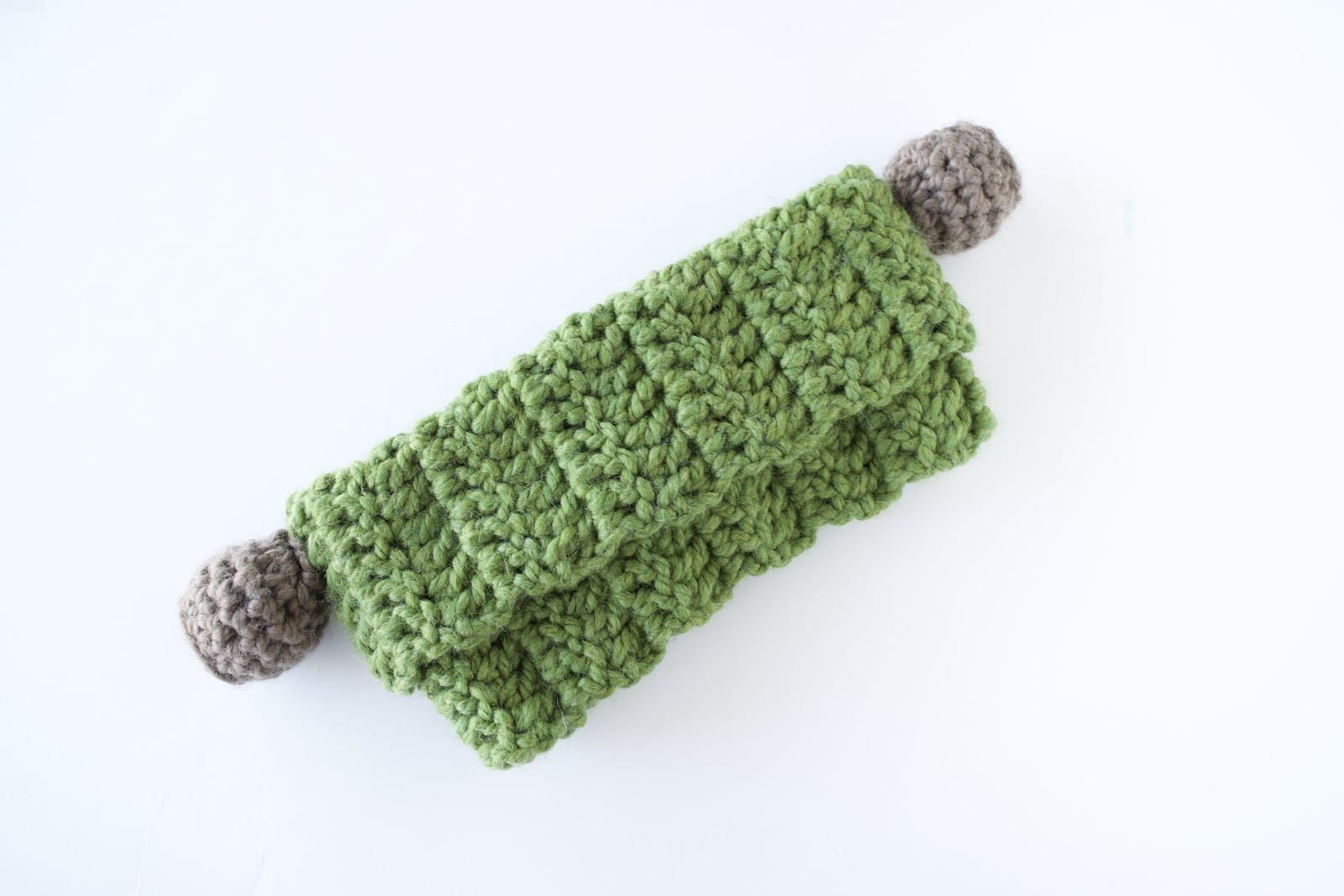 For​​ ​adult​ ​size,​ ​crochet​ ​until​ ​it​ ​reaches​ ​24"
For​ ​a​ ​child,​​ ​recommended​ size is ​20"
Cowl​
​(​In​ ​Green)
Begin​ ​by​ ​chaining​ ​18
Rnd​ ​1:​ ​Turn.​ ​Dc​ ​in​ ​3rd​ ​chain​ ​from​ ​hook.​ ​Dc​ ​in​ ​each​ ​stitch​ ​across. Rnd​ ​2:​ ​Ch​ ​2,​ ​turn.​ ​Dc​ ​in​ ​first​ ​chain​ ​and​ ​Dc​ ​across.
Rnd​ ​3-24:​ ​Ch​ ​2,​ ​turn.​ ​Dc​ ​in​ ​first​ ​chain​ ​and​ ​Dc​ ​across.
When​ ​you​ ​are​ ​done,​ ​do​ ​not​ ​cut​ ​tail;​ ​now​ ​you​ ​can​ ​attach​ ​each​ ​end​ ​to​ ​one​ ​another​ ​by​ ​slip stitching​ ​it​ ​together!
Finish​ ​off​ ​and​ ​leave​ ​tail​ ​to​ ​weave​ ​in.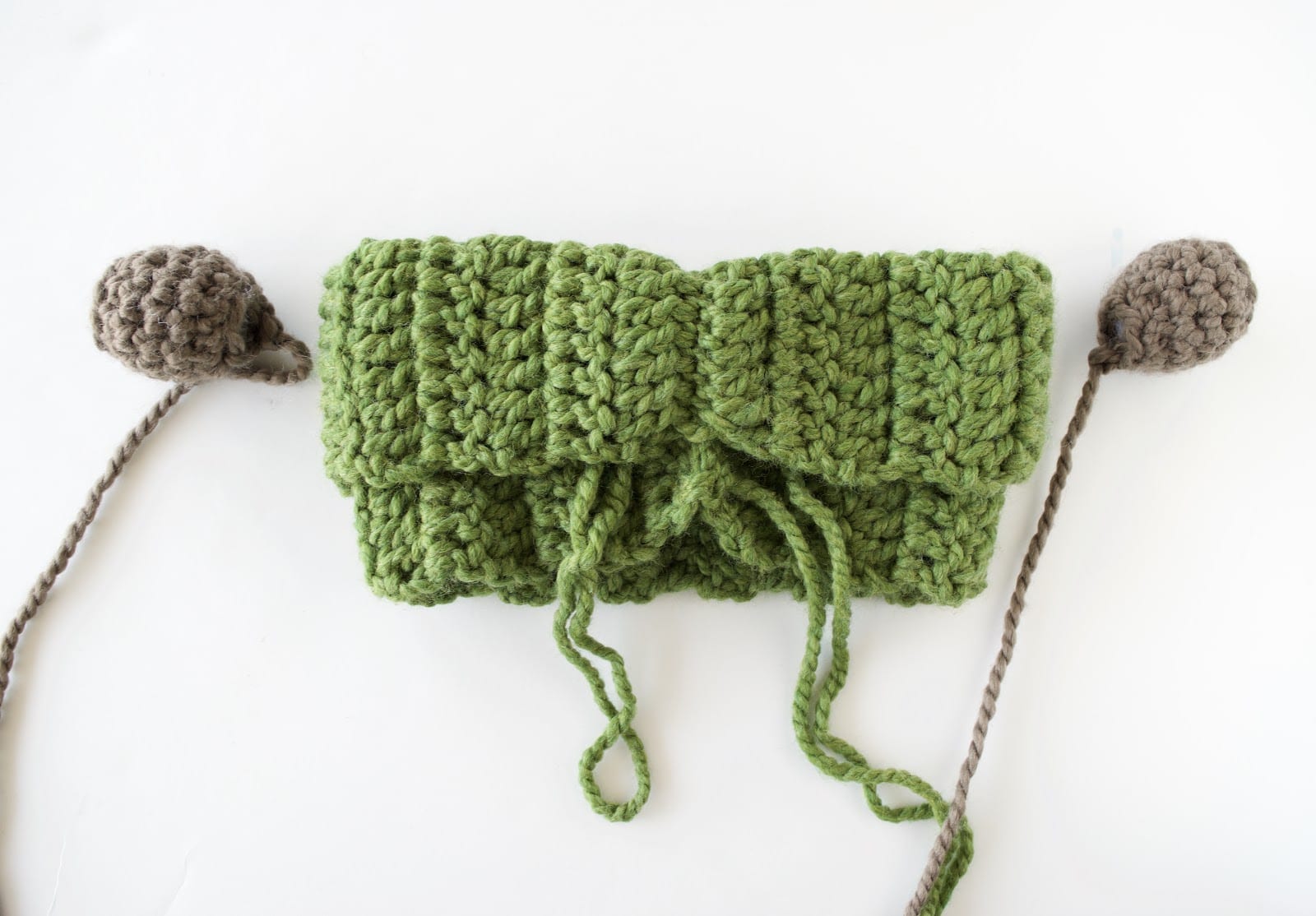 Screws​
​(In​ ​Grey)
Rnd​ ​1:​ ​6​ ​Sc​ ​into​ ​a magic​ ​ring​ ​(6)
Rnd​ ​2:​ ​*Inc*​ ​around​ ​(12)
Rnd​ ​3:​ ​Sc​ ​into​ ​BLO​ ​around​ ​(12)
Rnd​ ​4-6:​ ​In​ ​both​ ​loops,​ ​sc​ ​around​ ​(12)
Rnd​ ​7:​ ​*Dec*​ ​around
Finish​ ​off​ ​and​ ​leave​ ​tail​ ​for​ ​sewing​ ​(Make​ ​sure​ ​to​ ​stuff​ ​with​ ​your​ ​polyfill!)
Assembly
Be​ ​sure​ ​to​ ​fold​ ​cowl,​ ​or​ ​it​ ​will​ ​be​ ​too​ ​tall!​ ​When​ ​folded,​ ​sew​ ​on​ ​the​ ​screws​ ​to​ ​the​ ​top​ ​of​ ​the cowl,​ ​going​ ​through​ ​​both​​ ​layers​ ​of​ ​the​ ​fold.


I​ ​hope​ ​you​ ​all​ ​enjoy​ ​this​ ​quick​ ​and​ ​easy​ ​pattern​ ​just​ ​in​ ​time​ ​for​ ​Halloween!​ ​If​ ​you​ ​end​ ​up​ ​making this,​ ​I​ ​would​ ​love​ ​to​ ​see!​
Tag me on Instagram @knot.bad!
Happy​ ​Crafting! Love,​ ​Vincent