Hi friends!
Sorry that this week's bake shop square is actually coming a bit late – but 3 squares will be published this week so that's pretty sweet isn't it?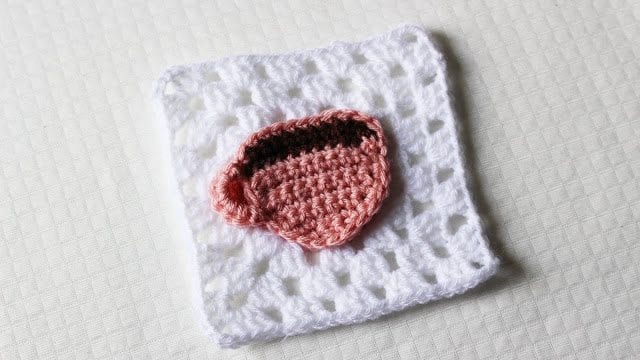 After holding a little vote over on Facebook and Instagram for a coffee cup or tea mug, the overwhelming response was to release both! Here is the first (the coffee cup) and the tea mug will be released later this week!
((Be sure to follow me on these social medias to always see what is coming up and stay in touch with me!))
Make one, make both!
This square is near and dear to my little heart – it's a coffee cup or tea cup and closely resembles the cappuccino cups that I spent every day pouring into at work before going on maternity leave and starting this little blog. You can read more about that HERE!
I do love coffee and start every morning with a great cup of high-quality coffee. It's one of the great joys in life, amiright?
I can totally see an entire afghan made of these coffee cup squares for that guy or gal you know who can't get enough of the dark black stuff, or a table runner for your next afternoon tea date!
Enough chatting (though I do love chatting with you) – let's get down to business!
As always, the handy video tutorial:
PATTERN:
Materials:
-Worsted weight yarn in a color of your choice (cup), a small amount of brown/coffee (or green for green tea, light brown for black tea, you get the idea), and an accent color for the granny [I used Lion Brand Vanna's Choice for all of these!]
-Size H 5mm crochet hook
-Tapestry needle
— Get the exact same tools that I use! By purchasing through these affiliate links you support this blog and its free content-thank you! —
Coffee Cup:
Begin with a slip knot in baby pink, Ch 5
Row 1: Sc in each st across (4 sts), Ch 1, turn
Row 2: Sc inc (2 Sc in same st), Sc in next 2 sts, Sc inc, Ch 1, turn
Row 3: Sc inc, Sc in next 4 sts, Sc inc, Ch 1, turn
Row 4: Sc across (8 sts), Ch 1, turn
Row 5: Sc inc, Sc in next 6 sts, Sc inc, Ch 1, turn
Row 6: Sc across (10 sts), Ch 1, turn
Row 7: Repeat Row 6
Color change to brown/beverage color ***DO NOT finish off baby pink! Just drop that working yarn, we will come back to pick it up later***
Row 8-9: Repeat Row 6
-Finish off brown
-Pick up baby pink and insert your hook where your last pink st lies, Ch 1
-Sc around perimeter of the mug, placing 2 Sc in each of the top two corners of the mug (1st and last sts of row 9)
-When you've come around to your first perimeter Sc, before sl st to join, Ch 5, then sl st to first perimeter Sc to join, Ch 1, turn
-Work 5 Sc in the Ch 5 space, sl st to join, finish off, weave ends
Granny Square:
*Please see video tutorial above for stitch placement – thanks!*Round 1: With new color, sl st into top right corner of cup, all in the same st: CH 2, 2 DC, CH 3, 3 DC, CH 1, skip 3 sts, 3 DC in next st, CH 1, *3 DC, CH 3, 3 DC, CH 1, skip 3 sts, 3 DC in next st, CH 1*, repeat from * twice more forming a square, sl st to beginning CH 2
Rounds 2-3: Continue in this same manner – in corners 3 DC, CH 3, 3 DC, CH 1 and in all other CH spaces 3 DC, CH 1, finish off, weave ends
Yay, coffee! The sacred nectar, right? Gotta have it with our Bake Shop Goodies!
Thanks for checking out this installment of the Bake Shop Blanket Series! Click HERE to see the whole project finished and get all the other squares!